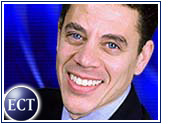 High-speed Internet access for Americans jumped dramatically last year, according a government report released Thursday.
In its second annual report to Congress, the Federal Communications Commission (FCC) said that the number of U.S. households and small businesses with "advanced telecommunications capability" grew from 0.3 percent in 1998 to 1 percent by the end of 1999.
"Investment is strong, subscribership is increasing and facilities deployment grows at a rapid pace as competitors race to meet demand," FCC Chairman William Kennard said.
Five Groups Being Bypassed
The FCC said that the proliferation of high-speed services has followed normal market processes, with companies going into the more profitable markets first. However, five groups have been vulnerable to being bypassed: rural, inner-city, low-income, minority and tribal.
The report said 59 percent of the zip codes in the U.S. have at least one subscriber to advanced services, but that 91 percent of the population lives in those zip codes, which are concentrated in affluent suburban and urban areas.
Some critics, pointing out how the federal government subsidized telephone service into rural and poorer areas, have said that the FCC should develop a policy of doing the same with high-speed Internet access, since it is closely associated with increased economic development.
No Broadband in Mayberry
The report said rural dwellers have also been denied access to service. Less than 20 percent of rural zip codes — defined as areas with fewer than six people per square mile — had any broadband subscribers.
Ninety percent of those in urban zip codes — areas with 3,000 people per square mile — had subscribers to high-speed or advanced services. Small towns came in at 57 percent.
The report concluded that zip codes with large concentrations of minorities and those with low incomes generally had few or no subscribers.
"It is incumbent upon us not to let these particular vulnerable areas be left behind in connecting all Americans to high-speed service," Kennard said, though he stopped short of recommending government intervention.
Methodology Lacking
The FCC acknowledged that its methodology was not comprehensive. The study did not analyze income for those people within specific zip codes who subscribed to high-speed services, nor did it estimate the penetration within each zip code. Kennard said the study depended on broader statistics to draw its conclusions concerning minority populations.
"While this report provides a baseline for the future, it also shows the need for further more sophisticated data to give us a clearer view of deployment," he said.
Cable Modems Most Popular
The study showed cable-based systems were by the far the most popular of the high-speed connections, though Digital Subscriber Line (DSL) service is growing at a faster rate.
Of approximately one million subscribers to advanced services, about 875,000 depended on cable-based systems, while 115,000 subscribed to DSL. Those figures add up to a three-fold increase for cable, four-fold for DSL.