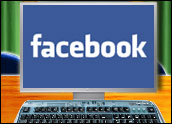 Facebook brushed itself up with a new makeover Sunday, this time focusing on the layout of members' profile screens.
Users' profile pages now begin with a snapshot of information about themselves and feature recently tagged photos of the user.
Facebook users can list their activities and include friends who share their experiences. Their interests appear as a row of icons, which users can arrange in order of importance by dragging and dropping.
Ads are also more prominent on the profile page, taking up much of the right-hand column.
There's a new section on the left of the page where users can list the most important people in their lives. Further, they can now click on a tool that describes their connections to any of their Facebook friends. The "Friends" page lets users find anyone they're looking for by searching by name, hometown school or other categories.
Facebook is rolling the new profile page out gradually and plans to have it available to all users by early next year.
Facebook also now has an "infinite scroll" feature that lets them browse all their photos on the site.
The Usual Blowback
A post by Facebook engineer Josh Wiseman regarding the new profile page drew mostly angry comments. A significant portion of the respondents demanded the old page be restored. Some have complained that they lost their photos and videos, and at least one complained about privacy, saying all the information he previously shared only with friends is now available for anyone to see when they visit his page.
"It's a problem when you become dependent on a service like Facebook," Rebecca Jeschke, a spokesperson at the Electronic Frontier Foundation, told the E-Commerce Times. "It's a pattern we've seen routinely."
Perhaps Facebook's puzzled by the not-so-warm reception the changes have received.
"Many of the changes we made to Profiles are based on feedback we've received" Malorie Lucich, a Facebook spokesperson, told the E-Commerce Times. "Up until now, much of the activity on peoples' profiles have been centered around their wall, where real-time status updates and feedback are shared."
Uses had to dig deep into friends' pages in order to learn more about them, Lucich said. "Now, basic information, while adhering to privacy settings, is in plain view on the profile, along with a row of recent photos."
If users aren't happy with the changes, they can and should complain to Facebook, which can be responsive to complaints, the EFF's Jeschke said.
"We always try to incorporate feedback from people on Facebook into our products as well as the overall user experience," Lucich stated. "We continue to iterate on our products and welcome people's thoughts and suggestions."
Whys and Wherefores of the Changes
The changes are "a nice piece of work," Rob Enderle, principal analyst at the Enderle Group, told the E-Commerce Times. They make users' identity more visible by putting critical information about them up front.
More importantly, Facebook made the changes to fight off a possible threat from Google, Enderle said.
"They're anticipating Google coming after their users, so they're working to tighten up their connection to users and improve their satisfaction with the service," Enderle explained. "The changes update the appearance of the product and draw users back to invest in it, and the more time people invest in a service like this, the less likely they are to move."
Perhaps enlarging the space given over to ads will also help Facebook monetize its service even more. That could also strengthen the social networking site's position as it locks horns with Google, which it is challenging for dominance of the Internet.
Facebook recently unveiled what founder Mark Zuckerberg described as the next wave in email, and being able to land online ads will further impact Google, which gets most of its revenue from advertising. Already, large advertisers like Jim Beam, Baskin-Robbins and Panda Express have been successful in raising their visibility by purchasing ads on Facebook.
User complaints might derail, or at least stymie, Facebook's attempts to monetize more and fight off Google. Since Facebook has been impacted by user criticism over services it had rolled out previously, especially over privacy issues, why is it apparently making the same mistake again?
Facebook's problem is that it doesn't always remember it needs to sell changes first before making them, Enderle said.
"People need to be convinced a new direction is good or they will simply resist the change," Enderle pointed out. "I expect Facebook will work to sell changes better in the future."