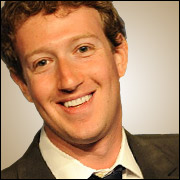 Facebook and CEO Mark Zuckerberg are selling close to 70 million shares of Class A common stock, which carries one vote per share, in advance of the company's being listed on the S&P 500 index this month.
Facebook will use its proceeds from the sale of 27 million shares for working capital and other general corporate purposes, but it does not yet have plans for any specific uses for the money.
The company "will have to invest in data centers," Trip Chowdhry, managing director of equity research at Global Equities Research, told the E-Commerce Times. "They have to grow, and they need to have some cash to invest in expanding their global footprint."
Zuckerberg will exercise an option to purchase 60,000 Class B shares, which have 10 votes each, then offer more than 41 million of them as Class A common stock, Facebook said. Each Class B share can freely be converted to Class A.
He will use most of the money he gets from the sale to pay off the taxes that will accompany his option exercise, Facebook said.
The Whys and the Wherefores
It's generally agreed Zuckerberg will need the money to pay off taxes, but analysts are divided as to whether there are any other reasons for his move.
"I wouldn't read too much into it other than he has to pay taxes and has to sell his shares for that," Chowdhry said. "He owes a lot of taxes on the money he made — more than $1 billion."
Zuckerberg also could be making a strategic move prior to Facebook's S&P 500 listing. More institutional investors and brokerage houses will be purchasing Facebook shares, because such firms must hold shares of all companies on the S&P 500.
"This is a well-engineered transaction allowing him to raise funds [and] cover his personal taxes without diminishing his ability to control Facebook," Andreas Scherer, managing partner at Salto Partners, told the E-Commerce Times.
After selling the shares, Zuckerberg either will hold or have the ability to control 62.8 percent of the voting power of Facebook's outstanding capital stock. Holders of outstanding shares of Class B common stock will have 75.4 percent of the total voting power of the company's outstanding capital stock.
Overall, Zuckerberg's voting power will be reduced from its current 58.8 percent to 56.1 percent.
Zuckerberg reportedly will donate about $1 billion of the proceeds to charity.
Word on the Street
Facebook's shares dipped slightly after the sale was announced. The company closed the week at $55.12 Friday, down 45 cents from Wednesday's closing price of $55.57.
Still, that's well above the $46.36 closing price of Nov. 19, and more than double the $26.62 closing price on Dec. 20 last year.
Facebook share prices have increased more than 98 percent over this year.
What's Ahead for Facebook
Zuckerberg's move is also forward-looking, as the company continues with its mobile advertising strategy, and that brings in more revenues, Frost's Krishna told the E-Commerce Times.
"We have internally predicted that by 2020, if not before," he said, "Facebook shares will be trading at $100 or more."