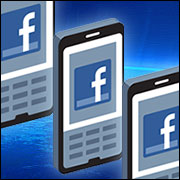 Facebook is working on a system to put ads in its mobile services, the Financial Times has reported.
The news comes just days after the social networking giant filed for an initial public offering (IPO), hoping to raise US$5 billion.
In its IPO filing, Facebook stated that the number of mobile active users of its social network is growing, and failing to include ads or sponsored stories on its mobile apps and mobile site may cost it revenue.
"Fifty percent of Facebook access happens through mobile, so there is not even a question of whether mobile will be monetized," Simon Khalaf, president and CEO of Flurry Analytics, told the E-Commerce Times.
"Right now, Facebook has a 25 to 30 percent share of the U.S. display advertisement market, which makes them $3.2 billion or so," Khalaf continued. By not having mobile ads, "I would say they are foregoing 25 to 30 percent of the mobile ad [market], which I size at $1.5 billion in 2011 worldwide, so [they're foregoing] $450 million to $500 million at least."
Facebook did not respond to requests for comment for this story.
Facebook's Mobile Access Figures
December saw more than 425 million mobile monthly active users (MAU), Facebook stated. The company defines a mobile MAU as a user who accessed Facebook through a mobile app or mobile-optimized version of its website, such as m.facebook.com, whether on a mobile phone or tablet.
Facebook expects mobile access to its site will continue to grow worldwide.
That will also hold true in the U.S. market. Figures from eMarketer show that Facebook had 16.3 percent of the U.S. market for display advertising revenues, while Yahoo came in second with 13.1 percent and Google third with 9.3 percent.
However, eMarketer's projections for 2012 show that both Facebook and Google will grow market share, while Yahoo will slip. Facebook will have 19.5 percent market share this year, Yahoo will come in second again with 12.5 percent, and Google third again with 12.3 percent.
These figures "would include mobile," eMarketer spokesperson Clark Fredricksen told the E-Commerce Times.
Facing Off With Google
In terms of total online ad revenues, Facebook poses less of a threat to Google right now. Google had 40.8 percent of U.S. online ad revenues in 2011, while Facebook had 6.4 percent, giving it third place after Yahoo, which had 11 percent.
For 2012, eMarketer projects that Google will have almost 45 percent of the market, and Facebook about 8 percent, still retaining third place after Yahoo, which will have nearly 10 percent.
Facebook is "less of a threat [to Google] on mobile, but they will become an even bigger player," Flurry's Khalaf predicted.
However, Google recently consolidated its privacy policies, a move widely seen as an effort to boost its performance in the online ad space as well as a pre-emptive strike against Facebook. That might help stave off the threat from Facebook for a while.
Tailoring Apps For Ads
It's likely that third-party mobile device apps that let consumers access Facebook, such as MyPad and Friendly for the iOS platform and FriendCaster for Android, will be tweaked to let them accept ads once Facebook begins displaying these on mobile devices, Khalaf suggested.
Facebook apps for the iOS and Android platforms will probably also be ad-enabled because "the majority of mobile access to Facebook happens using these apps," Khalaf said.
It's not yet clear whether Facebook will offer display ads or Facebook's "Featured Stories," which lets companies advertise using people who "like" them, and what consumer reaction to these will be.
The Possible Pain of Going Mobile
Facebook might face a backlash and possibly investigations by regulatory bodies if and when it introduces mobile ads.
The company recently entered an agreement with the United States Federal Trade Commission (FTC) to get consumers' approval before it changes the way it shares their data. Enabling mobile ads might be considered a new way of sharing consumers' data.
Further, Google's consolidation of its privacy practices has drawn widespread criticism from consumer watchdogs and sparked closer scrutiny from the European Union. This might be a precedent that might impact Facebook's mobile ad plans.