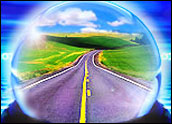 One look around last week's Consumer Electronics Show was all it took to see the automotive industry is really getting in-sync with the consumer electronics and wireless worlds. There is enormous opportunity, but there is also quite a bit of risk. Will these two industries work well together? Who and what will lead?
The auto business has been ramping up with all sorts of new technology during the last decade. Car gadgets are not just about stereo systems any longer. Today they're about navigation, traffic, safety, wireless, television, weather and more.
What about tomorrow? General Motors, Ford Motor, Daimler Mercedes-Benz, Lexus, BMW and others are really starting to show off their thinking, and it is clear the future of driving is changing. In fact, I think we can expect to see more carmakers showing off their consumer technology every year.
The "cloud" is changing consumer electronics, and it will play a big role in the automotive future. So will wireless, since that is how autos will communicate with the cloud.
New Car Tricks
Cars will self-diagnose and communicate with the manufacturer. Repairs and adjustments will be made on the fly, without the need to drive to a repair shop.
Automakers will offer vast new entertainment and information options for drivers and passengers. This will be a big revenue opportunity for companies, as there will be many levels of service to choose from at different price levels.
You will get messages telling you it's time for an oil change, or there is a weather warning ahead, or that your car has been recalled, so click here to schedule an appointment, and so on.
These things have been in the wind for quite a while, and year after year, more technology has been put on the dashboard and under the hood.
Cars will be aware of their surroundings to keep drivers in the right lane, on the right road, and away from traffic jams.
It's all about the give and take of data to and from car, driver and manufacturer, as well as other companies and service providers involved in the automotive experience.
Don't expect self-driving cars — at least, not for a few more years — but believe it or not, they are coming as well. They won't be everywhere, of course, but as cities install sensors in the pavement, you will be surprised what will change. Remember the self-parking Lexus from a few short years ago, as an example. Today that feature is on other less-expensive brands as well.
Leading the Caravan
OnStar by GM is well positioned in this new world. In fact, many companies similar to this will flourish in the next decade.
All this data and information creates it's own opportunities and problems. There are quite a few cars on the road, and they will all be sending and receiving info all the time. It's an IT logistical nightmare that we are not ready to handle yet today. However that will change, and companies like OnStar are well positioned.
Verizon Wireless, AT&T Mobility, Sprint Nextel, C Spire, and many other wireless companies will be the wireless connection. Companies like Alcatel-Lucent's emerging technology group, RIM, Google, Apple, Microsoft and many others want to play a role in this new area going forward.
It's a huge opportunity for developers, too — individuals and companies. After all, someone has to figure out how to turn this dream into a reality.
Topnotch Entertainment
It's about maintenance and entertainment and information delivered live and in new ways right to your vehicle.
It's about surfing the Web and watching live television and movies like you do at home — on excellent quality automotive TV sets, with monitors in the dashboard and in the back seat. It's about detailed weather and traffic navigation. It's about tons of auto apps — like finding the movies showing at nearby theaters. It's about an in-vehicle WiFi connection for your laptop or smartphone. It's about keeping up with personal and business activities on your calendar, synced to your laptop and smartphone over the "cloud." It's about keeping you and your family occupied during long or short trips — even during waits in carpool lines — and much more.
It's all about wirelessly connecting cars, people and auto manufacturers through the cloud. This is going to be an enormous opportunity for growth going forward. Workers, companies and investors want to be a part of this. Then the government will want to play a role and collect taxes as well.
This is a huge opportunity. This is also a huge risk. Remember, this is just the first inning, and the game is just getting started.
New Wave
There will be winners and losers. This is a perfect example of the next new Wave, which I mention all the time here.
We have already started down this path. Ford offers Sync technology and other carmakers like Mercedes and Lexus are all wirelessly connected with their first-generation services.
So buckle up, because in the next two or three years, there will be many more exciting things to talk about and to buy. They will start with some of the more expensive brands and quickly work their way down to all cars.
I look forward to telling you about all the new innovations and companies that are here today and that are coming tomorrow. And to watching the Wave — who will lead, follow and lose. This is just the beginning of this very interesting and very large story. bringing its Prism IPTV to Qwest territory.
If you recall, CenturyLink rescued the dying Qwest in an acquisition about a year ago. Qwest had not been successful either with its wireless or television efforts. It had taken a different path from that taken by Verizon FiOS and AT&T uVerse.
Hopefully, CenturyLink will have better luck. Customers and investors are hoping so.
However, don't expect it to happen quickly. The company is planning to start service in one, maybe two Qwest markets in 2012, according to CenturyLink Executive VP Stewart Ewing.
While that is not blowing the doors off, at least it's a start in the right direction.
Success depends on key areas like quality, pricing, marketing and competition. To start, CenturyLink will compete against traditional cable television and satellite services. Plus, Apple may jump into the television space later this year with its iTV. Apple could transform the entire space, like it changed the music industry with the iPod, wireless phones with the iPhone and tablet computers with the iPad.
Apple's entry is a big threat to the existing industry.
That said, if CenturyLink can do a good job in the Qwest markets, this could be a growth opportunity for the company.
So, congratulations to CenturyLink and Qwest customers who are starving for this service. And if you become a new CenturyLink customer, drop me a line and let me know about your experiences with the new service.