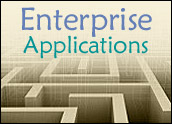 The Apple iTunes App Store has generated revenue of more than US$400 million revenue since its launch, according to analyst firm Piper Jaffray. Aside from being a successful online e-commerce solution for customers, the App Store has spurred tremendous innovation by Apple's development partners, which has made the iPod, iPhone and iPad the poster children of industry success stories.
How is this innovative business model for the consumer and mobile device markets being translated into successful e-commerce strategies for the enterprise? How is it changing the way B2B companies do business with each other? What are the best practices that can be leveraged into other segments of technology and business?
3 Sound Lessons
The first lesson is that the company with the stronger partner ecosystem will have a distinct advantage. With increasing competitive factors, pricing pressure, and reduced staffing resources, smartly leveraging a partner ecosystem to create a sustained advantage through value-added solutions is key to a company's success.
The second lesson is that companies need to create better incentives for partners to invest money, time and technical resources in their company and products rather than the competition's. Consider the fact that a development team building an application for an iPhone is a resource that is not building an application for a BlackBerry. It is a zero-sum game, with winners and losers.
The third lesson is that companies should open up their ecosystems and let them be customer- and partner-driven. The success of Apple's App Store is the transparency of the ratings and reviews that allow customers to easily search for specific applications based on a keyword or to browse based on top-rated applications.
Social commerce lets customers rate and comment on the usability and quality of applications, providing valuable insight and confidence to other customers in the throes of purchasing decisions. This has a viral effect on the marketing of those applications, and it provides a built-in incentive for developers to build the most appealing applications.
Everybody Wins
So, what incentives best motivate partners to invest in a company? The simple answer is monetization of their efforts through go-to-market help. By creating a marketplace for its partners' value-added solutions, a company generates more customer awareness for those partners.
Everybody wins. Customers see more value in the company's products because of the rich ecosystem of value-added products and services, and the partners win because they are able to grow their businesses more rapidly.
What's different about the enterprise customer versus the consumer? App stores for the enterprise have a number of distinctions. On the buyer side, not all solutions are simple transactional products that can be purchased online with a credit card.
Many enterprise solutions are made up of a combination of hardware, applications and services. Hence, an enterprise transaction may initially manifest itself as a lead that is then distributed to the right account manager or solution partner to fulfill. Also, corporate purchasing processes involve POs and invoices, and not just credit cards.
Engage the Community
From the supplier side — i.e., the partners — the ability for a partner to easily publish, market and sell a service or solution, as opposed to a commodity product, is paramount to trigger the type of motivation that will drive the entire community of partners to participate in a marketplace.
Furthermore, as many solutions involve more than a single supplier, partners need a way to collaborate on joint deals through lead sharing and opportunity management. This fundamentally changes the way vendors interact with their partners, as well as how partners interact with each other.
In markets where products are uniquely differentiated and valued by customers, vendors have more control over their partners and channels. Vendors have their choice of channels and the luxury of paying special attention only to the top performers.
However, in markets where products are differentiated by the value-add from solution partners, vendors need to adopt a more aggressive strategy in recruiting, enabling and motivating these partners to retain their loyalty.
Through both go-to-market strategies and leveraging social media for communications and collaboration, vendors can take a much more active role in engaging their partner community to conduct collaborative business around their brand.
New Strategies for New Times
The world of e-commerce is fast changing, with the advent of collaborative go-to-market strategies such as app stores and marketplaces that combine a vendor's core products with a community of value-added solution partners.
Yet most vendor companies continue to drive their commerce strategies the old fashioned way: channel recruitment, enablement and support.
With a fixed number of industry partners — especially in today's economy — vendors are battling for mind- and market-share of the same pool of resources. Those vendors that can best motivate (through monetization) and not just enable their partners will be the ones left standing.
---
Mark Sochan
is chief executive officer at
Partnerpedia
. He can be reached at
[email protected]
.