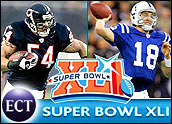 For the past three years, a Chicago consulting firm has assumed a Grinch-like role with its annual estimate of worker productivity losses attributable to the Super Bowl. Those losses, though, may actually be gains for many businesses, according to the firm's top executive.
Money lost due to productivity declines during the two weeks leading up to the Super Bowl is actually a "good buy" for companies, contends John Challenger, CEO of Challenger, Gray & Christmas.
"In an age where companies no longer offer the hope of lifetime employment and company populations are full of part-time workers and consultants and are far more diverse in all kinds of ways, companies need events to bring people together to talk about something other than the latest daily business transaction," he told the E-Commerce Times.
The $162 Million Conversation
In its Super Bowl analysis this year, Challenger's firm estimates that productivity losses could exceed $16 million a minute in the days before the championship game. Put another way, Challenger analysts calculate that employers across the country will pay football fans $162 million for every 10 unproductive minutes they spent discussing the game or reading about it online.
Although events like the Super Bowl may be costly to a company in terms of productivity, those costs may be offset by the benefits the events can bring to the workplace, Challenger reasoned.
"You have to invest in your culture," he declared.
Friends Needed
Many workplace studies have found that a key to retaining talent is office camaraderie, he said.
"You hear about compensation, challenging work and room for advancement," he continued, "but just having a friend at work is often more important in retaining workers.
"These kinds of events where people come together, get to know each other, relate to each other on a different level, create strong bonds among workers," Challenger added.
Sports Junkies
However, he noted, sports mania may need to be curbed in the office from time to time.
"If a company has a sports junkie who is out of control, they should bring that person in and talk to them," he advised.
"There are companies that put a lock on Web sites devoted to the Super Bowl or to other sites where they don't want their employees going," he observed. "I think that is shortsighted because the line between home and work really has blurred."
Eyes on the Prize
During times fraught with distractions for employees, employers need to keep their workers motivated, opined Adam Schran, CEO of Ascentive, the Philadelphia-based maker of BeAware, a workforce activity management software package.
"What bosses need to do is let their employees know that what they're expected to do is stay focused and stay productive and stay on their game just as teams do to win the Super Bowl," he told the E-Commerce Times.
"What they can do to back that up is use monitoring software to see where people are going and how they're spending their time," Schran asserted.
Network Surprise
"On average, people are wasting two hours online every day when it's not the Super Bowl, so it really spikes up when it is the Super Bowl," Schrann added.
He cited one instance where a company's Internet usage dove 90 percent after it installed monitoring software.
"They were getting ready to add another T1 because their first T1 was maxed out," he recalled. "Then they announced that they were putting [their] software on the network and all of a sudden, their T1 was experiencing only a 10 percent utilization rate."
Misplaced Concern
All this fuss over the Super Bowl and productivity only diverts attention from more serious issues facing corporate America, argued Diane Swanson, an associate professor of management at Kansas State University in Manhattan, Kan.
"I am suspicious of what is perhaps a misplaced emphasis on employee productivity for one week of office pool betting when large losses to productivity and investor value has obviously come from misconduct at the top of corporations with executives betting corporate resources and stockholder money on their personal greed," she told the E-Commerce Times.
"It's misplaced to go after something employees want to do one week out of the year," she continued, "when the proven loss of value can be traced to many executive activities.
"During the past few years employee productivity has gone up in this country while pay has been stagnant," she continued. "Do we want to add insult to injury with something like this?"