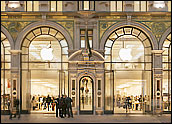 Consumer electronics manufacturers looking to expand their reach with their own brick-and-mortar outlets should weigh the risks of such moves carefully, warns a report released on Wednesday.
The report, "CE OEMs Launch Disruptive Retail Strategy: Their Own Storefronts," published by ABI Research, cites several temptations for electronics firms like Sony, Dell, Bang & Olufsen, Philips and Pioneer to become B-and-M purveyors.
"Most of these merchants already have significant online sales and want fresh fields for expansion," the report says. "They can provide a richer and more customized experience for shoppers than the major retail chains can."
Brand Control
Moreover, storefronts can be used to control and protect a brand.
"If consumer demand falls, an OEM (original equipment manufacturer) can take more effective countermeasures via its own outlets while maintaining better control of margins," the report reasons. "And, if appropriate, they can partner with other vendors to offer complementary products and accessories."
Brand control spurred Apple to launch its storefront program in 2001, according to Joe Wilcox, a senior analyst with JupiterResearch.
"The stores allowed Apple to seize some control over the experience," he told the E-Commerce Times.
"At the time, Apple had just started its big push around the Mac as the center of a digital lifestyle," he continued. "The stores allowed for more emphasis on that message."
Apple also wanted to boost awareness of its brand through the stores. "Initially, the stores were as much about marketing as they were about sales," Wilcox contended.
Risky Business
However, there are risks to a storefront strategy, too.
"Retailers' stock prices are partly determined by their bricks-and-mortar performance," the report explains. "Wall Street sets share prices using parameters such as the number of stores added or shut down, and how much revenue per consumer the stores generate.
"By opening their own stores, OEMs — which were previously rated on their ability to design and make innovative CE products — subject themselves to new kinds of judgment from financial markets," the report notes.
What's more, the manufacturers run the risk of poisoning their relationship with existing retail partners.
"They can alienate their current retailers, who might not have so much incentive to sell their products," ABI Director of Broadband and Digital Media Vamsi M. Sistla told the E-Commerce Times.
"Apple sells their own iPods, which means retailers like Best Buy aren't given a lot of margin on selling the iPod," Sistla observed. "So guess what retailers do? They push more of the accessories for the iPod where the margins are more like 40 [or] 50 percent."
Gateway Exit
"Big retailers really don't like to carry products when they have to compete with the brand's own stores," adds Bob Davidson, senior vice president for retail business unit for Gateway.
Gateway, one of the pioneers of selling computers directly via the Internet, tried the storefront route — but after building a chain of 188 outlets, it exited the brick-and-mortar realm in 2004.
The move expanded Gateway's retail reach, according to Davidson. "We saw that we were able to get into 6,000 storefronts versus 100 or so stores," he said.
"It made more sense to us to partner with retailers and find ways to help them drive their business, then gain more storefronts and more space in those storefronts," he explained.
Alluring Apple
Company stores give manufacturers more control over their brand, Davidson acknowledged, but multi-product retail outlets have a certain appeal to consumers.
"Customers like to see what's available," he contended. "They like to have choice."
Nevertheless, Apple's success on the strorefront scene appears to have created an itch in the industry that even its biggest players may feel compelled to scratch.
"If you look at Apple, 20 percent of its overall revenue is being generated by its own storefronts," noted Sistla. "That's a healthy chunk of revenue when you consider that Apple's latest quarter revenues were over US$4 billion."
Zune Store?
"There's no reason why Sony wouldn't want to have its own retail storefront," he opined. "I'm very certain about that. If not now, you'll hear something very soon.
"Microsoft is going to do that, too," he continued. "Once it gets Zune in the market and accessories start to form around that, it'll be pushing for more retail presence.
"If Apple can open 156 stores purely on its iPod, what's stopping Microsoft from doing that?" Sistla asked.