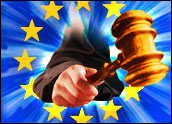 The European Commission is preparing to file a Statement of Objections detailing specific antitrust charges against Google, according to a report in The Wall Street Journal.
The EC is collecting testimony from companies that have filed private complaints about Google's business practices to gather more firepower in moving forward in antitrust matters, other reports indicate.
Possible Penalties
The EC is rumored to be considering a penalty of US$6 billion, equivalent to about 10 percent of Google's annual revenue.
Of course, aside from the financial loss, Google also could suffer from the disruption and distraction of prolonged legal activities. An official legal action could spur investigations lasting several years.
As the case made its way through the European court system, Google could find itself tangled up in a lot of red tape, resulting in slower processes for things like product and service development and other business activities.
Antitrust Issues
One of the red flags that may have led to some of these legal issues is the relationship between Google's world-famous and dominant search engine, and its other businesses and services. Because Google's search engine is now commonly used, unfair connections between affiliates could cause a disparity in how users are prompted to access content on the Web.
The European Parliament passed a nonbinding resolution last year asking that Google separate search businesses from other departments, the Times noted. Although the action was considered symbolic, it generated a lot of talk about breaking up Google — a precursor to the latest indications that concrete legal action is forthcoming.
With Google once again under regulators' scrutiny, the tech industry can expect another round of pondering which kinds of limitations should be in place for the increasing amount of digital business done every day around the world.
EU vs. US
Google's treatment at the hands of U.S. regulators has been very different from its experiences in Europe.
A controversy recently erupted over the Federal Trade Commission's decision in 2012 not to bring antitrust charges against Google after exploring its search practices. An internal document accidentally released to the WSJ suggested that some FTC staffers disagreed with that decision, but that Google had been given a pass due to its close political ties with the Obama administration.
The FTC vehemently refuted allegations that it had given Google any preferential treatment.
It's possible that bolder European moves could push U.S. agencies to give Google's business practices a closer look, leading to more synergy in the legal activities on both sides of the Atlantic, suggested Robert M. Langer, an attorney with Wiggin and Dana.
The EU has been further ahead … than the federal agencies," he told the E-Commerce Times.
The new EC filing might cause states attorneys, the U.S. Department of Justice or others to consider their own initiatives, Langer added — and in fact, could lead to new scrutiny of the tech industry as a whole.
Europe historically has been more inclined to delve into Google's business practices, observed Ryan Radia, an analyst with the Competitive Enterprise Institute, and though it appears to be taking a hard line, it's still possible that a settlement might be reached.
Stateside, Google has remedied some practices that were called into question by regulators, he told the E-Commerce Times.
For instance, it no longer scrapes review data from unaffiliated review sites without an existing agreement, Radia noted — a response to concerns raised a few years ago.