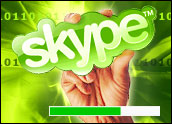 Online auction site eBay has finally managed to divest itself of Skype, the VoIP (voice over Internet protocol) company it bought back in 2005 for US$2.6 billion.
A group of venture capitalists led by Silver Lake Partners has purchased 65 percent of Skype for $2.1 billion in cash and a note, eBay announced on Tuesday.
The transaction will close in the fourth quarter of this year.
eBay had planned to launch an initial public offering (IPO) of Skype this year, but that plan was reportedly derailed because of a lawsuit with Skype's founders over the service's core technology.
About the Sale
eBay will receive about $1.9 billion in cash and a note for $125 million when the deal is concluded.
It's expected to go smoothly because the buyers have the money and the deal is not subject to financing conditions.
eBay president and CEO John Donahoe called the purchase a great deal. "We've acted decisively on a deal that delivers a high valuation, gives us significant cash up front and lets us retain a meaningful minority stake with talented partners," he said when announcing the sale.
"We're spinning off from eBay to become an independent company once again," Josh Silverman, whom Donahoe tapped to turn Skype's fortunes around, wrote on the Skype blog.
The Buyers
The buyers consist of an investment group led by Silver Lake Partners. Other members are Index Ventures, Andreessen Horowitz and the Canada Pension Plan Investment Board.
Danny Rimer and Mike Volpi, both at Index Ventures, were among Skype's earliest Board members and supporters, according to Silverman's blog post.
Silver Lake is a private investment firm focused on technology with $13 billion under management. Andreessen Horowitz is a new venture capital (VC) fund formed by former Netscape founder Marc Andreessen and Ben Horowitz in July. Andreessen will continue as chairman of the online social networking creation site Ning and will remain on the boards of Facebook and eBay.
Index Ventures is a VC that invests primarily in the information technology and life sciences sectors.
eBay's Troubled History With Skype
Skype never quite fit into eBay's plans and was often a thorn in its side. First, there was the money — in addition to the initial purchase price, eBay shelled out another $530 million to Skype's founders under an earn-out deal, according to Barron's Technology Trader.
"The original plans when eBay bought Skype included integrating Skype flawlessly into eBay for sales and for the auction and classified sides," Peter M. Zollman, founding principal of the Advanced Interactive Media Group (AIM), told the E-Commerce Times. "That really hasn't happened."
eBay CEO Donahoe made that plain when announcing the Skype sale. "Skype is a strong standalone business, but it does not have synergies with eBay's e-commerce and online payments businesses," he said.
There has been a lot of infighting at the two companies, Laura DiDio, principal at ITIC, told the E-Commerce Times. "eBay's buying Skype has generally proved to be a bad deal," she pointed out. "eBay has spent a lot of time writing down the value of Skype."
One possible indicator of the infighting is a comment Skype's Silverman made in his blog post about the deal. "It means we're back to being a fully independent company again but with a new group of owners who believe passionately in our mission and in the ability of our team to deliver on it," he wrote.
The Best-Laid Plans
eBay had initially planned to issue an IPO for Skype this year. That idea took a hit when eBay got into a dispute over intellectual property rights with Joltid, a company created by Skype founders Niklas Zennstrom and Janus Friis.
Joltid claims it owns the patents to one of Skype's technologies and threatened to yank the technology, leading to a lawsuit in a UK court and to Skype pouring funds into trying to create a workaround.
Despite the ups and downs, Donohoe remained bullish about Skype's prospects, saying that a $2 billion valuation would be too low.
A Diamond in the Not-so-Rough
He may be right — Skype's purchasers may have got a good deal. The service remains popular. The iPhone's Skype application saw 4 million downloads by July, five months after it was launched in March, according to Peter Parkes, writing on the Skype blog.
Also in July, Skype released the final version of Skype 2.8 for Mac. Last month, it got another boost when AT&T said it might authorize VoIP capabilities on the iPhone for use on its 3G network. The carrier said this in response to the ongoing Federal Communications Commission investigation into Apple's refusal to approve the Google Voice app for its app store.
"Skype remains the leading VoIP service and, as such, it has a substantial amount of value, particularly when positioned competitively against Google Voice," Rob Enderle, principal analyst at the Enderle Group, told the E-Commerce Times.
The Joltid lawsuit won't amount to much in regard to the purchase, he said. "If the investors were smart, they worked in contingencies to anticipate this," Enderle said. "These aren't stupid people."
Skype offers considerable growth and revenue potential, AIM Group's Zollman said. "There are no direct major competitors on the horizon, and Skype is relatively young in terms of revenue and growth."
At press time, eBays stock prices were down 47 cents, or 2.12 percent, to $21.67.