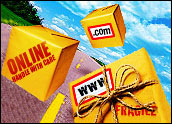 When Brooklyn-based PruneDanish.com sends shipments of its electronics, accessories, and home and garden products to customers overseas, it uses Swedish stamps. As odd as that might seem, it makes sense for the e-commerce company.
PruneDanish.com uses the services of Direct Link, a U.S. subsidiary of Sweden Post. By using Swedish stamps in its shipping, Direct Link is able to offer competitive rates and service to e-commerce companies that ship internationally.
"We decided to use Direct Link for our international shipping, [since] their rates are cost-effective, and their support is top-notch," Mendy Lieberman, PruneDanish.com CEO and cofounder, told the E-Commerce Times. "Using Direct Link enabled us to broaden our customer base, and we are now able to provide cheaper shipping rates, with up-to-date tracking information, while still being able to ship at an affordable price."
In the Mail
Direct Link is one of those little-known international shipping tricks of the trade that can save e-commerce companies time, money and effort.
"At our core, we provide customers with a true alternative to the U.S. post and express providers like UPS and DHL," Ron Russo, an account representative with Direct Link, told the E-Commerce Times.
Direct Link's offices in the U.S. are actual post offices that allow businesses to ship letters, postcards and parcels weighing up to 60 lbs. to over 190 countries worldwide under the auspices of Sweden Post. It works closely with businesses to provide customized international shipping services.
"We partner up with you to learn about your business — what are your needs, what are your requirements, how is your process handled," said Russo. "We ask about issues you're having, like lost items, delivery times or consistency. We need to see where you are and try to come up with a solution to growing your business in foreign markets. It's a very complicated business."
In this way, Russo said, Direct Link offers the security of postal mailing while providing a range of services tailored specifically for business customers.
"If you call up the USPS and ask for help, they just don't do that," he said. "We come up with a customized solution for your business."
The bottom line, Russo added, is cost savings.
"We can be a better value," he said. "Some of my customers can save up to 50 percent. It's the best kept secret in postal shipping."
One-Stop Shops
Because of the complexities that surround international shipping, many e-commerce companies decide to use specialty couriers to arrange these shipments. Neighborhood Parcel, for instance, coordinates a variety of shipping and mailing options depending on the needs of particular clients.
"We're a shipping courier that specializes in logistics and international shipping, Hanson Bechat, CEO of Neighborhood Parcel's parent company, Biz International, told the E-Commerce Times. "We provide a wide network of shipping options, and we use whatever fits the need of the company that we're dealing with. It depends on the size of the shipment. We do air cargo, express shipments, or overnight to Europe and Asia."
Shipping couriers can offer help with everything from customs to labeling, as well as discounts on shipping services.
"We do customized plans," Bechat said. "We don't have a cookie-cutter approach. We offer a wide variety of business plans. We can do fulfillment service, or if you want to do your own shipping, you can send labels and we'll process the labels. When people come to us, we're always trying to save costs. It's cheaper for a company to work with us because they will get a discount. They're going to use our connections, knowledge, and discounts."
Ultimately, he said, the e-commerce customer remains in charge of how the goods get shipped.
"The customer is always in control of shipments," Bechat added. "We give free advice."
Overseeing Overseas Shipments
Medium to large shippers, or those dealing both with imports and exports, often turn to shipping consultancies or order fulfillment services for help.
"I think we are unique in our global scope and perspective," Doug Caldwell, vice president with AFMS Logistics Management Group, told the E-Commerce Times. "This is such as fast-moving market segment, and we've been doing this for a long time. Having boots on the ground in various countries really helps."
The issues faced by companies shipping internationally vary country-by-country, day-by-day, and consultancies stay on top of the always-changing issues. They provide advice and solutions based on their expertise, knowledge, and contacts.
"We try to tailor solutions to our individual clients," said Caldwell. "There really isn't a 'one carrier fits all' solution. We take a close look at what they are doing, what's going wrong, and where we can help."
E-commerce businesses can benefit from handing off the logistics of fulfillment of international orders to companies that understand shipping options, potential problems, and timelines.
"Generally, many sellers struggle with cost effectively getting the product to the buyer in the timeline stated at the time of purchase," Nate Gilmore, vice president of order fulfillment with Shipwire, told the E-Commerce Times.
"Behind that is a struggle to understand how to properly prepare international shipments and tender them to carriers for proper transport," Gilmore said. "Our platform helps sellers deliver an amazing buyer experience by properly communicating domestic and international shipping time and costs, and providing buyer communication."