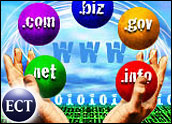 In a record-breaking spree, over 5 million domain names were registered in the third quarter of 2004, according to a report from VeriSign.
The registrar said that this is the fourth quarter to produce record registrations, suggesting that the online sector is continuing to grow steadily after a "slight recession." Worldwide registrations now stand at 66.3 million domain names.
The most popular domain name is still .com, accounting for 47 percent of all registrations. Individual country domains, including .uk, are the second most popular at 37 percent.
"There has been a resurgence in domain activity with the use of domains for online advertising," said Raynor Dahlquist, acting vice president of VeriSign Naming Services.
"Additionally, the leading indicators of health of the industry are strong, with renewal rates and usage rates remaining at high levels."
Renewal rates for domain names are currently running at 72 percent.
The report also noted the importance of the .net domain name, which was set up for network organizations. Although the suffix accounts for only 8 percent of names, those sites drive 30 percent of e-commerce activity and deliver 155 billion e-mails daily.