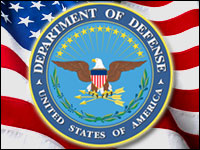 The U.S. Defense Department, often cited as a bit sluggish in taking advantage of the benefits of cloud computing, appears now to be emerging as a government leader in adopting the technology.
In the short run, DoD has far outpaced other federal agencies in setting up cloud contracts. During the first quarter of fiscal 2015, the value of all federal contracts for cloud projects amounted to US$668 million, of which the overwhelming amount, $531 million, was attributed to the Defense Department.
The DoD upsurge in 2015 versus 2014 "is largely attributable to the award of the Defense Information Systems Agency's Enterprise Storage Solutions II contract, which calls for a hybrid cloud data storage service, with vendors supplying hardware housed in the agency's data centers," said Alex Rossino, a research analyst at Deltek.
DISA will use this hybrid private cloud to store sensitive data, while the commercial cloud portion of the infrastructure will store unclassified data. p>"Ironic, isn't it, considering the impression in the market that the DoD is dragging its feet when it comes to the cloud," Rossino noted.
DoD Looks to Cloud Future
Total federal government cloud contracting amounted to $794 million in the first half of 2015, versus only $125 million for the same period in 2014.
As for the longer term, Defense Department IT specialists would like to move more than half of their applications to the cloud by 2020, indicates a recent survey sponsored by MeriTalk and underwritten by General Dynamics Information Technology. The results were released in June.
The 150 respondents to the survey expressed strong support for the advantages of cloud technology. For example, of the major benefits associated with cloud migration, 87 percent of respondents listed "improved agility."
"Saved money" and "saved time" drew ratings of 87 percent each, while "improved ability to deliver on the mission" yielded 85 percent.
Although cloud security has been a major issue throughout the federal government, especially with national security agencies, the feature of "improved security" drew an 86 percent rating from the DoD information technology professionals.
Legacy or New Builds?
For cloud providers who are keeping an eye on DoD's investment in the technology, the survey presented useful information on the future pattern of DoD spending for cloud deployments.
Fifty-seven percent of the department's current cloud applications were migrated from legacy applications, while 43 percent were built new in the cloud.
In looking to the future, however, a much greater number of defense and intelligence professionals — 52 percent — believed that building new was a smarter long-term move than the number who favored migrating legacy applications, just 18 percent.
"Both approaches — migrating legacy applications and building new in the cloud — have their merits and their place. Against the backdrop of tight budgets, agencies must take time to complete a full analysis of each application's needs before pulling the trigger, to ensure they make the best decision from a cost and performance perspective," said Stanley Tyliszczak, chief engineer at General Dynamics Information Technology.
"When it comes to cloud, it appears you can't have it all," said Steve O'Keeffe, founder of MeriTalk.
"Tight budgets require tough decisions. Agencies must prioritize apps that will move the needle rather than just batting down the low-hanging fruit. Building new will allow them to drop a lot of legacy baggage for greater agility," he told the E-Commerce Times.
Survey respondents cited big benefits to building new cloud platforms — such as security, deployment speed, and the opportunity to reduce redundancies — but they also saw implementation hurdles. The barriers included lack of funding, integration challenges, and the time consumed for developing requirements.
In addition, it is sometimes necessary for DoD units to migrate a legacy application instead of building new due to security concerns or a need to maintain specific data structure, the survey results indicate. DoD agencies are more likely to build new for applications that are evolving continuously, have high maintenance costs, and require 99.99 percent availability.
The high level of DoD interest in building new cloud implementations initially came as something of a surprise to General Dynamics' Tyliszcak, "but once I thought about it, it made sense," he told the E-Commerce Times.
"Legacy migrations tend to be inherently more difficult than building new in the cloud — there are more variations in platforms, more customization, and especially more security policy issues to deal with," Tyliszcak explained.
"When you think about it, it really is faster, easier, cheaper and more secure to build something new 'in the cloud' than it is to try and migrate an application that might be outdated, running on an end-of-life platform, and with security policy exceptions that don't meet current standards. It's exactly the right approach for DoD agencies to take, if they can," he said.
For projects involving cloud migration, DoD Agencies are more likely to migrate legacy applications that they have heavily invested in, that are custom-built to support an agency mission, and that are highly specialized.
Among the critical reasons an agency would need to migrate a legacy app "as is," versus building new in the cloud: security; the need to maintain a data structure; a custom application built in-house; and cost.
Cloud migrations so far have been used for traditional functions, such as a system with large amounts of data, an accounting app that pulls data from legacy systems, and email or other communication resources, survey respondents indicated.
Commitment Yields Opportunities
DoD Chief Information Officer Terry Halverson has emphasized the department's commitment to the cloud over the past year, and has developed policies to facilitate cloud adoption.
"Terry Halverson's orders point the forces to the cloud — and he tells us that cloud expenditures will accelerate," said MeriTalk's O'Keeffe.
The MeriTalk-General Dynamics survey report "underlines that DoD is clear on its orders, and it's forward march to the cloud," he said, adding that "there's money in legacy migration, but the real sweet spot is in new applications in the cloud."
For vendors, DoD's cloud ambitions provide a major marketing opportunity. While the theory of the cloud is generally to outsource IT operations on a rent-versus-own basis, many cloud customers — including the Defense Department — will be utilizing the technology on a mixed configuration basis of public, private and hybrid deployments.
"DoD will always have some internal commitments for cloud investment. There are inherently governmental functions that can't — and shouldn't — be given over to the private sector. So it'll never be a 100 percent opportunity for the private sector — but there is still an awful lot of opportunity for the private sector," Tyliszczak said.
General Dynamics is preparing for those government opportunities, whether within DoD or civilian agencies, he noted, by "building our capability, knowledge and expertise in how to make cloud work in the kinds of high-reliability, mission-critical applications that U.S. government demands."