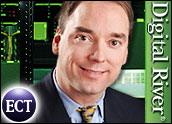 Many e-commerce sites are terrible, but they don't have to be that way, according to Jim Wehmann.
Wehmann is vice president for strategic marketing services for Minneapolis-based Digital River. The company, founded in 1994, is well-known around the world for building and managing online businesses for more than 40,000 software publishers, consumer technology manufacturers, distributors, online retailers and affiliates. It has an e-commerce platform that can offer a business a soup-to-nuts e-commerce solution — site development and hosting, order management, fraud prevention, export controls, tax management, physical and digital product fulfillment, multilingual customer service, advanced reporting and strategic marketing services.
In other words, it knows a thing or two about what makes e-commerce sites work, as does Wehmann, who recently spoke to the E-Commerce Times about making Web stores more pleasant places for shopping.
E-Commerce Times: Why are so many e-commerce sites terrible?
Jim Wehmann:
When they're terrible, it's usually because they're missing something pretty basic.
They don't understand their end consumer and they're talking to them in the wrong voice.
They've got the wrong promotional strategy. It's either too aggressive or not aggressive enough.
The content is not as relevant as it ought to be.
The calls to action are not right for the audience.
We all see terrible sites out there, and we don't spend a lot of time on them, and we hop away. That's the nature of e-commerce. In life and in e-commerce, you only have one chance to make a first impression.
E-Commerce Times: Are there rules of thumb that work across e-commerce sites?
Wehmann:
Something that's terrible in one setting can be spot-on in another. There are no rules of thumb.
The measure of a site is how long are consumers staying there, and are they buying and doing the things that we want them to do? We've gone beyond whether or not something is the coolest, flash-enabled sexy site. That may not be what consumers are looking for and don't always produce the best results.
E-Commerce Times: How have consumer expectations toward e-commerce sites changed over the last five years?
Wehmann:
Attitudes toward privacy have changed. There are still a lot privacy issues and concerns, but what we have seen is that end users are more willing with trusted, recognized brands to give them personal information to improve the user experience.
E-Commerce Times: Have online consumers become less patient with e-commerce sites over the years?
Wehmann:
Without a doubt. When you go from a good site to a site that may have been OK a couple of years ago, it's more jarring now so there's far less patience.
E-Commerce Times: What are some of the biggest navigational mistakes made by e-commerce sites?
Wehmann:
What we're doing from a navigational perspective, as people go deeper and deeper into the buy process toward the shopping cart and checkout, we limit navigation. A lot of people will leave their full navigation there. We try to limit navigation and distraction there.
The point is to keep them moving toward the shopping and not distract them. We may try to upsell and cross-sell them during the buy process but only in a very controlled way.
By the time they get to checkout, there 's almost no navigation there. We just want them to click the submit button, give us their name, address and credit card information and be done with the transaction.
We find that we're better off completing that transaction that's in top of mind than confuse (customers) with lots of other things going on at the site.
E-Commerce Times: What are some common hangups at checkout?
Wehmann:
We've tested "continue shopping" buttons on shopping carts. Usually, those continued shopping buttons take someone back into the store. Sometimes end users get confused by that and they think "continue shopping" means continue checking out. By eliminating that button, some sites can do better.
Coupon and discount fields can also be confusing. You have to be careful how you offer them. Sometimes people will stop at that point and if they don't have a coupon or discount, they feel bad and won't complete the checkout.
We may also combine the shopping cart and billing information. We call it a "Quick Buy" cart. Instead of going to a shopping cart then continue to a billing page, we combine them on one page.
E-Commerce Times: How important are alternative payment schemes — PayPal and such — to an e-commerce site?
Wehmann:
By offering an alternative payment type, you're going to get people that will select it. The question is: Would they have ordered anyway if that alternative wasn't there? What we want to see is incremental volume coming from those payment types. We have to test the site to see if there's overall revenue lift because of the alternative.
It can depend on country. There are forms of payment that are so important to the local environment that you've got to have them. That's where a lot of gains can happen. Local bank cards in China and other countries are super important. There's a lot of volume there that you're not going to get without them.
E-Commerce Times: Is increased publicity about click fraud and identity theft having an impact on e-commerce?
Wehmann:
Not really. We work with trusted global brands, so we haven't seen a big problem there.
E-Commerce Times: What trends do you see in the next 12 months in the e-commerce site area?
Wehmann:
We see continued global growth in e-commerce. The biggest growth will be coming out of Asia.
Household penetration in the U.S. is slowing, but broadband penetration continues to increase, which is good for selling downloads because those files are getting bigger all the time.
We're seeing more in-community purchasing. Games are out-front in that area. People are buying things from within games and not going to a commerce site. That kind of thing will happen more and more — the emergence of content and commerce.