The marketing technique called clienteling is used by retail workers to establish long-term relationships with key customers. When applied to e-commerce, the practice is based on having access to data about their preferences, behaviors, and purchases.
A relatively new variation of this concept is digital clienteling. It follows many of the established marketing strategies but uses digital channels to engage customers outside the physical store.
In any form, clienteling is not a replacement term for customer service. The latter is a generalized term for all customer-associated experiences. Clienteling, on the other hand, is a smaller subsection of customer service that is entirely about building customer relationships.
Live commerce platform Immerss brings new digital foot traffic as an add-on website sales channel.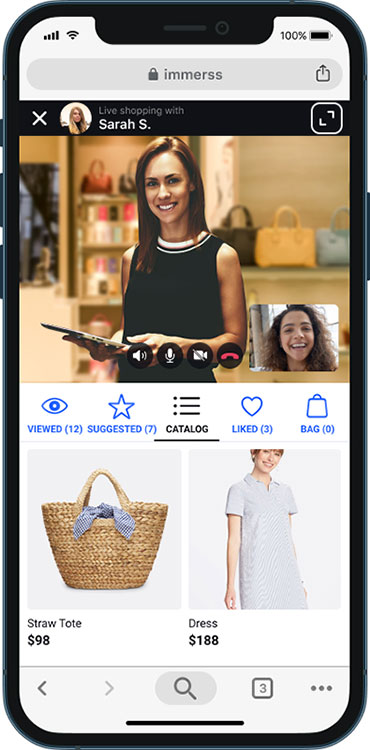 Personal Touch Tool
Clienteling adds a layer of personal touch to the shopping experience that is missing in traditional CRM systems. The Immerss platform allows businesses to keep track of client purchases. This, in turn, gives in-store associates — who might be working from remote locations — the ability to identify the most loyal customers as well as their preferences to provide a more targeted service.
Immerss changed its marketing services offerings to develop a unique platform that connects its clienteling capabilities to retail clients' CRM software.
Two years ago, Arthur Veytsman, CEO of Immerss, decided to pivot toward the "productization" of his video commerce services, as he calls it. He developed a live commerce platform that changed how e-commerce sites serve their customers. It enables online merchants to sell online in real-time, dramatically speeding up a process that until now has mostly been done in person or offline.
"Tools like FaceTime, Zoom, and SMS messaging are all connection tools. They create collaboration. They create a connection between the two people. Facilitation of that is not easy. Our software is completely embedded with the client's back end and platform, which allows us to be there when the conversation starts," he told the E-Commerce Times.
Aha Moment
Early in the start of his quest for a new approach, Veytsman had a luncheon meeting with the president of Lucchese, a 138-year-old custom bootmaker based in Texas. The retailer was looking into potentially using live commerce as an option to work with online influencers.
In the course of their conversation, the president of the company bemoaned his dissatisfaction with the results of traditional CRM chat features. He saw a gap in how his salespeople performed in the direct-to-consumer store. On the sales floor, he explained, they do well when talking to clients and know how to meet their needs.
The Lucchese website never gave his sales staff the ability to speak to clients in the same manner. The chat channel was just meant to be a customer service arm. What the company needed was a way to connect clients with trained salespeople.
That scenario, noted Veytsman, described the typical journey of manufacturers or wholesalers forced to go online but were not naturally fit to be online. Lucchese's predicament became Veytsman's defining moment.
"That was really the aha moment for me to see a missing component in the whole retail e-commerce industry. And that is where we kind of went to the whiteboard to solve this problem," he said.
Lucchese's president signed up with Immerss in July 2019. The new software went live in 2020.
"Now the Lucchese website has a live sales arm. It entirely changed the way they do business," said the Immerss CEO.
Impressive CX Results
The integrated platform took Lucchese through the pandemic. It enabled the company's sales staff to work from home, so no one had to be laid off, according to Veytsman.
Post-pandemic retail at the custom-made boot store picked up even further. The company created a digital showroom because the number of inquiries coming through the sales portal was so high.
"Lucchese allocated five salespeople that do nothing but service sales calls. It's been an amazing case study for us and, for them, an amazing story. We've kind of proven that this concept works. If you enable customers to connect with live trained sales associates, the magic happens," said Veytsman.
Under the Proprietary Platform's Hood
A panel of products enables the sales associate to see what the customer recently viewed. The salesperson can suggest an item directly in that window back to the client.
Together, they can walk it all the way to checkout. It is a very embedded experience during the call. The rep can pause the call, add that person to the contact list, and then start sending messages with product lists and links to reconnect whenever the client is ready.
"So, it is a full clienteling app versus discombobulated ways of connecting people together. It is all under one platform. That is the beauty of it." Veytsman offered.
The Immerss platform brings a fully integrated solution connected with the retailer's back-end software and CRM. The platform works via desktop, mobile devices (both iOS and Android apps), and web browsers.
Immerss is also integrated into the Shopify app. Veytsman's roadmap is to do similar integrations with other SaaS platforms and e-commerce platforms like Salesforce commerce, WooCommerce, BigCommerce, Magento, and more.
How It Works
Immerss is completely hands-off in terms of consumer visibility. The retailer gets a website or app presence that is uniquely branded and fully automated. The Immerss platform's integration remains hidden from shoppers.
"We connect their back end with our back end automatically. We enable them to customize their visual experiences so they feel and look like their own software. So are the colors, the fonts, and everything else. When a client comes to their website, they see a sharp live widget," noted Veytsman." It looks and feels like it is a part of that website."
On the retailer and manufacturer's end, they get a back-office management panel. That is where they can define sales associates. There also, they can see dashboard analytics on sales and performance ROI.
Immerss tracks sales activity and then reports that back to the brands so they can enable their sales force to embrace this tool. It gives them the ability to sell outside of the physical box.
Sales staff highly depend on the traffic coming into their store. That is the only way for them to make commissions, explained Veytsman.
In addition, Immerss is a tool for sales staff to sell worldwide with no limitations. It brings in traffic from the website as an add-on sales channel.