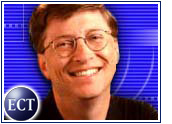 Microsoft co-founder Bill Gates lost $40 billion (US$) on paper in less than a year, but he is still the world's richest person, according to Forbes magazine's 14th annual list, released Friday. With a reported net worth of $60 billion, Gates tops the "richest" list for the sixth year in a row.
Oracle Corp. chairman Larry Ellison skyrocketed from 30th on the list last year to second place this year, with a net worth of $47 billion. Gates' co-founder at Microsoft, Paul Allen, came in third, at $28 billion. Global investor Warren Buffett, a runner-up to Gates last year with a net worth of $36 billion, fell to fourth place, at $28 billion.
The list is limited to people who are actively running a business or managing their assets, the so-called "working rich."
Taking Stock of High Tech
Gates briefly earned the title of the world's first $100 billion man last year when Microsoft shares reached an all-time high of $120. But the company's share value has dropped sharply since, as investors reacted to a prolonged antitrust lawsuit brought against Microsoft by the U.S. Justice Department. Microsoft CEO Steve Ballmer, who was fourth on the list last year, with $19.5 billion, fell to 12th place, with $15.5 billion.
While Microsoft's fortunes fell, Oracle's share value rose as high as 500 percent. Thus, Ellison pushed ahead of Gates in terms of company holdings. Gates, however, has tempered his company's fluctuating fortunes with extensive outside holdings.
Six to Ten
Rounding out the top 10 are German retailing tycoons Theo and Karl Albrecht at No. 5, with $20 billion; Saudi Arabian billionaire investor Prince Alwaleed bin Talal at No. 6, with $20 billion; Wal-Mart Stores, Inc. Chairman S. Robson Walton at No. 7, with $20 billion; Softbank's Masayoshi Son at No. 8, with $19.4 billion; Michael Dell, founder and CEO of Dell Computer Corporation at No. 9, with $17.8 billion; and Canadian media mogul Kenneth Thomson at No. 10, with $16.1 billion.
Five of the top 10 are under 47 years of age, including Gates, Allen and Dell. The youngest billionaire on the list is 31 year-old Yahoo founder Jerry Yang, with $5.9 billion. There are only 12 women billionaires, led by American Abby Johnson of Fidelity Investments, who has $7.4 billion.
Forbes notes that sixty percent of the world's 308 billionaires are from the United States. Germany claims 39 billionaires, more than any other country in Europe.
Asian High-Tech Billionaires Lose Ground
The magazine reported that 57 billionaires in east Asia who made the top 200 last year had their combined wealth reduced by more than $60 billion since the boom in high-tech shares cooled.
Some of the losers include Japanese mobile phone baron Yasumitsu Shigeta of Hikari Tsushin, Inc., who fell off the top 200 list entirely, dropping from $39 billion to $1.7 billion; and Masayoshi Son, of Softbank, Inc., a heavy investor in high-tech startups, who fell from $68.5 billion to $19.4 billion.
MicroStrategy, Inc. founder American Michael Saylor saw his personal fortune of $13.8 billion shrink by 93 percent in March.