CES 2022 officially runs Jan. 5 to 7, but many of the big press conferences took place on Monday, Jan. 4, one day earlier than originally planned. Consumer Technology Association (CTA), owner and producer of CES, put the number of companies canceling at 72 but noted that it added 60 new companies.
The hybrid arrangement allowed CES to muster a global technology focus, including innovations developed to fight Covid-19. The use of a new platform allowed planners to connect live remote participants in a manner not possible during last year's completely virtual approach.
Dublin firm Web Summit is powering the virtual CES event this year. The firm licensed its proprietary software, Summit Engine, to CTA. The software was deployed across mobile and web apps for the physical and digital event, according to Paddy Cosgrave, co-founder and CEO at Web Summit.
Exhibitors with a physical presence in Las Vegas can expand their reach to CES digital participants to showcase their product launches and thought leadership. For all attendees, networking and on-demand content will be available through the end of January.
CES is now the second global organization to license Summit Engine, after the United Nations hosted a UN Development Program event on the platform in March 2021.
TechNewsWorld attended many of the press conferences and presentations virtually. We assembled a roundup of some of the major announcements and innovations that will impact the technology scene in 2022 and beyond.
Pre and Opening Day Keynotes
JH Han, vice chairman, CEO and head of the DX (Device eXperience) division at Samsung Electronics, delivered the first keynote of CES 2022, unveiling Samsung's "Together for Tomorrow" vision. Highlighting Samsung's plans to build a more sustainable, customized, and connected future, Han spoke on the need for further communication, collaboration, and sustainability for technology to move forward.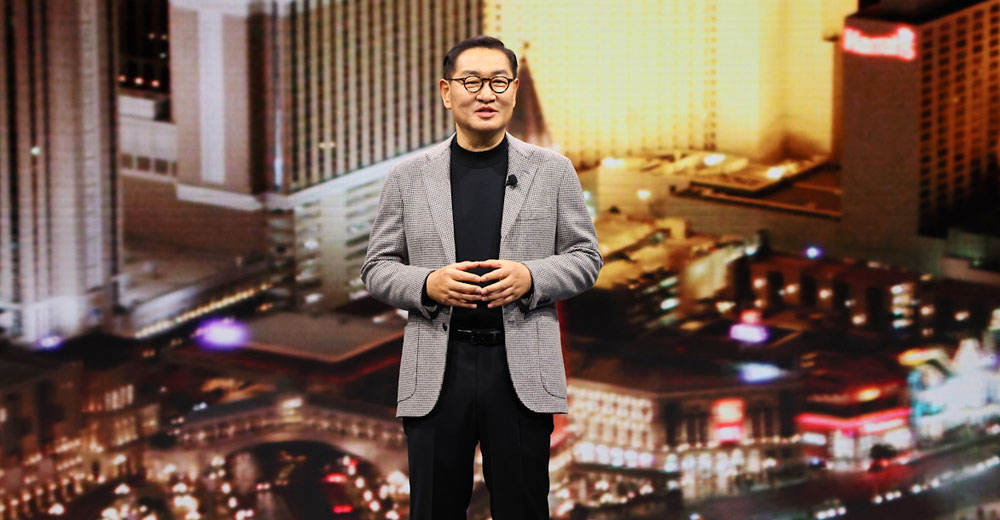 JH Han, Vice Chairman and CEO, Samsung Electronics at Samsung's CES 2022 Keynote (Credit: Consumer Technology Association)
---
Samsung showcased its push into fully recyclable packing material, solar and radio-powered devices and new energy conservation products as the first steps toward creating a sustainable future. Samsung also announced that many current and future eco-friendly innovations will be fully open and available to other industry leaders. Han summarized this latest push into collaborative sustainability saying, "Millions of everyday changes can make a meaningful impact on our planet."
Mary Barra, chair and CEO of General Motors, on Tuesday morning delivered the opening CES keynote digitally. She discussed an all-electric future, reshaping the automotive world. Barra revealed the much-anticipated Chevrolet Silverado EV, an electric version of its iconic pickup truck. The Silverado EV promises more headroom, an enhanced experience of spaciousness for both front and rear passengers, increased visibility, and a fixed glass roof.
The 2024 All-Electric Chevrolet Silverado (Credit: GM)
---
Designed as an EV from the ground up, the Silverado EV will offer up 400 miles of range on a single charge and will feature GM's Ultium battery packs. GM's tech startup, BrightDrop, also provided updates on its EV600 electric commercial vehicle and the EP1 electric pallet.
CTA's Vice President of Market Research Steve Koenig on Monday presented the 2022 Tech Trends to Watch. He noted that consumers are "leveling up" their tech, as U.S. household ownership of new technology like 4K Ultra TVs and smart appliances increased more than seven percent in the past year.
The U.S. consumer technology industry is projected to generate over US$505 billion in retail sales revenue for the first time ever in 2022.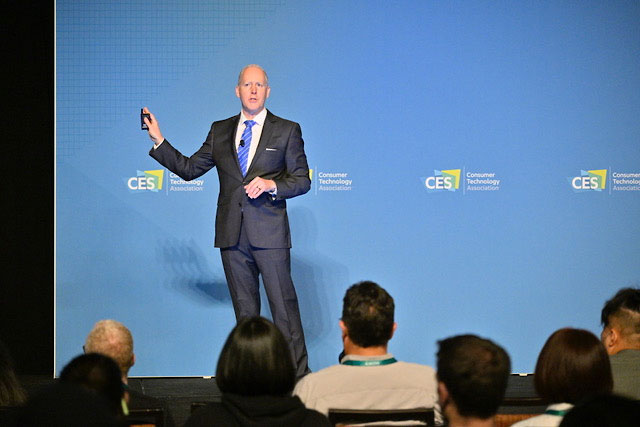 Steve Koenig presenting Tech Trends to Watch (Credit: Consumer Technology Association)
---
The projection represents a 2.8 percent revenue increase from 2021's 9.6 percent growth over 2020. Strong demand for smartphones, automotive tech, health devices, and streaming services will help propel much of the projected revenue.
Koenig also noted that automotive technology sales are expected to rebound in 2022 as we begin to see early signs of recovery in chip supplies. Factory-installed automotive tech is projected to reach $16 billion in shipment revenues this year, an impressive seven percent increase from 2021 ($14.9 billion).
Opening Day Major Announcements
Acer Introduces Three Notable Chromebook lines
Acer unveiled what could be the world's first high-end Mediatek-powered Chromebook, the Kompanio 1380 Chromebook. Powered by a newly minted MediaTek Kompanio 1380 SoC, this device is the first MediaTek-Kompanio-powered Chromebook in Acer's higher-end of the market. MediaTek has three tiers of SoCs for Chromebooks — the Kompanio 500, 800, and 1000 series.
This latest entry retains the name of Acer's Chromebook Spin 513, and is a two-in-one laptop, but will not look and perform anything like the last Spin 513 with the Snapdragon 7c processor inside. It will be much more high-end with the same 13.5-inch 3:2 1156×1504 screen, however.
Acer Chromebook Spin 513 (Credit: Acer)
---
Acer noted that the convertible will feature MIL-STD 810H durability, have upward-firing speakers with DTS Audio, and top-firing microphones for solid video calls. Starting at $599, it will run on 4 GB of RAM and likely 32 GB of storage. Models with 8 GB of RAM and up to 128 GB of storage were not identified with specific pricing and other features. Look for this new lineup come June.
Acer also announced new, less pricey, 15-inch and 14-inch Chromebooks — the Acer Chromebook 315 and 314. Both are simple clamshell Chromebooks that will come with the latest small-core Intel processors (Celeron N4500, N5100, or N6000), 15.6-inch or 14-inch IPS displays (touch and non-touch options), and a dedicated numeric keypad on the 315.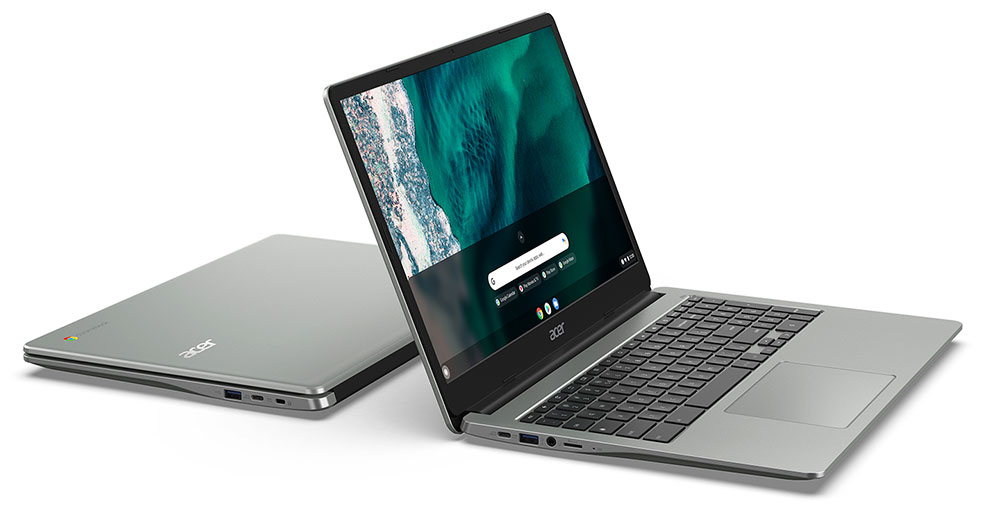 Acer Chromebook 315 (Credit: Acer)
---
Purchasers should like the addition of a wide-angle HDR webcam for both models, the DTS audio, and Acer's eco-friendly 'Ocean Glass' trackpads made of recycled ocean plastic that feel like glass. The starting price for both new models is $299. Expect the 314 model to show up in the U.S. in June, and the 315 to arrive this month.
LumixUV Showcases Groundbreaking Robotic Disinfection Technology to Stop Germ Transmission at Retail Point of Sale
LumixUV announced its terminal disinfection system using ultraviolet-c light energy to effectively sanitize surfaces and kill germs at customer transaction points at retail facilities.
The antimicrobial approach is scientifically proven against most strains of bacteria and viruses, according to LumixUV. High-powered UV-C LED lights pass over the POS terminal system and disinfect at a level comparable to Lysol or alcohol without the risk of damaging the terminal that comes along with applying liquid disinfectants.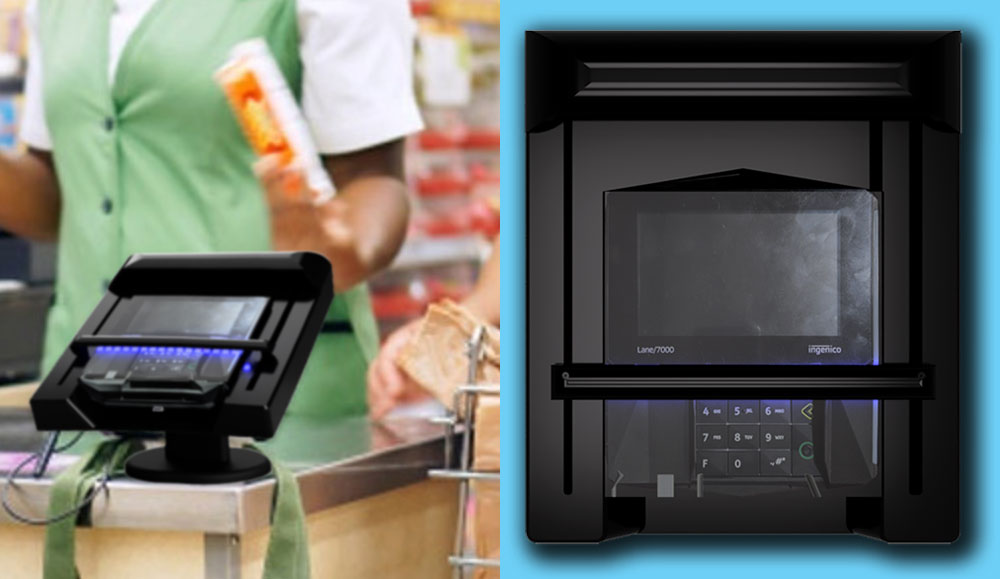 LumixUV UV-C Point of Sale Disinfection System (Credit: LumixUV)
---
LumixUV also developed complementary individual credit card disinfection devices designed to sanitize the customer's card in applications where customers must physically hand their credit card to an associate for processing. This can help to protect associates and consumers from transmitting germs potentially carried on the card itself.
"Eighty percent of illness-causing germs are spread by our hands and POS terminals are touched by hundreds of people — if not more — on a daily basis. UV-C disinfection is effective in maintaining cleaner, safer, high-touch surfaces," said Mark Lyle, co-founder of LumixUV.
Human behavior is difficult to change, he said, noting that it took over 100 years for handwashing to become commonplace after it was discovered to be effective in reducing the transmission of illness.
"Implementing effective and automated disinfection systems in high-risk areas [that] doesn't rely on humans is critical in preventing the spread of disease," he said.
LumixUV is also adapting its technology to work with many self-serve kiosks at airports, offices, and additional high-touch surface applications which can also be disinfected with UV-C light. Growth in the UV disinfection equipment market has been attributed to increasing demand from health care, municipal and industrial sectors, utilizing high-powered UV light to disinfect germs in the air, water, and on surfaces.
AT&T-Nvidia Deal Gives 5G Mobile Customers Fast Gaming
Nvidia on Tuesday announced that it would partner with AT&T to give the cellular company's customers six free months of GeForce Now service. According to blog post, new or existing customers with 5G-capable devices and a 5G rate plan can claim the promo immediately.
The benefit for avid game players is 5G's fast speed and response times deliver a smooth mobile gaming experience. Try it for yourself with our exclusive GeForce NOW offer. That amounts to desktop quality gaming performance, noted AT&T's blog on the announcement. AT&T customers on an eligible rate plan get a free six-month GeForce NOW Priority Membership. That lets them play nearly 100 titles and games they already own on popular PC game stores like Steam, Epic Games Store, Ubisoft Connect, Origin, GOG, and more.
The deal with Nvidia adds realistic, state-of-the-art graphics built on Nvidia RTX technology and cutting-edge artificial intelligence features. The result immerses players into virtual worlds in supported games.
What AT&T gets from the mobile partnership with Nvidia is a window to gain insight and expertise to optimize its mobile network to provide a delivery system for what the future brings, suggested David Christopher, executive vice president and general manager for partnerships and 5G ecosystem development at AT&T.
Dell Reinvents Simplicity in the Premium XPS 13 Plus
Dell introduced its latest Ultra technology at CES on Wednesday. Engineers redesigned it from the ground up to outperform its predecessors and satisfy users with simplicity.
The XPS 13 Plus combines innovative designs and powerful technology built around a 12th Gen Intel Core 28W processor (up from 15W on the prior generation) supported by larger fans that provide 55 percent better airflow without increasing noise or temperature. Capacitive touch function row, seamless glass touchpad with haptics, and zero-lattice keyboard maximize user interfaces for a streamlined interior design.

Dell XPS13 Plus (Credit: Dell)
---
The new ultra-laptop delivers up to 4K+ resolution with vivid true-to-life color on an OLED display with Eyesafe — to reduce harmful blue light and an improved quad-speaker design. The XPS 13 is the first XPS made with hydro-power renewable energy sources. This significantly reduces the carbon footprint of the aluminum and is 100 percent recyclable so it can be reused in new PCs, delivering on Dell's 2030 Goals.
Pricing and availability put the XPS 13 Plus on shelves worldwide this spring with Windows 11 or Ubuntu 20.04 on the Developer Edition. Pricing will be confirmed closer to the shipping date.
Chipmakers on the Rebound
Intel spent opening day flaunting its line of the newest 12th generation mobile chip versions aimed at both enterprises and consumers.
Its hybrid chip architecture includes 28 new 12th-gen Intel Core mobile processors and 22 desktop processors. Its inventory includes updates to its Evo computing platform, new 35-watt and 65-watt processors for desktop, and vPro platform launches.
The H-series of the 12th Gen Intel Core mobile processors come in four main categories: i3, i5, i7, and i9. The i9-12900HK is the fastest and is among the first from Intel to build performance and efficient cores together on the same chip to better handle heavy workloads.
They come with frequencies of up to 5GHz, 14 cores (six for performance, eight for efficiency), and 20 threads for applications that are multi-threaded. This is a first in the industry for H-series mobile processors, according to Intel.