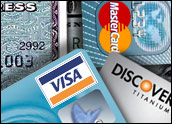 If you're looking for a credit card and a pleasant experience on the Web, the place to go is Capital One — at least, according to Web site evaluation firm Change Sciences Group.
That's because when it comes to credit card cyber-stops, the "What's in your wallet?" folks have created a site that's easier to use, more informative and more persuasive than any other major financial services purveyor offering plastic on the Net, the group said.
Following Capital One in the Change Sciences rankings of credit card Web sites were Wells Fargo, of San Francisco, and National City, of Miamisburg, Ohio.
No Lock on Websters
Many card companies still believe that once they drive a consumer to their Web site, they have a lock on their business, which is not the case at all, observed Change Sciences Partner Steve Ellis.
"Card companies need to wake up and realize that people are shopping for cards online, and whatever they can do to make that shopping experience better is going to pay off," he told the E-Commerce Times.
"The days when you owned the customer once they were on your site are on the wane," he continued, "but a lot of firms are still operating in that bubble."
When you push someone to your Web site, you're pushing them to comparison shop, he maintained. "That's what the Web does," he said. "It puts consumers in the driver's seat."
Comparisons Lacking
A glaring deficiency at many Web sites where multiple credit card types are offered is the inability to compare or tailor choices for a consumer, according to the Change Sciences report.
It found that 41 percent of sites that offer more than one card fail to provide a way for prospects to easily compare the key features of multiple card offers.
What's more, it revealed that 60 percent of sites with more than 10 offers failed to provide a means for obtaining meaningful product suggestions to credit card seekers.
"The challenge for the big issuer is to take all the cards that they offer and narrow them down to a choice that the consumer feels is the best choice for them," Chris Musto, general manager for financial services at Keynote Systems, an Internet and mobile test and measurement company in San Mateo, Calif., told the E-Commerce Times.
"If a consumer can't find the best choice for them, then you're just going to have paralysis," he said. "They're not going to apply because they don't know what card to get."
Bait and Switch
Why do many issuers omit critical comparison features from their sites?
"The answer is that's not what the credit card business is about," Change Science's Ellis declared. "It's not about comparing card offers. It's about bait and switch — low introductory rates that, after six months. become 19 and a half percent."
"Of all the financial services products that we cover, credit cards are the least consumer-friendly," he added.
Dim Persuaders
A sin shared by all credit card sites, according to change Science's research, is the lack of persuasive content.
"If you land on the application page and it doesn't tell you how long it takes to process the application, that page is not persuasive," Ellis asserted.
Although credit card issuers aren't allowed to lure consumers to their sites with promises of instant approval, they can boast approval in as little as 60 seconds, Keynote's Musto noted.
"If they can do that," he said, "they should tell you they can do that because when people apply for a credit card, they want that credit card and they want to know if they have it now. They don't want to wait 10 days to find out if they have it."
Since the methodology for ranking Web sites varies from benchmarker to benchmarker, a site's ranking can vary, too.
For example, Keynote, which also evaluates credit card sites, pegged Discover as No. 1 in its rankings. Change Sciences, on the other hand, listed Discover as 14 in its rankings.