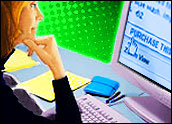 Content and advertising have enjoyed a longstanding, symbiotic, codependent relationship — although not necessarily in the unhealthy sense of the word. Content publishers need advertisers to pay the bills while advertisers simultaneously need content to create traffic they hope to draw to their goods and services.
However, most publishers are making one major mistake by not using their most valuable asset — their content — to its fullest potential. In most instances, a publisher's valuable content is quickly archived and left behind as it moves off the front page. As a result, both advertisers and publishers are losing out on potential traffic and incremental revenue.
Think of it this way: Every time a library adds new books to its collection, the old books aren't thrown away or forgotten. It's the volume of books within a library's collection that help the library maintain the repeat traffic in and out of its doors, not just the newest titles added to its collection this week. Sure, maybe the new books get prominent placement at the front desk as "recent additions," but it's the vast nature of a library's holdings that makes people come back.
Online publishing, however, is very different. The focus is primarily on the latest and greatest. Features are continually added to satisfy the gnat-like attention span of most readers; however, as these new features have been added, old content has been left behind, or pushed into the archives, the equivalent of the library's basement.
In addition, publishers must continuously refresh content to remain competitive. However, with new content coming online so quickly, the old content is retired way too soon and, as a result, content that is still valuable to readers — and thus advertisers — is never to be seen again.
Extending the Content Life Cycle
That said, most content remains useful to readers long after it's written. If you think about the library example, people still check out the works of Shakespeare centuries after they were first published. Benjamin Franklin's autobiography is no less true today than it was when it was written in 1791. Clearly, these are extreme examples — not all content has a shelf life that is centuries long — but most of it certainly lasts beyond just a few days.
Publishers are doing their best to extend the life cycle of their content by adding search functions and reorganizing their sites to provide the ability for users to "drill down" and find a broader array of information on germane topics. This has worked to some extent, but it's still not exposing otherwise valuable content to the readers it deserves.
One way to extend the content life cycle is by distributing it — and not just through a publishing group that has more than one site — by using a content or advertising network that works across publishers and can reach people at a local level.
Online advertising networks have been structured like this for a while, and it's time for content publishers to catch up. In fact, they can do better than just catching up by joining forces to create one network that contains ads and relevant content. Structuring this network in the form of a directory creates a resource for users and acts as a filtering engine that allows them to self-select the topics they're seeking.
For example, someone visiting the Web page of their local radio station might enter the network looking for a local electronics store to buy security software for a laptop. After making his selection, he'll be served with local merchants that sell security software as well as relevant articles — many of which may be a few months old — from leading technology publications on the difference between antivirus software and firewall software. While they are served up alongside advertising, articles like this are clearly delineated as actual content.
Taking a Step Back
The article may no longer be front and center on its publisher's page, but since the basic principles of the technology remains the same, it's still useful for a consumer. By making this valuable content easily accessible for consumers, and combining it with contextual advertisements, everyone wins. Publishers continue to drive traffic to their older content, advertisers continue to reach consumers that are actively searching for their products, and consumers are empowered with easy to find information at their fingertips.
Making content easier to find maintains its usefulness. Matching the right ads with the right content — not simply the most recent content — provides incremental revenue opportunities for both publishers and advertisers.
Maintaining strong traffic will always be the key to making the relationship between content and advertising work, and traditionally that's all anyone has cared about. However, if you take a step back, advertisers should pay just as much attention to how content is used. After all, the content is what drives traffic.
---
Jean-Eric Penicaud
is COO of
DirectoryM
, an advertising network that specializes in helping businesses find local customers through targeted online advertising.
---