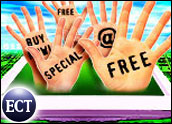 Pop-up advertising on the Web might be annoying, but not as annoying as what would happen if trademark law were used to squash them, according to a federal appellate court in New York.
The U.S. 2nd Circuit Court of Appeals this week upended a decision by a lower court that used trademark law to block the ads of one pop-up purveyor.
The lower court decision had the potential for creating terrible trouble on the Internet and beyond, according to a "friend of the court" brief filed by Google with the appeals court and obtained by the E-Commerce Times.
Devastating Consequences
The lower court's opinion "has significant and potentially devastating consequences on the business of Internet search engines, Internet advertising, and indeed advertising in general," the brief asserted. It was written by Mark A. Lemley, director of the Stanford Center for Law, Science and Technology and an attorney with Keker & Van Nest in San Francisco.
"It will upset settled expectations in the Internet community," the brief continued, "and subject a wide variety of legitimate business practices to the risk of trademark liability."
The case before the appeals court involved a company called WhenU.com, which distributes software for users' desktops that will generate pop-up ads based on a user's location on the Internet.
Pop-Up Price Comparisons
According to WhenU's Web site, the ads provide a user with competitive pricing information. "For example," WhenU explained, "when you are shopping for an air fare, WhenU recognizes this, and then provides you with an ad for a cheaper fare."
WhenU's practices were challenged in court by 1-800 Contacts, a seller of contact lenses and other products by mail, telephone and Web site. Apparently WhenU's price comparison venture annoyed some other companies, too. In another "friend of the court" brief, 1-800 Contacts' position was supported by L.L. Bean, Hertz, Lending Tree, Six Continents Hotels, Inter-Continental Hotels and TigerDirect.
In its complaint, 1-800 Contacts maintained that the inclusion of its URL in the directory used by WhenU to trigger pop-ups violated its trademark. District Judge Deborah A. Batts bought that argument and issued a preliminary injunction against WhenU.
Trademark Claim Gutted
That injunction, though, was nixed by the appeals court. In its decision, that panel found:
"[A]s a matter of law, WhenU does not 'use' 1-800's trademarks within the meaning of [federal law], when it (1) includes 1-800's Web site address, which is almost identical to 1-800's trademark, in an unpublished directory of terms that trigger delivery of WhenU's contextually relevant advertising to [computer]-users; or (2) causes separate, branded pop-up ads to appear on a [computer]-user's computer screen either above, below, or along the bottom edge of the 1-800 Web site window."
Although the case, if not appealed again, will be returned to the lower court for a full-blown trial, the trademark issue was essentially gutted from it by the appellate judges when they dismissed "with prejudice" 1-800 Contacts' trademark infringement claims.
Feeling Hijacked
According to Terence Ross, a partner with Gibson, Dunn & Crutcher in Washington, D.C., and an attorney for the lens seller, no decision has been made yet about appealing the decision.
He admitted that he was disappointed with the appellate court's decision. "Somebody spends a lot of time, money and effort to build up a Web site through which they attempt to do business only to have that business hijacked off by somebody who has spent virtually no time doing the same thing," he told the E-Commerce Times.
That's not quite the spin put on the decision by the Electronic Frontier Foundation (EFF), which, with Professor Eric Goldman of Marquette University Law School in Milwaukee, Wis., filed a brief with the appeals court in support of WhenU.
Desktop Control Issue
From the EFF's vantage point, all 1-800 Contacts wants to do is usetrademark law to be a traffic officer on a consumer's desktop.
"The consumer is the one who should be able to control their own computer," EFF attorney Fred von Lohmann told the E-Commerce Times. "The trademark owners in this case are essentially arguing that when you are visiting their Web site, they control your computer."
For consumer and e-tailer alike, though, the longterm impact of the case might be minimal. "I think the case will have limited impact because it only deals with pop-up advertisements," observed Barry G. Felder, a partner with Brown Raysman Millstein Felder & Steiner in New York City.
"The court went out of its way," he continued, "to distinguish this case from others involving keyword-targeted advertisements."