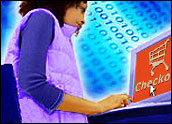 If I've learned one thing in my career in retailing and the Internet, it is that people love the opportunity to save money. They hate it when somebody else is getting a bargain when they aren't.
This is actually how I got started in the online couponing business. I noticed when I was "checking out" online, there were these "boxes" for discount codes and I never had any.
Online shopping is still in its infancy, but it continues to experience tremendous growth as retailers amplify security measures and people simply become more comfortable with the process and the convenience.
Right off the bat, though, the idea of couponing was part of the Internet shopping experience. Over the years, I've been able to take notice of what works well and what doesn't for retailers offering discounts for online shopping.
My tips for Internet retailers are as follows:
Wide Audience Appeal
When creating coupons for the first time, merchants tend to forget that they must create coupons that appeal to a wide audience and are simple to apply. One of the most common mistakes is creating a coupon that is valid only for a specific product or product category.
Alternatively, merchants will create coupons that appear general but actually include as many as 30 or more brand and product exclusions. In limiting the product range, merchants are also limiting potential customers.
Keep It Simple
A complicated coupon code is another common problem among merchants using coupons for the first time. As many users tend to write down coupon codes on paper before entering them, long and complex codes leave room for error.
Coupon codes should be short, simple and avoid using characters that can be misinterpreted.
Additional Best Practices
It is a safe assumption that a greater discount will result in a higher conversion rate.
Additional best practices for creating effective coupons include offering a solid discount of at least 5 percent; keeping the coupon generic to all orders or a category; establishing a coupon expiration date to create a sense of urgency; using simple characters to avoid confusion when entering a coupon code (confusing characters may include: i, l and 1 or 0 and o); and creating a clear landing page recognizing the discount.
Flat Rate Discounts
Coupons offering a flat rate discount in dollars, such as a US$10-off a $50 purchase coupon, are very popular. These coupons tend to attract more clicks and have a better conversion rate for sites whose average order totals less than $100.
Alternatively, sites with an average transaction size over $100 find that coupons offering a percentage discount, such as 10 percent off $100, often perform better.
Finally, coupons that provide a discount with a low minimum purchase threshold, such as $5 off a $15 purchase, or even no minimum at all, such as $10 off any order, consistently result in high conversion and clickthough rates.
Minimum Spending Requirement
Merchants commonly try to create coupons with a minimum spending requirement that is higher than their average order. By imposing such a minimum spending requirement, the merchant is subtly suggesting that the consumer add an extra item or two to their product order.
An example might be a book merchant whose average order is two items totaling $40. Recognizing this average, the merchant would typically offer a 10 percent off coupon for orders of $60 or more, thus enticing the consumer to add another item to their order to meet the minimum.
Absorb Shipping Costs
Free shipping coupons are also quite popular with merchants as they consistently perform well.
With shipping costs constantly on the rise, consumers take advantage of free shipping coupons, particularly for sites that would normally charge in excess of $6 in shipping fees.
Offer Greater Discounts
As new customers typically have larger orders than repeat customers, many online merchants now attempt to attract first-time buyers by offering them greater discounts.
Whereas repeat customers may expect coupons offering 10 percent off their order, new patrons might enjoy a 15 percent discount for their first purchase.
User Activation
Another rule of thumb is that user-friendly coupons lead to higher conversion rates. Overall, coupons perform better when they can be activated from the user's click, thereby skipping the step where the consumer must enter the coupon code during the check-out process.
At checkout, sites that do choose to use coupon codes should keep their entry boxes clearly marked so that users can find them easily. Entering the coupon code or clicking on the link should activate the code and allow the user to see their discount.
It is best that users see the discount as a line item in the shopping cart before the transaction is complete, so that the savings are visible and the consumer knows that the discount has been applied.
Link to a Landing Page
Coupons should be linked to a specific page. Merchants new to the world of Internet coupons will sometimes link a category-specific coupon to a generic landing page, leaving the customer to search for the discount or appropriate page.
Merchants should make every effort to link a coupon directly to a landing page that represents the discount. By customizing this landing page, merchants save the consumer time and ensure them that their coupon has been activated. This simple task typically results in considerably higher conversion rates.
How Established Is the Site?
Overall, the performance of a coupon is largely dependent on where it can be found on the Web.
A more established site will have the ability to generate repeat traffic and develop a loyal consumer base familiar with the concept and use of online coupons.
As such, these established sites will see higher conversion rates than relatively unknown sites.
---
Scott Kluth
is the president and founder of
CouponCabin.com
, an online aggregator of consumer discount codes and coupons in Internet retailing.
---