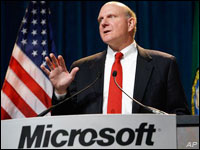 Corporate America has been quaking in its boots since Microsoft announced in August that CEO Steve Ballmer would retire within 12 months and launched its search for a replacement.
Given the enormous task Microsoft's next CEO will face, the compensation is likely to be substantial, and the lure of all that pelf will not be easy to resist.
Microsoft "needs to find someone with world-class management skills and knowledge of numerous, often disparate, markets who is also a rock star executive with past success that will make the markets believe he or she is the right choice to run the world's largest software vendor," Charles King, principal at Pund-IT, told the E-Commerce Times.
In other words, Redmond needs a wizard — and wizards don't come cheap.
In 2012 two CEOs earned more than US$1 billion, according to GMI Ratings' 2013 CEO pay survey, the results of which were released in October. Each of the top 10 highest-paid CEOs earned more than $100 million, and three of those top 10 CEOs were in high-tech firms, the survey found.
It's possible that whoever Microsoft selects will have a combined salary, bonus and stock option total well into the 9-figure or possibly even the 10-figure range.
Granted, Steve Ballmer reportedly earned a paltry $1.26 million in total compensation in fiscal 2013, down from 2012, but he asked not to receive stock awards as part of his compensation. Of course, he doesn't need to: His personal wealth is estimated at $18 billion.
Let's Play Whack-a-Microsoft-CEO-Candidate
The rumors swirling around possible candidates for the post likely have other corporate boards offering their CEOs golden handcuffs — or ensuring the handcuffs are forged of molybdenum.
Qualcomm on Friday named COO Steve Mollenkopf CEO and president in a move that some believe was made to ensure he would not head off to Redmond.
Ford's board has reportedly been pressuring CEO Alan Mulally, seen as a top contender for the post, for assurances that he's going to stay.
Microsoft executive vice president Tony Bates, who turned Skype into a hugely profitable operation prior to its acquisition by Microsoft in 2011, is another possible candidate.
Others include former Steve Ballmer associate Paul Maritz, who turned VMware into a powerhouse; Microsoft executive VP Satya Nadella; Stephen Elop; Microsoft COO Kevin Turner; the company's hardware head honcho, Julie Larson-Green; and OS guru Terry Myerson.
Of the names on the list, Bill Gates is the most intriguing," Pund-IT's King said. "He's the only one with the requisite experience and gravitas to fully institute the changes the company needs."
Other possible candidates on King's list are IBM's Steve Mills and Salesforce's Marc Benioff.
Gates, Ford's Mulally, Nadella, Larson-Green and Turner are ranked pretty low on the Next Microsoft CEO website, while Valve Managing Director Gabe Newell is the top pick and Free Software Foundation President Richard Stallman the second choice.
"Microsoft needs someone to reinvigorate the company," Rick Sturm, founder and CEO of Enterprise Management Associates, told the E-Commerce Times. "Everything about the company needs that."
Laying the Groundwork
Ballmer "did a huge reorganization and [Microsoft's] board of directors have set a strategy which probably is easily summarized as devices and services, so are you looking for somebody to execute this strategy or are you looking for somebody to create their own strategy?" asked Michael Cherry, senior analyst with Directions on Microsoft.
This question needs to be answered first "because, of the pool of people who could do that job, I don't think very many would want to play someone else's game," Cherry explained.
"In the end, I believe that hiring the right person to be the next CEO at Microsoft is largely a matter of luck," EMA's Sturm concluded. "Lou Gerstner was an unlikely person to effect the turnaround that IBM needed, but he was incredibly successful. At the other extreme, HP has had a couple of appalling failures in Steven Hurd and Lou Apotheker."