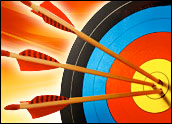 The dissemination of content throughout the Web has forced companies and marketing firms to rethink how they advertise. The swell of venues that are housing content has dueling effects: It increases the potential reach of an advertisement but also dilutes the customer pool for the original publisher.
Embed codes, which enable this dissemination, are like tailor-made DNA — they contain whatever traits their creator endows them with. And along with an outlet's content and logo, these codes are often replete with video ads.
In industry parlance, it's called "preroll": a short video that precedes the actual content. In this way, a company that advertises with CNN can reach not only people who stop by CNN.com, but also anyone who happens to be watching a CNN video on a different website.
In such an instance, it doesn't much matter if the viewer never went to CNN's home page. These preroll ads, unlike banner ads at CNN.com, are inescapable.
"My impression is that most of the news clips that are linked on [other] sites still carry advertising," eMarketer senior analyst Paul Verna told the E-Commerce Times. "The ads might be from different brands, but I don't get the impression that either the advertiser or the site publisher is losing out … .
"I don't think CNN is fretting about the fact that users aren't being exposed to the ads CNN is serving on its own site," he continued. "Would CNN prefer that users go directly to CNN.com? Sure, but the fact that they're allowing widespread embedding of their clips on other sites suggests this syndication strategy is working for them."
Things Ad Up
If the raw number of eyeballs is the bottom line, slipping ads into a video player is a good play. Those players travel far and wide outside the confines of the content creator's site, garnering the exposure and views that advertisers crave. Still, there is an element of the unknown, because there is no telling where it might end up.
"If it's a player that can just be grabbed by any user or any blog owner and just embedded into a page that hasn't been vetted, it could end up in a spot where it's talked about negatively," Eric Franchi, cofounder of Undertone, told the E-Commerce Times.
"And from an advertising perspective, it could be put in an area that's not consistent with both the media content owner's and advertisers' guidelines," he pointed out. "For conservative content owners selling to conservative advertisers looking to reach moms, you don't want that content to be put into a section of a site with racy photographs or something like that."
But advertisers who choose to stay within the confines of the "parent" site can still benefit from all those syndicated videos: Along with logos and advertisements, another part of the embed code DNA is the queue of videos that lines up when the first one is done.
When you finish that 90-second Herman Cain clip, you will be offered up a handful of other videos, say an interview with Cain's accuser or — and these are real examples — a piece on Kathy Griffin's "Botox Bod" or the latest in the Justin Bieber paternity suit. Click on one of those follow-up videos and you're liable to be whisked away from where the content was embedded, and back to where the content was created. Voila.
No matter how far astray content might end up, the viewer is never more than one click away from its parent site — and the ads adorning that parent site.
'In This Era…'
CNN's interview with Herman Cain was more than an interview with Herman Cain. A tapestry of factors is pieced together behind the page.
It's not an act of benevolence that CNN hands out these codes and, by extension, these videos. It is a way to grow the brand beyond the confines of CNN's own website. When the Los Angeles Times plucks a CNN clip — when Gawker and Huff Post and any number of media outlets do the same — the CNN logo is every bit as viral as the video.
And search engines, like never before, can tell that the authority on Herman Cain is not the sites that leaned on CNN, but CNN itself. This offers an objective gauge for the subjectivity of brand reach, helping to quantify benefits of being an authority. This, in turn, helps reroute traffic to CNN.com by way of Google searches. And that's if people don't get there by clicking the follow-up videos that play as an encore to the original.
This whole process is not lost on advertisers and marketing firms that help fund the creation of the content in the first place.
"Media companies can get their content out there in a broader way," Franchi noted, "and from an advertising perspective, if they do it right, they can then get more advertising opportunities against the content to drive more revenue and to fully realize their potential.
"This is a very real thing, and I think it's a positive thing," he said. "It's something that — in this era where everything is becoming sharable and social — it's going to be a way for advertisers to connect with consumers regardless of where they are."