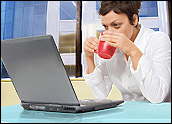 In an era when the sting of recession has not yet worn off, many consumers are continuing to look for ways to save a few dollars. One of the effects on the retail industry is the increasing desire of shoppers to avoid unnecessary shipping fees. While many consumers want to be able to purchase an item in a nearby store, which saves money on shipping, they also want the convenience of finding the item quickly and knowing that they are getting a good deal.
So, how do they get the best of both worlds? Technological advances have empowered consumers and given them the ability to make the Internet work for them. Through the process, a new consumer trend has emerged. We now see consumers researching products online and accessing all the reviews and information they need, but then purchasing those products at their local brick-and-mortar stores.
This phenomenon has driven the explosion of commerce 3.0 — the convergence of offline and online shopping. Driven by technology, customers are once again changing the game — focusing less on the global online marketplace and more on local neighborhoods.
Web-Influenced Sales
In addition to saving on shipping costs, the consumer of the 21st century has another important desire: instant gratification. This is the age of the here and now, and shoppers are as impatient as anyone else. If they want a product, chances are they want it now, not in the five days — or longer — that it could take to ship across the country.
The most important reason consumers shop at local stores, according to a Forrester Research report, is that they don't want to wait for their product to arrive (51 percent). The second most compelling reason is that they want to see a product in person before purchasing (42 percent).
These things seem logical to the brick-and-mortar retailer. Though technological improvements can allow shoppers to see every angle of a product through online videos and demos, nothing can provide the same comfort and experience as actually holding a product and trying it out before deciding to buy it. Having the opportunity to try the product for yourself also alleviates the likelihood of having to send it back, thereby spending twice the amount on shipping.
The way consumers use the Internet has evolved, transitioning from Web-based sales to what Forrester calls "Web-influenced sales" — sales in local stores that are generated through online marketing and research. These Web-influenced offline retail sales are growing by billions of dollars a year in the United States.
This sector will generate nearly US$1.13 trillion dollars in U.S. sales during 2011, a figure that will rise to $1.23 trillion in 2012 and $1.55 trillion by 2015, at which point it will represent nearly 44 percent of total retail sales, Forrester projected earlier this year.
In fact, even though U.S. online commerce is growing at more than 10 percent a year, according to Forrester, cross-channel commerce is growing much faster and is estimated to grow to five times the size of the e-commerce market by 2015.
This cross-channel shopping trend is providing local retailers with the opportunity to share their products with a whole new set of shoppers, not just those who live in their neighborhoods. And this convergence of shopping channels — the blurring of lines between online and offline commerce — is giving rise to a rebirth of local commerce, which is clearly a boon for those retailers who are prepared to utilize new technological advancements to take advantage of the growing consumer trend.
Creatively Blurring the Lines
Since consumers today seem to be basing their buying decisions first on extensive online research, local businesses need to ensure that their product information appears online, that it is visible in consumers' searches, and that it reflects the actual availability of products in their local stores. This can sound both complicated and difficult — especially since many small and midsized businesses do not have the resources to make vast technological improvements to their systems.
However, there are simple and inexpensive ways to have your inventory work for you and it involves sharing the contents of your store shelves via the Web. In essence, the same technology that is driving shoppers back to local stores can now allow merchants to gain unprecedented online exposure for their product base.
Technology that enables local retailers to maximize their online exposure will help drive considerable revenue increases for local businesses and will continue to reshape the retail landscape. Local stores will not only enjoy a boost in foot traffic, but also have cross- and upselling opportunities with ideal targets — shoppers who have already done their product research online.
Forrester reported that 45 percent of shoppers said they bought extra items once in a store, spending an additional $154, on average, on incremental purchases that they did not know they needed or wanted. This showcases the importance of quality customer service, as a knowledgeable salesperson could be the difference between foot traffic that translates to sales and foot traffic that amounts to a customer walking out the door empty handed.
Additionally, it is beneficial to make the online experience and the in-store experience as seamless as possible. For example, promotions initiated online can be carried forward in the store environment as part of the consumer's preferred shopping experience. Moreover, new technological advances can help stores participate more extensively in geo-location programs, offering coupons or discounts via mobile and Web devices to those consumers who are walking by the retailer in real-time.
The opportunities are significant, and the winners will be those retailers who most comprehensively capitalize on the latest technological improvements and innovations. From market research to date, it seems that retailers are just as excited as consumers to embrace the opportunity to blur the lines between their online and offline commerce platforms.
They see the impact that shoppers who research online and purchase offline can have on their bottom line and are doing what they can to position themselves at the forefront of this consumer shopping trend. Given that cross-channel sales are increasingly becoming a larger portion of all retail sales, it would benefit all retailers to get involved in any way they can.