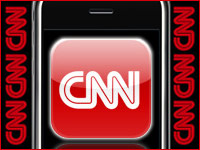 CNN has acquired Beme, the startup cofounded by YouTube sensation Casey Neistat, the companies announced Monday.
CNN plans to launch a new branded subsidiary featuring timely and topical video content by the summer of 2017. It will be led by a team including the Beme cofounders, under a name as yet undecided, with CNN providing funding.
Financial terms of the acquisition were not disclosed.
Neistat will provide the content expertise, and Beme cofounder Matt Hackett will lead digital innovation at the new company. There are plans to hire dozens of new staffers, including producers, builders, developers, designers and content creators, according to CNN.
Young Turks
The deal is consistent with CNN's effort to tap into the fast-growing business of news content creation characteristic of Vice and Buzzfeed. Both offer a range of documentaries, short videos and other content targeting millennial viewers who do not get their news from traditional cable networks.
However, CNN leads the Comscore multiplatform report in the news and information category in terms of millennial reach, according to CNN spokesperson Sophia Shin.
"That said, 'millennial' is a broad term applied too loosely to a massive generation," she told the E-Commerce Times. "The acquisition isn't just about reaching any millennial. It's about diversifying an audience that may not have otherwise engaged with CNN."
The deal comes a year after CNN launched its own effort to tap into the space with a subsidiary called the "Great Big Story." Led by Chris Berend and Andrew Morse, it offers an eclectic range of stories on the environment, human interest, technology, food and other subjects.
Berend, who is also senior vice president of digital video at CNN, and Morse, who is also executive vice president, U.S. editorial and general manager of CNN digital worldwide, will operate as cofounders of the new branded entity along with the Beme cofounders.
Great Big Story is doing '"incredibly well," Shin said. It has surpassed all of its traffic goals and financial targets and is expanding globally.
Dream Deferred
The goal at Beme was to use social media as a vehicle for "candid, unfiltered perspectives" that were missing from the major news networks, according to Hackett.
"We wanted to create more empathy in the world by making the perspective of each of its inhabitants immediately and compellingly accessible through video," he added.
However, "Beme as a single product failed," Hackett acknowledged.
Beme already has been experimenting with CNN in a project called "Exit Poll Live," which streamed unfiltered views of voters from across the country, he noted.
The Beme staff will retain a lot of its independence by keeping its own office and adding creative and engineering talent right away, Hackett said.
"Beme's acquisition by CNN is a diversification play by a major TV network in acquiring a distribution channel with an authentic feel for digital narratives," observed Tim Mulligan, senior analyst at Midia Research.
"Beme's founder Casey Neistat has created a robust reputation as someone who has seen the potential for digitally native short form video to bridge the widening gulf between traditional media practice and emerging smartphone era consumption patterns," he told the E-Commerce Times.
The success of the new venture will depend largely on a balance between resource allocation and the level of autonomy provided to the Beme team, Mulligan said.
"Whether by acquisition or use of Instagram and Snapchat, all the networks want in on quick-hit video," Poynter analyst Rick Edmonds told the E-Commerce Times, along with "the new and growing audience it has developed."