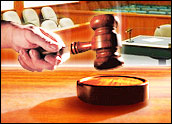 As Facebook launched its IPO on Friday, it was hit with yet another class action lawsuit over its practice of tracking of users even after they had logged out of its website.
The amended consolidated class action complaint was filed by Stewarts Law in a San Jose, Calif., federal court.
The timing of the announcement "is a good way for the plaintiffs to generate publicity for the lawsuit, which could impact stock prices and, accordingly, exert leverage to settle the case," Yasha Heidari, managing partner at the Heidari Power Law Group, told the E-Commerce Times. "Whereas a company may ordinarily want to fight a lawsuit vigorously, it may be in the best interest of the shareholders to simply settle the case, which is probably what the plaintiffs would want in this situation."
Stewarts Law did not respond to our request for further details.
Many Threads Make the New Suit
This latest lawsuit consolidates 21 related cases filed in more than a dozen states in 2011 and early 2012. Those states reportedly include Kansas, Kentucky, Louisiana and Mississippi.
Perhaps the most prominent previous filing on the matter occurred back in February, when law firms Murphy PA and Gerard Gibbs jointly filed a nationwide class action suit in the U.S. District Court for the Northern District of California. That complaint included allegations that Facebook violated the United States Federal Wiretap Act and the California Unfair Competition Law.
Lawsuits against Facebook over user tracking resulted from accusations brought by blogger Nik Cubrilovic in September that Facebook was tracking users even after they'd logged out of its site. The social networking giant apologized and blamed the issue on a bug, but in October users complained again about being tracked after logging out.
The consolidated lawsuit filed on Friday asserts claims under the Wiretap Act, which provides statutory damages of US$100 per day per violation per user up to a maximum of $10,000 for each user. Even if Facebook's only found to have incurred one violation of the act per class member, it would be dinged for more than $15 billion in damages across the class, Stewart Law said.
Further, the consolidated lawsuit asserts claims under the Computer Fraud and Abuse Act, the Stored Communications Act, various California statutes, and California common law.
Timing Is Everything
Announcing the lawsuit the same day Facebook launched its IPO "seems more coincidence than anything, although I guess with that big influx of cash, they're probably in a good position to be sued," Darren Hayes, CIS program chair at Pace University and a former investment banker, told the E-Commerce Times. "Now that they're a publicly reported company, they're going to be scrutinized a lot more, and will have to release a lot more information than they had to before." That would include news of litigation.
The lawyers "probably waited until the announcement would have the biggest impact," Ethan Oberman, CEO of SpiderOak, told the E-Commerce Times. "This is not to hurt Facebook, but to bring this issue [of stealth tracking] to the fore and making sure Facebook's aware of the problem."
Facebook's problem is that it's not being open and honest in how they're using customer data, Oberman contended. "If they had been honest, I don't think most users would care. Not being transparent about how they use customer data is going to get them in trouble every time."
Why Wiretapping Charges?
The plaintiffs filed complaints under the Wiretap Act because it provides for statutory damages, meaning "a plaintiff is entitled to recover a certain amount of damages if they can demonstrate Facebook violated this specific law," Heidari explained.
Suing for fraud would require the plaintiff to both prove he was damaged and demonstrate the amount of damages suffered "which could be quite a difficult task in this situation," Heidari said.
The key question is whether or not the defendant has complied with the statute, Heidari pointed out. However, "the Wiretap Act is a complex statute with a lot of nuance, so I am confident there are some strong arguments on both sides of the issue."