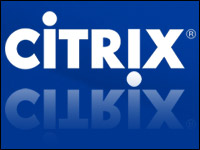 Virtualization and cloud computing specialist Citrix wants to do for its IT customers what Apple does for users of its App Store. Instead of selling programs like games or restaurant finders for the iPhone or iPod touch, however, Citrix's new Dazzle service will provide on-demand business applications.
Citrix announced its Dazzle online storefront service on Tuesday atits Synergy 2009 event in Las Vegas. Dazzle, a lightweight applicationfor Windows PCs and Macs, allows users to search through, select andbuy business software products based on the application's name,description or type, or by an IT department-defined category.
The offering is the first self-service storefront for enterpriseapplications, according to Citrix. Dazzle will work as a companion toCitrix Delivery Center products, which include Citrix XenApp and CitrixXenDesktop.
Dazzle will also interface directly with Citrix Merchandising Server,a new head-end management system that enables IT departments tomerchandise apps to users, not just deliver them. Plus, it isintegrated with Citrix Receiver, a new universal software client thecompany announced this week, which allows users to access corporate appsand desktops from any device they choose.
"The best way to think of Dazzle is not as a standalone product orcapability, but as a way to provide user access to virtualizedapplications in a more familiar way," Gordon Haff, SeniorAnalyst/IT Advisor for Illuminata, told the E-Commerce Times. "It's a form of Web 2.0 meetsenterprise IT — and by making it easier to use products like XenApp, itmakes them useful for more different situations."
Fills Big Gap
The ability to buy applications on-demand in the workplace fills a growing gap between Web-based consumer services andtraditional enterprise computing, maintained Citrix.
In most companies, applications,desktops and other services are predetermined by IT and secured intohard-coded desktop images that are pushed to users based upon theirrole, physical location or employee status. These applications arerarely updated for anything other than maintenance and securitypatches, according to Citrix.
If employees want access to something new, they either wait for IT torespond to a help desk ticket, or they simply figure out a way to go around IT altogether, using something found online. This approach not only limits employeeproductivity but also introduces security risks — and can be extremelyexpensive to maintain.
"Every day, employees are presented with an amazing array of excitingapps and services on the Web that spark their imagination and put themin full control of their experience," said Mark Templeton, president and CEO, Citrix Systems. "Then they come to work, and their IT experience is mandated by a bland 'general issue' sameness thatthreatens to drive every ounce of productivity and innovation out ofthem."
Dazzle is designed to change that experience. It gives IT a tool to letemployees select the apps, desktops and services they need,whenever they need them. The hidden reality, of course, is that bygiving employees choice, IT actually gains even more control over the things that reallymatter, Templeton explained.
Citrix is laying the foundation foran alternative industry process that moves away from push methodology, which has been hindering IT organizations financially, according to Citrix.
For instance, IT organizations will spend over US$6billion on systems designed to enable traditional push-orienteddesktop management systems, the company said.
Using It
Subscribers to Citrix can select an application in Dazzle by browsingand clicking an icon on a Windows computer or dragging the icon intothe Applications folder or Dock on a Mac system.
Once the application is active on the computer, users can organizeselected applications into user-defined playlists. They can also findthe Dazzle apps in the Start menu.
One feature designates those applications that are availablefor offline use in the Dazzle console. This makes selection easy forlaptop users who need to work while disconnected from the network, noted Citrix.
More to It
Companies that use Dazzle in conjunction with the Citrix MerchandisingServer can create a list in Dazzlethat highlights applications they want to promote to employees. ITmanagers can post advertisements for new or underutilized ITapplications.
Dazzle is designed as an open, self-service storefront. It can be usedto offer a wide range of IT services to users:
online and offline Windows applications delivered by CitrixXenApp, Microsoft Terminal Services, or other app virtualizationsolutions;
online and offline virtual desktops delivered by CitrixXenDesktop and other virtual desktop solutions;
Web-based applications published through XenApp or linkeddirectly to external Web sites for native delivery;
SaaS applications such as GoToMeeting and Salesforce.com;
enterprise content including documents, videos and intranetsites like Microsoft SharePoint; and
virtual machine compute capacity requested by technical usersfor self-service server provisioning.
Pricing and Availability
Citrix will make many of the applications available for free withunlimited use for any employee within a given organization. Other apps may carry a chargeback to employees' departments or requireapproval from managers. Applications that are only needed for aspecific project can be set up to expire after a certain numberof days.
Citrix Merchandising Server is available now and will be free to allCitrix customers actively subscribed to any Citrix Delivery Centerproduct. Dazzle for both Windows and Mac will be offered at noadditional charge to customers on active subscription on a when-and-if-available basis.
A technology preview of Dazzle will be available later this year.