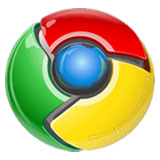 It appears that Google's relatively new Chrome browser has displaced Mozilla Firefox from the No. 2 spot in the worldwide browser market, following leader Microsoft Internet Explorer.
"Three years ago, we built Chrome to help spur more innovation on the Web, and we're excited that over 200 million people around the world are using it," Google spokesperson Lily Lin told the E-Commerce Times.
The news indicates Google's marketing efforts are paying off.
"Chrome has been out-marketing Firefox for some time now, because Google has more money than the Mozilla Foundation," said Rob Enderle, principal analyst at the Enderle Group.
"Google also cherry-picked some of the top Firefox talent, and this likely had an adverse impact on Mozilla's ability to execute in a timely fashion," Enderle told the E-Commerce Times.
Flattening Out Firefox
Google's gains come at the expense of Firefox rather than Internet Explorer (IE), which "is trying to head off a long, slow decline," David Smith, an analyst at Gartner, told the E-Commerce Times.
Google Chrome is a newer browser, which attracts users, said Mike Kaply, the founder of Kaply Consulting, said.
Chrome also "took advantage of some issues Firefox was having around memory use and crashiness," although there have been improvements in these areas of late, Kaply stated.
Tallying the Scores
Figures from Realtime Stats show that IE has almost 52 percent of the market, Chrome has just over 20 percent, and Firefox has more than 18 percent. The rest is split up among minor browsers.
Statcounter, which is based in Ireland, has a slightly different set of figures, although they also point to Chrome having displaced Firefox.
Figures from the firm's research arm, StatCounter Global Stats, indicate that IE has nearly 41 percent of the market, Chrome nearly 26 percent, and Firefox just over 25 percent.
Most arrestingly, Statcounter's figures show that Chrome more than quintupled its market share year over year, from nearly 5 percent in November 2010 to the approximately 26 percent last month.
Statcounter measures actual browser usage, not downloads. Its results are based on the more than 15 billion hits per month worldwide on more than 3 million sites that have installed its tracking code.
Hunting Down the Firefox
A lot of people used to migrate from IE to Firefox, and now the migration is from Firefox to Google Chrome, Gartner's Smith said.
"There was a period of three to four years when Mozilla didn't come out with a lot of releases for Firefox, but Chrome was coming out with one every few months," Smith pointed out.
"Now I think Mozilla's trying to overcompensate, but people's perceptions are fixed in considering that Google's the faster innovator and does other things that people care about," Smith added.
Google Knows Marketing?
Another reason for the Chrome browser's success could be that Google, which has long been perceived as lacking marketing skills, appears to have improved in this area.
"The biggest boost [for the Chrome browser] has been from all the advertising it does on television and on its Web properties and even to Firefox users," Kaply told the E-Commerce Times.
"Plus, Google has preload deals with Sony and others," Kaply continued. "I think it's leveraging the incredible market share it has to get people to use a different browser. If it put the same energy behind another browser, it would be just as successful."
What About IE?
Although Microsoft's venerable Internet Explorer browser is still dominant, it has been hemorrhaging market share for years.
"IE is actually a really strong product, it's just being under-protected by Microsoft at the moment," Enderle said.
"Steve Ballmer tends to starve his [product] groups and, as long as that continues, Microsoft is likely to continue to bleed [market] share," Enderle added.
"Microsoft and the IE team don't do a good job of grabbing mind share around their browser," Kaply suggested.
While Firefox and Chrome "make sure they're out there in the press and on the Web, letting people know what they're doing," with IE it "seems like information ebbs and flows around Microsoft developer conferences," Kaply added.
Microsoft "needs to do more to be in people's faces and let them know why it believes IE is a better browser," Kaply concluded.