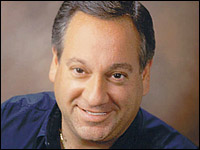 I love smartphones, but I have not found the perfect one yet. I have tried countless devices for years. I come close, but I've never settled on the perfect phone — and trust me, I have tried many. The good news is there are many great features to choose from. The bad news is they are all on different devices. Trying to find one device with all the features you love seems to be an impossible task.
So many of you have asked how to pick the best phone, I want to share what I've discovered.
Smartphones used to be a small part of the market owned by RIM — the maker of BlackBerry devices — and Palm. Today it's a lot more complicated.
Several years ago, the smartphone sector changed when Apple turned up the heat with the iPhone. Then along came Google's Android operating system. Today there are many different handsets, made by many different companies, including Samsung, HTC, Motorola, LG and others.
Floodgates Are Open
Suddenly, we're in the midst of a smartphone feeding frenzy, and it's getting more complicated all the time. The summer and the end of the year are when we see lots of new devices launched.
There will undoubtedly be many new devices hitting the market in the next few months, but three of the hot new devices that have come out this summer, all available on the AT&T Mobility network, are Apple's iPhone 4, RIM's BlackBerry Torch, and Samsung's Captivate, the version of its Galaxy S Android smartphone offered by AT&T.
What is most important to you — phone calls or emails? Texting or surfing the Web? Listening to music or watching live television? First you have to decide what features you need — then their order of importance. There are so many things we can do with our smartphones today. Different devices have different strengths and weaknesses. Your choice depends on what you need and want.
If you cannot find the perfect phone, you can at least get as close as possible.
Syncing Notes
There are so many features, but for me when I look for a smartphone I look for the MEMO PAD feature. If the feature is not there, I cannot consider the device for my use.
BlackBerry and Palm smartphones let you sync NOTES information stored in Microsoft Outlook with the MEMO feature. This lets me carry around lots of different notes. They also sort alphabetically, which is important if you have many notes.
Android-based smartphones do not synchronize this information. So, as cool and new as these devices are, they don't meet my needs.
Many who don't need the Memo feature say they love these devices. They do work great, and they are the hottest-selling devices in the market today.
Still, choosing the best phone for you is not always a matter of whether it has a particular feature. Apple finally included the Memo feature on the iPhone, and it syncs with Notes on my Outlook. Since I love the iPhone — lack of this feature was the only thing holding me back — it should be perfect, right? Wrong. It doesn't sort notes alphabetically. That's like sitting at the table with a meal in front of you, but no fork.
If I only had a dozen notes, that would be fine. However, I have hundreds of notes — and so do millions of others who would like to buy an iPhone. So if this feature is important to us, we still cannot consider an iPhone.
The Internet Experience
I have been using the new BlackBerry Torch during the last few weeks and have been very pleased. Whether you agree that the Torch is a great new device — or not — depends on what you think is important.
RIM's BlackBerry 6 OS is a significant improvement over version 5. Unfortunately, RIM misfired in a few key areas. Syncing took around 30 minutes with version 5. That was just too long. Version 6 syncs in a minute. Much better. The combination of touchscreen and keypad is also a plus.
Using the Internet is much slicker with the latest version also; however, it's missing some important features. Even though much improved, the BlackBerry mobile Web experience is still weak compared to the iPhone.
Every time you sync the iPhone with your computer, it updates all your favorites from your laptop. Every location in your favorites list is now also on your iPhone, and that makes life online so much easier. You can really get work done, quickly and easily. Apple offers the best Internet browser.
Email, Apps, GPS, Music
Email on all three of these devices is excellent and fast.
There are tens of thousands of apps available for devices running on Google's Android OS. That's not as many as the Apple iPhone — it boasts hundreds of thousands — but Androids are catching up. RIM still has a long way to go with app development. However, apps are not important to everyone yet.
GPS works great on all the devices and networks — although it is still tough to talk and turn right at the same time. I still prefer a real GPS unit attached to the windshield, but at least you always have this feature when you need it.
Listening to music is easier on some devices than others because of the player and the amount of storage space. Some love Apple's iTunes, but there are other great players if that is crucial. Of course, this is not an important feature for the vast majority of smartphone users.
Set Your Priorities
Each person has different wants and needs. Make a list and stick to it. It makes choosing much easier.
Some of today's best-selling devices are powered by Google's Android OS. They seem to be everywhere. There's a variety of devices from several handset makers to choose from. Every major network — AT&T, Verizon, Sprint and T-Mobile — offers Android smartphones, and I expect the list of devices to keep growing.
If an Android got the Memo feature and could sync with Microsoft Outlook, then it could be perfect for me.
The Apple iPhone has been around for about four years, and the fourth version is now available. If Apple were to add one more feature — like letting me sort my many memos alphabetically — then it could be my perfect choice.
The BlackBerry Torch is a solid next-generation device for RIM, and if it could improve the Internet experience by letting me sync my Favorites from my laptop, I might consider it perfect.
Are you getting my point? There are so many items to consider on so many devices. The problem is finding all the features you want working well on one device.
So it all depends what you want. What features do you think are important?
Your list will be different from my list or your neighbor's list or the list from the salesperson at the store. Don't take a recommendation from anyone. Trust me. Do your homework on this yourself and you will be much happier.
Of course, if you are like my mom and dad, you may have no particular need except voice calling. If that is the case, I envy you. Then again, I would go nuts if I could not stay in touch so many different ways.
So take your time and sort through all the choices. Eliminate the ones that just don't meet your needs. Then you can more easily pick a device from a shorter list that you will really love using.
---
Jeff Kagan
is an E-Commerce Times columnist and a wireless, telecom and technology analyst, author and consultant. Email him at
[email protected]
.