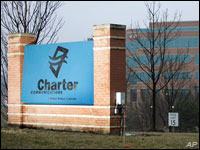 Ever wonder how the cable television industry would get back into the wireless business? Charter Spectrum has announced it will resell Comcast's Xfinity Mobile wireless service to customers inside its region. The good news is that this deal lets Charter get quick access to wireless without competing with Comcast.
Comcast and Charter Communications last week said they had reached an "operational agreement" about working together on wireless communications going forward. My understanding is that both agreed to sell wireless only to their existing customers in their existing regions.
While this is limiting in one sense, it does open a growth opportunity for Comcast. On one hand, it means there will be no national expansion for Charter or for Comcast. On the other hand, it could allow Comcast to move more deeply into the reseller business with all the smaller cable television companies nationwide.
Wireless Success Stories
The important question going forward is this: Will Comcast and Charter be successful with wireless this time around? You see, they tried wireless plays before and failed. Now they are trying again. However, we may not know whether this gambit will be successful for at least a quarter or two.
Wireless is a complicated business. AT&T Mobility, Verizon Wireless, Sprint and T-Mobile are the only successful big-time players. The others struggle for a smaller market share. In the past, various companies — among them, Comcast, Time Warner Cable, Cox, Amazon and Facebook — tried to compete with the leaders but failed.
Even Google is still struggling in wireless. Android is a hit, but Google's Pixel phone and its Project Fi service are not.
Charter, Comcast and Verizon
It will be interesting to see what strategy Comcast and Charter use to grow in wireless. Success is not guaranteed — especially if you do not follow the leaders, which neither Comcast or Charter seems to be doing.
Will limiting the size and scope of their addressable markets work? Will not focusing on wireless as a standalone product work? These are two of the mistakes they made years ago. Will it be different this time?
It's important to remember that even though Charter will resell Comcast, Xfinity Mobile is already a reseller of Verizon Wireless. What this means is that Charter will be a reseller of Verizon Wireless — two steps removed. This arrangement raises an interesting question: Why didn't Charter deal directly with Verizon?
Cracking the Code
Selling Verizon services limits Comcast, and selling Comcast limits Charter. That said, wireless is a huge growth opportunity for any company that can crack the code. So, the critical question is whether Charter and Comcast can crack the code this time.
Congratulations to Charter on entering wireless through Comcast Xfinity Mobile. There is an enormous opportunity for real growth, if it can crack the code. Only time will tell, but I wish both Charter and Comcast success.