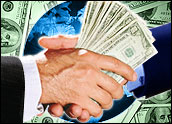 Cloud-based alternatives to traditional hardware and software systems and enterprise applications are experiencing a new level of CxO acceptance. Chief Financial Officers are the latest members of the C-level suite to embrace SaaS, PaaS and IaaS solutions to not only reduce operating costs, but also improve their operating effectiveness so they can better achieve their corporate objectives.
Indications of the growing CFO acceptance of cloud alternatives can be found in a variety of places. Gartner's 2014 Financial Executives International CFO Technology Study found a significant jump in cloud initiatives, with 81 percent of organizations forecasting that they intend to move more than half of their future transactions to the cloud.
The Gartner survey found that payroll has been the most common starting place for cloud adoption within the finance department. Last year, 61 percent of Gartner's survey respondents utilized cloud-based payroll services, up from 46 percent in 2013. An even greater growth in cloud adoption plans has come in integrated financial management applications from 21 to 47 percent, management reporting from 17 to 45 percent, financial consolidation from 17 to 41 percent, and budgeting/planning/forecasting from 19 to 38 percent, in 2013 versus 2014.
Enterprise Expenditures Expanding
The CFO's growing inclination to utilize cloud-based alternatives is being driven by their dissatisfaction with the return on investment they've seen from past technology investments. A 2013 Alix Partners/CFO Research survey of 150 senior finance executives found that only 5 percent gave their companies an "A" — and even fewer, 3 percent — rated their companies as "excellent" at converting technology spend into business value.
With the stakes rising as external and internal challenges escalate, smart CFOs are recognizing that they can no longer afford to sit back and watch more corporate money being spent on bad capital investments. Instead, these CFOs are not only swapping out their legacy ERP and financial management systems, but also giving the green light to the procurement of other cloud-based enterprise applications.
This trend is also clearly manifesting itself in the rapidly rising revenues being reported by the leading SaaS, ERP and financial management solution providers. NetSuite saw its total revenue for the fourth quarter of 2014 rise 37 percent and revenue for the year go up 34 percent. Workday hasn't announced its year-end financials yet, but in November reported total revenues jumped 68 percent in the third quarter of fiscal 2014, and subscription revenues were up 75 percent over same period the previous year.
Even the ERP and financial management software behemoths Oracle and SAP are experiencing significant growth in their cloud offerings. Oracle announced in December that its fiscal 2015 Q2 total revenues were up 3 percent, but its SaaS, PaaS and IaaS revenue was up 45 percent, to US$516 million. Oracle's CEO, Mark Hurd boasted, "We now have over 600 ERP Fusion cloud customers — that's five-times more ERP customers than Workday." SAP has unveiled its preliminary Q4 and year-end financials that show its cloud subscriptions and support revenue has risen 72 percent in fourth quarter, and 45 percent for the full year — and its backlog grew 94 percent.
Other privately held SaaS financial management companies, like FinancialForce and Intacct, are also experiencing substantial growth.
Financial Officer Participation
CFO acceptance of cloud-based alternatives is a good news/bad news story for the cloud industry. On the one hand, CFOs' growing comfort with cloud-based enterprise applications has made them more inclined to accept SaaS applications and other PaaS/IaaS solutions across additional corporate operations areas. This will open greater market opportunities for cloud vendors. On the other hand, CFOs are also likely to raise the bar regarding the security, scalability, performance and other considerations in selecting and contracting for cloud services.
In fact, CFOs are becoming active participants in the digital transformation process within their organizations, according to a recent survey by Accenture and HfS Research. The study found that 52 percent of the CFO respondents are providing major input into their digital transformation initiatives — second only to the CIO.
Despite the tradeoffs involved, CFOs acceptance of cloud solutions will clear the way for greater corporate migration in the coming year.