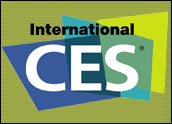 The Consumer Electronics Show kicks off Jan. 8 in Las Vegas, and it looks like it will be another big success. So what will be hot during this year's show? There are plenty of new ideas that will wow you. Let's take a quick peek at what we can expect.
Gary Shapiro, CEO of the Consumer Electronics Association, seems very happy with what he is expecting at this year's CES. The show is maxed out with booths, and the association is expecting loads of attendees.
CES is the coming-out party for consumer electronics for the coming year. Now remember, as an industry analyst, I cover wireless, telecom, Internet, television and tech in general. Even though these segments are large and growing, they only add up to one slice of the giant consumer electronics pie.
Easily Lost
To tell you the truth, like everyone else, I too get lost at this show. As usual, I have received dozens of requests for briefings from companies who want to meet with me. However at this point my calendar is full and I am scheduling briefings after the show. Yes, it's that crazy.
Just a few years ago, the industry segments I follow played a minor role at the show. Today it's a different story. Just look at the wireless industry as one example.
If you recall, I wrote several weeks ago about the AT&T Mobility analyst meeting. In that piece I told you they were talking about the new marketplace opportunities for the company — how the wireless of tomorrow is not just about smartphones.
This year's CES will put much of that on display, so stop thinking of wireless as just a way to make a call. Instead think about wireless as the network that connects us to everything and everyone on the data side of the network.
Wireless Wares
Many wireless and wireline networks now participate in the show, from AT&T to Verizon, Sprint and many others, including handset and smartphone makers. Then there are plenty of other companies like app makers as well.
Voice used to be the No. 1 use for a wireless phone, but today it is way down the priority list.
Yesterday, we used wireless to make a phone call. Today, we connect to wireless data networks with our smartphones, tablets and computers. We send text messages, get email, surf the Web, and connect to social networks like Twitter, LinkedIn and Facebook — and this is just the beginning.
There are so many new health and medical apps at CES that help us keep track of ourselves and send information directly to our doctors so they can keep track of us too. Our mobile devices also are increasingly how we pay for things, instead of using a credit card.
Tomorrow, we will use these networks to connect us to even more. They will have all our personal identification in e-format — like drivers' licenses and ID cards to get into work or our health club. Our phones will even replace our key fobs so we can simply press a button to start our cars or open all of our doors.
Innovation Pathways
Wireless and telecommunications are going to be the core networks that all this innovation rides on. Think of it as the highways in this new world.
Let me give you some examples that we can expect to see at CES this year:
TVs: Expect every large-screen, ultra high-definition television set maker to be there showing what's new. If you think your current HDTV is good, brace yourself — you haven't seen anything yet.
Smart cars: This is still very early, but it's a segment that's getting hot. If you think the technology available to the driver is advanced with on-screen navigation, live weather maps, and sensing when you are dozing and nudging you to wake you up, then you should just see what's available to the back-seat riders. Digital entertainment, games, safety, and of course, navigation will play a large role.
mHeath: This shows you the advancements in telehealth, fitness tech, remote health monitoring and more. Apps communicating with your doctors to make sure they can track your diabetes numbers, blood pressure and how your medication is working to make sure you stay healthy with real-time care are among the new developments.
Fitness: This is also playing an increasing role at CES. There are always many new products every year that let you track your health, fitness and progress.
Mobile apps galore: This gets larger every year. Do you realize that five years ago we only had a few hundred apps to choose from? Today both Apple and Google both offer 700,000 apps. That's incredible. Many are just for fun, but many more are great for healthcare monitoring and communicating with doctors, tracking your finances and logging the miles on your latest run.
3D printing: This process makes real products. It is a brand-new area and is very exciting for both business and consumers.
Smartphones: CES is not a wireless show, but expect to see some of the real innovation, like flexible screens from Samsung and the Google Nexus smartphones and tablets.
Tablets, and convertible PCs: You will see an entirely new and different array of laptops, PCs, tablets and even smartphones. They all do new things. They all do things differently. And they all communicate with each other and share information you create on your cloud account.
The cloud: Cloud services will also play an increasingly important role in this year's show. All of a sudden, you can store your information on your Apple iCloud, your Google Cloud or your Microsoft Cloud. Expect more to come from this space. This will be one of the most important and fast-changing parts of the industry going forward.
Eureka Park TechZone: Expect to see a renewed interest in startups who will play a larger role again this year at the TechZone which has about 140 exhibitors.
Missing the Show
What tech giants won't be there? Apple. They have their own show.
Microsoft Windows 8 would be a great addition to CES with its associated cloud, tablets and wireless smartphones, but rumor is that Microsoft won't participate this year. Once, it was front and center, but no more. Sort of like Apple, I guess.
Dish TV is a satellite television provider that wants to break into the wireless industry as well. Will it be at the show this year? What about CTIA in a few months?
That's just the tip of the iceberg. There will be plenty of smartphones and tablets on display, of course, but I only expect the new technology to be on display. Expect companies to use this technology to show how they can help you do more things with your mobile apps on your smartphones and tablet computers.
Remember, this is a consumer electronics show. Other wireless shows will come later in the year like CTIA here in Las Vegas, and Mobile World Congress in Barcelona. They will be the place to see competing smartphones from Apple, Google, Samsung, Motorola, Nokia and many more.
At CES, expect to see how all these other industries are modernizing and using wireless and wireline networks to make all their innovations work. After all, that's how these devices connect and communicate with each other and the cloud.
Well, it looks like another big year at CES. Enjoy!
I will if I can keep from getting lost in the massive show — as usual. I think it may be time to break out my personal GPS device that I unwrapped yesterday. Do they even work inside the Las Vegas Convention Center? I'm about to find out.