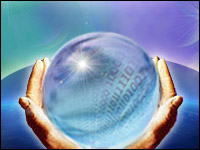 I am writing a book that I may call "CEOs on the Future of Communications." The reason I'm telling this to you now is to invite you to participate in the process of writing it.
The idea is simple: to provide a taste of what different tech leaders see as the future of the industry — changes that will affect customers, investors, workers, partners and the entire marketplace.
The industry is changing due to several different factors including, but not limited to, a wave of innovation, new competitors, new ideas, new regulations and so on.
This book will look at the new opportunities, trends and challenges driving the industry going forward.
The CEOs who participate will discuss the direction the industry is heading. These leaders may also discuss how their companies and the competitive landscape are changing.
Imagine a book with every chapter focusing on a different CEO's views on the direction of the changing industry. Sound interesting? Thought so.
Send me an email and let me know if you are interested in participating in this project. I would like each company to tell its story in its own words. Not my thinking, your thinking — I will just be the conduit.
Even though this will be helpful to the companies that participate from a public relations perspective, think of that as a side benefit — not the main event. What readers will be looking for is a light illuminating the road ahead, providing a glimpse of what tomorrow will look like.
They will want to know what to buy and invest in, and where to work. So this will be written for the investor, customer, worker, executive, partner, media and many others. This changing future affects us all.
Opportunities and Risks
The tech industry already looks completely different from just five or 10 years ago, and it will continue to change. In fact, it will look completely different in another few years.
How will the wireless, voice and data business change? How about computing and devices? How about healthcare technology, automotive, banking and every other industry? Wireless and data networks and computer and software businesses are changing everything.
Cloud computing is already playing a huge role in this transformation, and we are just in the first inning of that game. Companies like Apple, Amazon and Barnes & Noble are already maneuvering aggressively in this cloud space.
The Baby Bells like AT&T and Verizon are jumping into the space because they see the future. Others will join these companies.
The local phone companies will jump into the video entertainment space. How will that change things for Netflix, which leads today?
There is so much opportunity and so much risk ahead. Some companies will win. Others will lose.
You cannot sit out this dance. If you do, you will lose. You are either moving ahead or falling backwards. You are either climbing on the growth side of the new wave, or you are falling on the downside.
The choice is yours. There will be plenty of companies on both sides. There already are.
A Big Bang
Look at wireless. Ten years ago, the leaders were BlackBerry maker RIM on the smartphone side and Nokia on the feature phone side. There were only a few hundred apps in the marketplace.
Four years ago, the wireless world changed. Apple and Google created the next wave in wireless with the next-generation smartphones. They jumped in with the iPhone and the Android OS and changed the industry. We are now riding on a new wave.
Today, they lead the smartphone sector. Other companies, like Samsung, are also riding that wave. There are now hundreds of thousands of Apps in the marketplace, and the entire segment is growing rapidly and still changing.
We are living through the big bang right now. The wave of change is expanding and transforming industry after industry.
There are changes on the network side as well. Several years ago, the wireless networks were used for voice calls more than any other purpose. That changed over the last year or two. Now, they are used more for data — and data use is still increasing rapidly.
In fact, wireless data is expected to account for 97 percent of network usage in just the next three years. Voice will account for just 3 percent. That's a complete transformation and reversal.
What will the world look like in another five years, 10 years and beyond? Who will lead? Who will follow? And who will be left behind?
Choose the Winning Side
Change is transforming every tech industry, including telephone, cable television and IPTV, Internet, computing, healthcare, automotive, banking, gaming — and so much more.
In fact, every major industry is beginning to transform itself.
The cable television industry, satellite TV and IPTV will undergo a transformation as Google TV and Apple TV jump in later this year. We've seen this transformation occur within the music industry and in wireless with smartphones.
Computers, the Internet, wireless data and communications are the new roads to success and transformation. Early adopters lead the first wave of change.
The truth is we would rather see everyone win because of workers and investors. But that's not the way the world works. It's win or lose. Transform or get out of the way.
So you want to make sure you are on the right side of the equation. And you want to make sure everyone understands your intentions.
That is your job — and that is the opportunity I want to offer you with this book.
I see industry leadership continuing to change. As it has in the smartphone sector, it will happen in every other sector.
Bold, innovative companies will change the marketplace over the next decade and win. They will change the wave the industry rides on.
Other companies will also ride this new wave, although they did not create it.
Still other companies will miss the new wave and struggle going forward.
Smell the Coffee
I want this book to be a wake-up call to the marketplace. This is a new world, and if you want to be successful, you must embrace this change.
The choice is simple. Lead, follow, or get out of the way.
That's why the time is perfect for a book that looks at the changes reshaping many different industries and segments.
So I am asking your help. I want to hear from CEOs of large and small companies. I'll bet if I talk with a dozen leaders, I will get a dozen different versions of the same story. THAT is what I am looking for.
Companies that I think would be perfect to participate are AT&T, AT&T Mobility, Verizon, Verizon Wireless, Sprint Nextel, T-Mobile, C Spire, MetroPCS, U.S. Cellular, TracFone, CenturyLink (Qwest), WindStream, Comcast, Time Warner, Cox, Cablevision, Google, Apple, Samsung, Ericsson, Motorola, RIM, Nokia, LG, HTC, Cisco, Alcatel-Lucent and many others.
These are part of the core of this new communications technology I am talking about.
There are plenty of other companies whose points of view should be included, in industries like healthcare technology, automotive technology, banking, retail — industry after industry.
There are so many good companies, large and small, with visionary leaders who can clearly articulate what the future will look like. That is what I intend to highlight in this book.
The future is quickly approaching, so visit the websiteCEOs on the Future of Communications and drop me a line. Let's get started. I'll keep you posted on progress of this project.