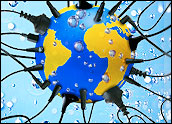 The ecosystem for digital distribution is complex, with unique nuances for each category of content. In a broad sense, the ecosystem includes the creation of content, the availability of services that deliver content and services to consumers, and the deployment of technologies that enable delivery to connected consumer electronics platforms that are capable of receiving and displaying content.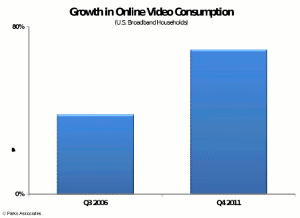 Total sales of video- and audio-connected consumer electronics products worldwide will be more than 292 million units in 2012 and will grow to more than 760 million units by 2016. The growing number of connected devices in broadband households heightens the need for dedicated delivery solutions provided by content delivery networks (CDNs).
Providers build CDNs with a huge number of connected servers whose main purpose is to bring content closer to end users, thereby reducing latency and packet loss. Most CDNs are also capable of supporting huge demand peaks, such as those generated by events streamed live online.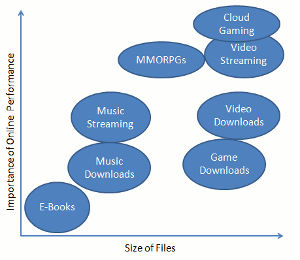 The growth in online traffic that accompanies an ever-rising number of connected devices makes the role of CDNs more important than ever. In the early stages of the Internet, most of the online content was static and could be easily duplicated and cached in multiple CDN servers for better access by end users. Today, simple content caching has rapidly become a commodity, with competition for this "basic" service based mostly on price and geographical reach.
Furthermore, dynamic content is a much larger part of Internet traffic. Even content that appears to be the same for all users has dynamic additions, including advanced advertising that changes based on time, location of use, or known user attributes.
Service Differentiation
To differentiate their services, and to build sources for new revenues, CDN providers are offering a growing number of value-added services (VAS) that help manage such complexity of content and create new service options for content providers. CDNs are poised to earn an increasing share of their revenues from value-added services such as:
Content ingestion and management
Metadata
Encoding and transcoding
Multiscreen delivery support (particularly for mobile platforms)
Ad insertion and analytics
Creation and management of distribution rules (e.g., allowing content access only to certain users or in certain times of the day)
A few CDNs have adopted advanced solutions called "transparent caching." These CDNs cache content based on its popularity: The most popular content is always closer to end users, while the least popular content is cached farther away in the network. The allocation of content changes continuously depending on content popularity and does not require manual intervention from content distributors.
There are two main types of CDNs, based on the type of entity that created and controls the network. Telco and third-party CDNs both offer unique advantages to content distribution.
Third-Party CDNs
Traditional third-party CDNs are essentially application service providers that use the Internet to connect their distributed servers. Third-party CDNs dedicate a significant portion of their operational expense to ongoing software development in order to keep pace with the introduction of new technologies that emerge in the consumer market. Global coverage, achieved through extensive connectivity with ISPs around the globe, is one of the strongest benefits of third-party CDNs.
Third-party CDNs have distinct advantages:
Existing relationships with content providers
Global coverage
Ongoing software development and solutions that have been tested and improved over time
Connectivity among multiple ISPs
Low investment required for operators to use a third-party CDN
Ability to interoperate with a variety of other networks
For example, Akamai has the EdgePlatform that allows 1080p video streaming to different platforms, including Adobe Flash, Microsoft Silverlight, iPhones and iPads. Akamai has 95,000 servers in 1,900 networks across 71 countries.
Telco CDNs
Telco CDNs use their own physical fiber networks to connect their points of presence around the world. Several telcos have undertaken internal CDN development initiatives to protect themselves from both cost and competitive standpoints and to benefit from the growth in digital content traffic. Major broadband providers such as BT, Telia Sonera, and Verizon have taken the aggressive approach of investing in complete in-house CDN solutions.
Telcos have to invest considerable money and effort to build strong international capabilities. Thus, telco CDNs are newer systems that are less "road-tested" than the more mature third-party CDNs. However, Telco CDNs have their own inherent advantages:
Highly customized solutions
Greater proximity to end users within the telco footprint
Optimized for the operator's network
Cost advantages for the operator
Stronger telco control over content going through the network
AT&T offers branded AT&T Digital Media Solutions, an end-to-end solution that claims to cover every step of digital media distribution (content ingestion, management, marketing, operations and distribution). This CDN also includes a multiscreen solution and 38 Internet data centers worldwide.
Companies behind both types of CDNs will increasingly leverage value-added services in order to earn larger shares of revenues. At the same time, demand for their services will increase as consumers transition from physical to digital content and adopt streaming and cloud-based services, which users will naturally expect to work with their multiple connected devices.
These circumstances will lead to a more direct relationship between content producers and content consumers. CDNs, by virtue of their role in enabling dynamic and ostensibly seamless distribution of media content over a wide population of users, will have a significant role in the digital lifestyle ecosystem — and those that can fortify and expand the relationship with the consumer will be the most successful.