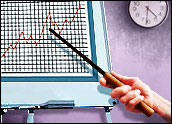 Labor Day has come and gone, and now it's time for the big end-of-year season to begin. Expect lots of new product announcements, starting with the new Apple iPhone next week.
It's all about what's new and what's coming next in wireless, telecom, television and technology. So here's a look at where several top companies stand on the growth Wave — which of them are on the growth side, which are not, and what's coming next.
My Pick of the Week is Verizon Wireless, which deserves congratulations.
As is the case every year, my phone and email will be ringing off the hook in the next few months. Each company will try to position itself as a winner in the marketplace. Make no mistake: The marketplace is changing. That means leadership may change as well.
Once in a while, a disruptive company or technology is introduced. It seems to happen every year — expect it to happen this year. Only some of today's leaders will stay leaders. At the same time, new companies will break out.
The Big 3
AT&T is the most profitable ever, even though it sold fewer smartphones last quarter. One reason is it didn't pay wild subsidies on as many smartphones, like the iPhone. It activated 5.1 million smartphones during the last quarter. That's down slightly from 5.5 million a year ago.
However AT&T is not losing customers. Rather, its customers are hanging onto their phones longer. AT&T added 320,000 new postpaid customers during the quarter. More than half of these were new tablet customers, which pay less than smartphone users. Tablets are hot going forward. As smartphones and tablets continue to rise, this profitable growth should continue.
AT&T and Verizon are the top two networks both in wireless and wireline.
Verizon said its wireless business won 1.2 million net subscribers. This is strong growth, as new subscriptions have slowed across the industry. Verizon should continue strong growth for its first two years after starting to sell the iPhone, as contracts expire. After that, its growth should be the same as AT&T.
Eight hundred eighty-eight thousand were postpaid. Profit at Verizon Wireless was also at its highest point, with average monthly fees for postpaid customers rising 3.7 percent to US$56.13. Verizon and AT&T are the top two networks both in wireless and wireline.
Sprint Nextel is the only competitor of the big three that still offers a popular unlimited data plan. It has a good 3G network and is upgrading to 4G — just not as quickly as Verizon and AT&T.
So Sprint has to give customers a reason to buy from it. That's where unlimited comes into play. Service revenue grows rapidly. The company won 1.5 million iPhones during the quarter — the same number as the previous quarter. Remember, with Sprint speeds are slower — however, data is unlimited. Sprint is in third place in wireless.
The Strugglers
T Mobile, a unit of Deutsche Telekom, is not doing as well. It lost 557,000 postpaid customers during the quarter for a net loss of 205,000 customers. This is a record loss for the company — not a good sign.
It just started selling unlimited data plans again, after moving away from them in the last year. Last year its unlimited plan slowed after usage crossed a certain level. This new plan should remain at high speeds. Will it help them compete? We'll see. T Mobile is in fourth place in wireless.
US Cellular is also struggling. It lost a record 48,000 postpaid customers. It won 20,000 prepaid customers during the same period. It ended the quarter with 5.8 million customers. US Cellular is a unit of Telephone Data and Systems.
What will it do going forward to start winning again?
MetroPCS is struggling too. It lost around 186,000 customers. It ended the quarter at 9.3 million. It is a provider of prepaid services. First MetroPCS must find out why it is losing business, and then it must start to grow the company once again. It has not done so yet.
It targets lower-income urban customers with a more basic service. It is starting to reduce prices on unlimited data. It is growing its 4G data network. The problem is that it is no longer doing well. Let's hope MetroPCS can turn it around.
Leap Wireless with Cricket is struggling and lost 289,000 customers last quarter. It has 5.9 million subscribers. It has not been able to turn the business around yet.
CenturyLink is the third-largest local phone company after Verizon and AT&T. It does not offer wireless across its region. It acquired Qwest.
Its local phone business is shrinking, as is the case with AT&T and Verizon. The difference is that AT&T and Verizon have strong growth in other business sectors like wireless, while CenturyLink has lost 234,000 local phone lines during the quarter.
What is its growth strategy going forward? It has 14.1 million access lines in the market. It is the third in the land line space after acquiring Qwest and Embarq, which was Sprint's local phone business.
Windstream is a local phone company as well. Not wireless. It used to be Alltel, but it split away from the wireless business. It has grown quite a bit through acquisitions over the last few years. Unfortunately, without acquisitions, there does not seem to be any growth. It lost 29,000 customers during the quarter. It has 2.9 million phone lines today.
What will Windstream do to keep growth up going forward?
Frontier Communications is a smaller local phone business. It lost about 67,000 customers from the last quarter. It ended the quarter with 3.1 million residential lines. Once again, it is on the shrinking side of the Wave.
Cable Contenders
Comcast is the largest cable television company, and was always growing and adding customers. That seems to be slowing. As it is losing cable television customers, it is adding others — like 158,000 phone customers using its VoIP service.
The cable television business is changing. New competitors and new technologies are coming in and transforming everything. Big competitors like Google TV and Apple iTV, as well as Internet television from a variety of competitors, are putting quite a bit of pressure on Comcast.
Will they continue to do well going forward? How they will change going forward is the question.
Time Warner Cable, the second-largest cable television company, added 45,000 residential phone customers.
It has 5 million customers across the U.S. Time Warner is losing traditional cable television business as well. What will its growth strategy be going forward — and will it work?
There are so many more wireless and wireline networks, cable television, IPTV and TV competitors, smartphone, tablet and handset makers, and so on. This could be a very busy end of year.
The big questions: Who will lead? Who will follow? Why? and What's coming next?
As you can see, things are changing. The service provider side of the business will look completely different in the next year or two. The services offered, in many cases, will be new as well.
This means great opportunities and great risks. The moves providers make in the next few months will play an important role for them going forward.
Remember, every year at this time, things start to get hot. I expect this year will be no different. Let's keep our eyes on what the networks and handset and tablet makers do going forward.
Customers, investors and the companies themselves will have a helluva time the next few months.