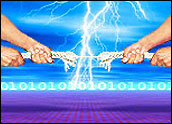 Just how is Web 2.0 affecting retailers?
I recently spoke at the Electronic Retailing Association's annual mid-winter conference about Web 2.0. Based on the conversations I had there, a couple of trends were clear to me:
Retailers are getting absolutely hammered on price, and it's mainly because of the transparency of the Web. In response to increased competition on price, many are cutting prices even further.
While there seems to be a fear among online retailers around social networking and Web 2.0, most want to know how to leverage some of the new tools and technologies in their marketing plans.
Similar Experiences
I completely understand where they're coming from. To illustrate, here's a true story.
I finally decided it was time to buy a flatscreen TV and — like most people — headed straight online to do the research on plasmas and LCDs. I checked out the expert reviews and customer reviews online, narrowed down the field and then went to a local retailer that I have purchased from in the past.
While I found a TV that looked great, I didn't pull the trigger. Instead, I went back online to confirm my choice. I read the product reviews again, checked the price (Why not? It was easy to do.) and realized I could purchase it online for US$1000 less than from my local retailer.
So, I bought the TV online, from a store I had never heard of, never heard from again and have absolutely no loyalty to (apologies to my local retailer).
Pricing Trumps All
I bought strictly on price. As it turns out, I'm not the only one buying strictly on price. A 2005 survey of 923 online shoppers conducted by BizRate Research found that approximately 87 percent of online shoppers compare online retail offers with catalog merchants and retail stores to find the best price.
Electronic retailers are choosing to compete solely on price, according to the marketing guru Al Ries. Promotions are all based on sales and low prices. Where's the work to build the brand and create brand loyalty? If this trend continues, according to Ries in a December issue of Advertising Age, the retail industry is heading for the same fate as the airlines.
Target Market
In contrast, my local wine merchant has found a way to successfully take price out of the equation.
Knowing that I love red wine, the owner e-mailed me information she knew would interest me. Last month, she sent me a link to her blog about a particular '05 Bordeaux, which included rich content and real reviews from wine experts about the quality of this vintage, comments from other customers and an interview that she had with the owner of the vineyard.
By engaging me in a meaningful conversation about the wine, price was never a factor in my decision to purchase a case. (In fact they sold out of all 150 cases in two days, based on that one e-mail.)
Trying Web 2.0
This story demonstrates that there are effective ways to use Web 2.0 tools to compete on factors other than price. While Web 2.0 is making it more challenging for marketers to maintain control in all verticals — not just retail — it also can hold the key to building brand loyalty and finding ways to compete that don't involve perpetuating the "sale mentality."
However, before diving in head first in a rush to implement hot new technologies, it's important to stop and focus on a basic premise of marketing: Any initiative you undertake should have a clear set of business goals.
Ask yourself: What are you trying to accomplish? Are you trying to acquire new users? Are you trying to create a more engaging experience for your current users? Will you engage and reward your most loyal customers?
It's important to understand what benefits to your organization you're trying to achieve with any Web 2.0 initiative before implementing it.
New User Acquisition
Sites for social bookmarking (like Digg and del.icio.us), social networking (like MySpace) and uploaded content (like YouTube) are valuable when trying to cast a wider net to attract more users to your brand.
However, brands need to tread carefully here. When participating in sites such as MySpace, marketers need to be upfront about their intentions and their brands. Any time a brand or group has been less-than-upfront, such as the well-publicized "Wal-Marting Across America" campaign, user backlash has caused negative publicity that has far outweighed any positive publicity gained before the ruses were revealed.
Also, many of these sites are not without risk. While Digg and del.icio.us are relatively tame, MySpace has a Wild West feel to it. Marketers would be wise to think twice about whether the tone of their brand is aligned with the users on the site.
Retaining and Growing Existing Relationships
A plethora of new technologies can turn your brand-oriented, message-focused Web site into a vibrant community of engaged consumers. Blogs, which deliver a new dimension and insight into a brand's messages, seem to be underutilized by retailers.
According to the research firm Hostway/Taylor Nelson Sofres, 23 percent of people used blogs to learn about new products and services, yet only 4 percent of U.S. corporations use blogs as a marketing tool.
Posting expert product reviews is beneficial, but offering customer reviews is even more powerful as a marketing tool. In fact, a survey of over 10,000 online visitors to the top 40 online retailers during the 2006 holiday shopping season found that almost half of online shoppers who recalled seeing customer product reviews cited them as the primary factor in their decision to purchase. Why? Because they're more credible.
For example, CompUSA has experienced tremendous results since added customer ratings reviews to its Web site. According to CompUSA, new visitors to its "customer review" section:
exhibited 94 percent more site visits;
had a 60 percent higher buyer/visitor conversion rate;
purchased 43 percent higher priced items on average; and
spent 50 percent more per order on average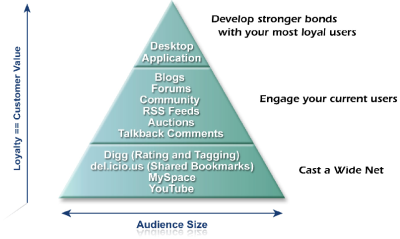 Most Loyal Customers
New technologies exist that enable brands that are interested in using social media to maintain relationships with their most loyal customers to capture a slice of their customers' desktops. Extending your brand to the desktops of your best customers provides a trusted environment for these customers to interact both with other loyal users, and with you — around your brand, with benefits that extend beyond those of traditional online communities.
There are various types of branded desktop applications (BDAs), including:
Branded desktop RSS (really simple syndication) readers offer a branded experience for your customer to view information. They also provide the brand with a direct, always-on connection to users' desktops, permanent brand visibility on the desktop, and prime location of the brand's RSS feeds in the reader.
Desktop alert products allow you to send relevant late breaking news, promotions, discounts and other offers directly to the desktop — no more competing with a flood of incoming e-mail messages. You might also use alerts for special perks such as premium content, special discounts or early or exclusive access to promotions to reward customers for their loyalty.
A community of your most loyal users has a different dynamic than MySpace, or even the forums on your website. Desktop community applications provide more meaningful interactions for your most loyal customers — with each other and with you. Engaging in an ongoing dialog with these users provides you with immediate, unfiltered and valuable customer feedback. After all, who knows you better than your loyal customers?
It's important to remember, however, that for any of these Web 2.0 initiatives to work, retailers have to let go of control, and let visitors have their say, whether you agree with them or not. More often than not, this scares marketers to death. However, in 2007, customers know how to find customer reviews, forums, product reviews, etc. Retailers can choose to host them or not. Those who don't can safely assume that their customers will just go someplace else to find them. Since it's happening anyway, you might as well do it and reap the benefits, including increased customer loyalty and decreased reliance on price as a differentiator.
Could this signal a tipping point when retailers decide that the benefits to implementing Web 2.0 far outweigh their concerns? Only time will tell.
Supporting Research
Fifty-nine percent of users consider customer reviews to be more valuable than expert reviews (according to BizRate).
Seventy-seven percent of online shoppers depend on consumer generated reviews and ratings, and shoppers who find them useful are more loyal to the stores that feature them, buying more frequently and returning products less often (according to Jupiter Research).
"A person like me" has become the most credible source of information about a company or a product, increasing from 20 percent in 2003 to 68 percent today. (according to the 2006 Edelman Trust Barometer)
About two-thirds of all economic activity in the U.S. is influenced by shared opinions about a product, brand or service (according to McKinsey & Co.).
---
Joe Lichtenberg
is vice president of marketing and business development for
Eluma
, a provider of brandable software that extends brands, communities, content and promotions directly to customers' desktops.
---