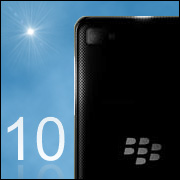 One of two things will happen with the upcoming launch of the brand new RIM BlackBerry 10. Either it will be a success and help RIM get back on a growth curve, or it will end up being like the Palm Pre, loved by the media and analysts yet wanting for sales. Can RIM recover with BlackBerry 10? It's possible. But the company must do two things right.
The smartphone market continues to change. Five years ago BlackBerry was on top. Today's leaders are Apple iPhone and Google Android, while RIM has been struggling to hang on for dear life in the last few years.
First let's back up a few years to get a clear understanding of the current market. Around 2007, the leaders were RIM and Palm, the first two smartphone makers. You remember Palm, right? It was very popular.
Hearts and Minds
Palm began to struggle due in large part to a lack of marketing. It began to die and was acquired by HP, which undertook a valiant remake. Everyone seemed to love it, but that didn't matter. Customers didn't buy, and today Palm is gone.
RIM ruled the smartphone segment alone for a while, which sounded great, but now we see that having the market to itself didn't help it either. The company never developed good marketing skills, and when Apple and Google entered, suddenly transforming the space, RIM struggled to keep its head above water. That's where it remains today.
Suddenly there was intense innovation and marketing and RIM simply could not keep up. It just never learned how. Today, the industry is led by companies that understand this world of marketing and building a wave.
Call It a Comeback?
Google and Apple have been No. 1 and No. 2, leaving past leaders like RIM and Nokia behind in the dust. So what is their chance of recovery?
Even Motorola was dying on the vine after the Razr success, until it made did the Droid deal with Google and Verizon. Now owned by Google, Motorola Mobility is much smaller than before, but at least alive. As a side note, it will be interesting to see what happens next for Motorola with Google ownership.
Several years ago, I tried to warn RIM's leaders about this problem. I wrote articles, sent press releases and gave speeches, but they didn't see any problem at that time. In the last couple years its management seems to be getting a clearer picture of its problems. The company replaced the CEO and many executives as well, and has updated its technology with BB10. What about the marketing piece of the puzzle?
Today RIM seems to understand there is problem, to a point anyway. It still doesn't see the same crisis investors and analysts do, or at least no one there is admitting to it.
The Marketing Question
Current CEO Thorsten Heins has a strong and positive attitude. That is good from the CEO level. The question is whether he can transform the thinking of the marketplace. I am not yet sure.
There are two questions I have that will tell whether RIM will be successful and can mount a turnaround.
One is this brand-new BB10 operating system. Is it innovative and will it get customers to simply say "WOW?" We'll soon see when it is released end of January.
Two, has RIM learned about marketing and advertising? This is key to its success. It's the secret sauce. Without it there will be no success. RIM never had it before. Does it now?
If the answer is yes, then BB10 could indeed be a big hit and put RIM back on the new growth path.
If the answer is no, then RIM will stay on the current downward slide of the growth wave.
Battle for No. 3
Don't get me wrong, even if successful, RIM won't become No. 1 or 2. Google and Apple seem to have a lock on that, for now anyway. But like Motorola, RIM could stop the losses and start growing again.
The marketplace is thirsty for operating systems other than Google Android and Apple iPhone.
Today RIM is stronger in other countries than it is in the United States. That may be why it doesn't see the same crisis we in the U.S. do, but the U.S. market is a vision of the future for RIM. It will either be on the growth side or the falling side of the wave, period. Right now, it's still on the falling side.
The No. 3 and 4 slots are up for grabs — and RIM is not the only company vying for them.
Microsoft is making a real try for No. 3 with the new Windows 8 operating system and cloud to manage multiple devices like smartphones, Surface tablets and computers. Many customers like what Microsoft is doing, but many others don't. It will be interesting to see what happens next in Redmond.
RIM's Future
RIM execs invited me to dinner last year and we discussed their company's future and the changing industry. That was a great sign they were at least willing to listen and engage. Did they?
There is a battle raging inside RIM. One side may understand the need to change and update marketing and thinking. Another side may not get it. The question is, which side will win?
RIM is no longer king of the hill. It has shrunk to about 4 percent market share, so it will have to fight to come back. It can capture No. 3 if it can get the two items right, great technology and great marketing. So what are the chances?
A side note: as I sit here in Starbucks writing this column, a friend walked up to me and said he is bringing his mother to the mall this afternoon to trade in her BlackBerry Torch for a brand-new iPhone. I told him I was writing about this very subject. I even told him to save some money she could by the previous iPhone 4 series rather than the iPhone 5.
He told me, nope, she wants the newest, latest and greatest iPhone. I am sure she doesn't need it, but Apple has convinced her with its marketing — and that is the challenge RIM is up against. Can it meet the challenge? We'll soon see.