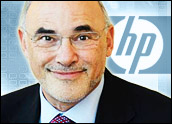 HP announced on Thursday that it has appointed former SAP CEO Leo Apotheker its new president and CEO.
The company also named Ray Lane, managing partner at venture capitalists Kleiner Perkins Caufield & Byers, as a new member of its board of directors and named him non-executive chairperson.
Both appointments are effective November 1.
Can Apotheker, who was unceremoniously dumped by SAP on Super Bowl Sunday, rescue HP, which has been struggling to get good leaders at the top for several years? And why did the company appoint someone seen as a rank outsider to the post of president and CEO? Will this be yet another in a string of poor top executive picks the HP board has made?
Who in the World Are Leo and Ray?
Apotheker, who worked at SAP for more than 20 years, is a strategist with a strong sales background. In 2008, he replaced co-CEO Henning Kagermann in a move widely seen by analysts as the replacement of a technologist CEO by one who was more profit-driven.
However, Apotheker was dismissed precipitously from SAP when the company announced in February that his contract would not be renewed, and his resignation was effective immediately.
His departure was expected by some, Forrester Research analyst Paul Hamerman wrote.
SAP wasn't doing well financially during Apotheker's watch, and customers were unhappy over the mandatory migration and price increases he introduced in enterprise support, as well as "overly aggressive sales of featured products," wrote Hamerman.
In May 2008, SAP announced plans to raise its support fees from 17 percent of license fees to 22 percent in a bid to match archrival Oracle's pricing structure. That sparked strong criticism from user groups in the United States, the United Kingdom and Ireland, as well as from the German-speaking SAP user group, comprised of companies in Germany, Austria and Switzerland. Apotheker dismissed reports of that groundswell of protest.
Lane was president and chief operating officer of Oracle before joining Kleiner Perkins. Prior to that, he was a senior partner with Booz Allen Hamilton. He has also worked at EDS and IBM.
Why HP Loves Leo
"Leo is a strategic thinker with a passion for technology, wide-reaching global experience, and proven operational discipline — exactly what we were looking for in a CEO," said Robert Ryan, lead independent director of HP's board.
Apotheker has a "strong track record of driving technological innovation, building customer relationships and developing world-class teams," Ryan added.
However, HP's decision was apparently not expected by some observers.
"Leo was a quiet outside candidate who was low on the list, and his appointment came as a surprise," Brian Marshall, an analyst at Gleacher & Company, told the E-Commerce Times. "He brings a substantial amount of software experience, as does Ray Lane, but he didn't do that good a job at SAP."
Marshall had picked Todd Bradley, executive vice president of HP's personal systems group, as the leading candidate for the CEO's position in a note he sent to investors on Wednesday.
Part of the reason for Apotheker's stumble at SAP was that vendor's paucity of product, Marshall pointed out.
At HP, Apotheker will have to "rely heavily on Ann Livermore, who runs enterprise, and Todd Bradley, who runs personal systems," he said.
Pumping Up to Battle Oracle?
What could HP gain by picking Apotheker, especially in light of his unceremonious dismissal by SAP?
"I think you have to look at the combination of Apotheker and Lane," Rob Enderle, principal analyst at the Enderle Group, told the E-Commerce Times. "Together, they represent one of the strongest anti-Oracle brain trusts on the planet. Their appointments send a very strong signal that HP, like IBM, is calling out Oracle as the company they're most worried about."
Oracle has been on a purchasing spree over the years, acquiring more than 60 companies and integrating their applications into its own. It is challenging IBM in the database sector, and with the acquisition of Sun Microsystems in 2009, it now has the hardware to take on HP as well. Further, it's moving more strongly into services.
The combination of Lane and Apotheker shows HP is moving toward making software — and to a lesser extent, services — its main focus in a bid to take on Oracle, Enderle opined.
"There are few people who know more about Oracle and how Larry Ellison operates than Ray Lane," Enderle said.
HP's Future History
Some heads may roll when Apotheker moves into his office in November, Enderle remarked.
One of them could be Todd Bradley, whose performance had "most impressed" analysts, Marshall wrote in his note to investors.
"The question is, how long will Todd Bradley last?" Enderle asked. "As the heir apparent to Mark Hurd, you'd expect that he'd relatively quickly be on the short list of folks the new CEO would want to get rid of."
Bradley was hand-picked by Mark Hurd, and "made it pretty clear he would leave if he didn't get the CEO job," Enderle added.
Hurd, HP's former CEO, left HP under a cloud of accusations of sexual harassment and fiddling with expense reports. He has resurfaced at Oracle as company president, and made several appearances at Oracle OpenWorld 2010, held in San Francisco earlier in September.
"It's going to get pretty interesting to watch what happens with Bradley," Enderle said.
HP shares were down US$1.55 at $40.55 by mid-day Friday.