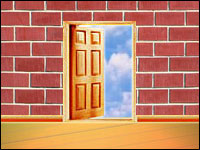 Continued from Calculating Cloud ROI, Part 1
Funding Further Expansion and Making a Profit!
As previously discussed, in making a case for outsourcing SaaS or PaaS, you now have a solid foundation on which to measure and compare and contrast your actual internal costs against the external service provider costs. It is important to seek Finance's help in ensuring you add one more piece to your model. The outsourced cloud provider needs to have a price that supports two key objectives, 1) fund further expansion and 2) make a profit.
You have the advantage of only needing to include the first item in your model. While it is tempting to leave this out, it is critical to include it in your case for transitioning to an internal IaaS cloud provider. If you leave this component out, your ability to service "on-demand" can be destroyed, along with your service reputation.
IaaS success is predicated not only on the ability to rapidly provision and de-provision, but also on being able to provide services on-demand under the utility model concept.
Turn on the faucet and you can draw as much water as you want/need. Consumers can provision their own storage and compute power as required, whatever, whenever. This means the days of "just say no" are over, and it is now necessary to build sophisticated supply-and-demand models and, more importantly, to invest ahead of the curve to ensure there are always available resources as promised in your service catalog.
As an internal cloud IaaS provider, you will probably not have the flexibility (or shareholder tolerance) for investment too far ahead of the curve. As a result, it is imperative that your model clearly call out the buffer you can fund and what percentage of demand fluctuation it will support. This is an unused or spare resource, but one that may be suddenly acquired without notice from the cloud consumer's "on-demand' drivers.
You Can't Count the Same Savings Twice
Many forward-looking IT teams may have inadvertently preempted their ability to make an ROI case for internal IaaS cloud services. Ongoing and aggressive searches for new ways of cost reduction may have already impacted your ability to adequately justify costs internally that are provided by IaaS cloud.
Today, X86 platform virtualization is increasingly recognized as an imperative — not only for day-to-day administrative and service improvements, but also as a mandatory component of disaster recovery capabilities.
Today, virtualized storage, whether NAS or SAN, is seen as table stakes in the well-managed IT department, and many are also moving rapidly into unified storage and unified network concepts. While these initiatives are absolutely appropriate and major influencers of cost, administration and service efficiencies, they are also prerequisites to IaaS cloud. If you have already done them, hopefully you have already received credit for the significant impact you have made on your organization, but you can't count these savings again under your cloud initiative.
What this means is that you will have to focus on the increased service levels and satisfaction that the IaaS cloud can provide with automated provisioning. This can be presented as reduced time to market, or high response time to market.
Putting a value on this can be difficult, because only the user of those services can actually define that value. You can conduct satisfaction surveys and prompt for the value with questions around range of benefit. For example, how would you value the automated self-provisioning of resources to your business? Low value, neutral value or high value?
Of course, how you word the questions and answers can have a big impact, but don't overlook the value of a satisfaction survey. And like your cost model, ensure you have a "before" or baseline, as well as an "after" case.
Your Cloud Cost vs. External Providers
So now we have built a model that tells us the current unit cost of the service/resources that IT "sells" for each of the service offerings IT provides. This can then be realistically compared against an external cloud provider's quotation to understand real ROI.
Of course, you need to ensure the cloud provider's quote covers the same life cycle as your model; otherwise, you may have a situation in which the external cloud providers discounts year one to get the business and then in subsequent years exceeds your own internal cost by a significant margin.
You may also need to fine-tune the resource buffer you provide internally to ensure you are comparing apples to apples. In closing, one final and important point : Ensure your cloud transition plans include a backout capability that states specifically how you will extract and secure your data and software should you and your external cloud provider part ways.
---
Dick Benton
is principal consultant at
GlassHouse Technologies
. He can be contacted at
[email protected]
.