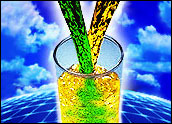 With little public fanfare, SAP and Google announced a strategic alliance to integrate SAP's BusinessByDesign and Google Apps during an "influencer" forum last month. Although senior executives from both companies boasted about the significance of this joint initiative, neither issued a public announcement, and little press coverage ensued from the event. This raises a question about what it takes to create a partnership in the Cloud that is truly compelling and game-changing.
SAP and Google have announced a series of joint initiatives over the last year, focused on big data and collaboration, with formal press releases and plenty of hoopla. However, they have generated little industry attention or meaningful success stories.
Why this latest initiative?
Google is working hard to become a viable player in the enterprise, and SAP is trying to gain a solid position in the Software as a Service (SaaS) market and broader cloud environment.
Jumping In With One Foot
Both companies have gained momentum with their individual efforts to achieve these business objectives, but they still face considerable internal challenges and external competition. They have each been ambivalent about their efforts.
Google has been pushing hard on the business benefits of Google Apps, but primarily for small- and mid-sized businesses (SMBs) rather than enterprises. SAP has made significant investments to re-architect its BusinessByDesign solution to make it multitenant and more user-friendly, but it is still trying to understand how to best sell it in relation to its legacy applications and in conjunction with its existing partners.
While their mutual capabilities may be synergistic from a functional perspective, the question is whether they can generate net-new customers for both companies.
How many Google Apps users are interested in using SAP BusinessByDesign? How many SAP BusinessByDesign customers are going to be excited about using Google Apps?
'Barney Partnerships' Fail to Impress
Google Apps have been readily accepted among many Salesforce.com users who have a propensity for using simpler, cloud-based solutions and are comfortable using Google Apps.
Companies that are inclined to use SAP BusinessByDesign tend to be more conservative and are generally seeking more functionality than Google Apps have to offer. Therefore, my guess is that SAP's customers are more likely to be looking for additional enterprise apps to bolt onto BusinessByDesign rather than Google Apps. This was a big reason why SAP decided to acquire SuccessFactors for US$3.4 billion and heavily promote its bold move.
THINKstrategies hosted a conference regarding successful strategies and tactics for partnering in the cloud last November. During the event, one of the speakers — the founder and CEO of AppFirst — suggested that IT and business decision-makers are becoming increasingly cynical about "Barney partnerships," which are little more than joint press releases promoting the hypothetical value of strategic alliances rather than real business benefits.
Cloud vendors that can clearly demonstrate the use-case for their joint ventures in concrete terms are capturing the attention and imagination of today's corporate decision-makers. More importantly, they are also gaining mindshare and marketshare in today's increasingly competitive cloud environment.