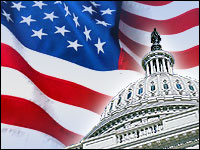 In his State of the Union address, President Barack Obama frequently mentioned the benefits of information technology, touting the contribution of the Internet to economic growth, and the achievement of innovative enterprises such as Google and Facebook. He pledged to submit a budget to Congress designed to spur innovation.
"We'll invest in biomedical research, information technology, and especially clean energy technology, an investment that will strengthen our security, protect our planet, and create countless new jobs for our people," he said in last week's address.
In an effort to control spending and pare down federal deficits, Obama also called for a freeze on federal discretionary spending for the next five years.
For the IT community, especially vendors, keeping track of the Obama program could be critical in two areas. The first is the administration's goal to spur innovation both inside the government and especially, in the private sector. The second is how much government agencies will be investing in IT during the next few years in light of the spending freeze. Vivek Kundra, the Administration's chief information officer, has frequently noted that federal civilian agencies spend nearly US$80 billion annually for information technology.
"Just as innovation is the key to growing the economy, so it is for enabling government efficiency, savings and performance," Jennifer Kerber, vice president for federal and homeland security policy at TechAmerica, told the E-Commerce Times. "In the State of the Union, President Obama recognized the value of IT when he encouraged agencies to transform government through the use of technology."
Impact of the Freeze
Regarding the spending freeze, industry observers are waiting to see the administration's actual proposals.
"As far as the budget forecast, it's hard to assess the impact of any potential freeze on the discretionary budget, let alone the federal IT spend," Kerber said. "It is just too early to tell. We need to wait and see how the policy is actually implemented in order to determine what it means for technology."
There is some cautious optimism in response to the President's comments, however.
"It is early to say, as we have to see the president's proposals to Congress, as well as the next federal budget," Andrea Di Maio, a vice president at Gartner, told the E-Commerce Times.
"My sense is that IT budgets will not suffer, given the objective of using technology to simplify and transform government agencies. On the other hand, there might be a call for using less expensive technologies in certain areas," he noted.
Thom Rubel, vice president of research at IDC Government Insights, offered a more sanguine perspective.
"We believe that while the federal market is changing, and the rate of growth has slowed, the market itself is still very large, and will remain strong for vendors serving government," he told the E-Commerce Times.
Vendors Need to Be Proactive
However, the budget discipline that may come with the "freeze" could result in qualitative differences in where, and how, federal agencies invest in IT.
"There will be multiple opportunities for vendors, both because of specific investments in areas like infrastructure, renewable energy, and government transformation, and because of the need for agencies to strike a balance between cost containment and innovation," Di Maio said.
"An overall freeze doesn't necessarily mean that it will be uniform across all spending," Rubel said.
"The federal government will need to rely substantially on IT if the president is going to be able to achieve his government reform goals to make it more competent and efficient. The market will remain strong, but we see significant shifts in spending within the market, such as less spending for hardware, and shifts among software and services spending as agencies determine how to best achieve service goals within program freezes," he predicted.
"But IT can't be viewed simply as a way to automate and drive out administrative costs. It will have to be adopted in ways that change the way government agencies operate and deliver to achieve program goals and fulfill their missions," continued Rubel. "If government agencies are willing to look at collaborative information sharing and pay for IT as a fluid commodity, such as with the cloud, they'll see the way to productivity through continued steady IT spending."
Vendors will have to be more nimble and more responsive and will need to provide more assistance to federal agencies in using IT more productively, according to a January 2011 report, U.S. Government 2011 Top 10 Predictions, co-authored by IDC's Rubel.
"It is critical that vendors help government organizations leverage existing legacy investments and create the long-term view for them to migrate to the next generation infrastructure/service environment," the report says.
Along with the freeze will come a greater degree of accountability.
"There is going to be greater scrutiny and even greater transparency in how money is going to be spent," suggested Gartner's Di Maio. "The call for better program and portfolio management, the administration's "cloud first" policy for considering options, and the growing momentum on reuse and adoption of more open technologies will change the way agencies buy."