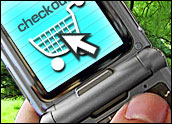 Retailers aren't investing seriously in mobile platforms right now, and who can blame them? Despite the lofty percentage growth cited by mobile shopping advocates, retailers privately lament anemic mobile conversion rates and report total revenue figures that can kindly be described as "modest."
Enterprise e-commerce software solution providers address mobile as an enabler — the channel that customers use for comparison shopping during the buying experience. Said another way, mobile is perceived as being similar to social commerce: a step removed from purchasing, and accordingly only measurable as an opaque value-add.
All of this is going to change very soon. Future retailers will have digital commerce channels that generate healthy conversion rates and associated revenue on the myriad of devices spawned from today's evolution of the network computer. In fact, some of those devices will even challenge the revenue supremacy of the e-commerce website. Still reading?
Retailers' primary obstacle to overcome is the metaphor of their existing e-commerce websites. Today's mobile shopping experiences generally make creative use of CSS to squash existing e-commerce sites into a screen the size of a deck of cards. Even mobile applications designed for specific devices compound this error through over-reliance on the search/browse/checkout paradigm that characterizes today's e-commerce.
Out With the Brochure
Author and cultural anthropologist Mary Bateson wrote, "There are few things as toxic as a bad metaphor." This isn't the first time digital experiences have been constrained by anachronism. If one were to take a subset of the top retail brands and plug them into the Wayback Machine, the following historical pattern would emerge:
An initial Web experience was developed around 1996 or so, emulating a physical brochure. In fact, the prevailing metaphor for most early business websites was the brochure.
Around 1997 or 1998, a store locator was introduced. Often a subset of the product catalog was also available — e.g., Web presence as mail order catalog and Yellow Pages.
In about 2000, basic e-commerce was introduced. The catalog was fully integrated to the site and accompanied by a payment gateway.
Post 2000: E-commerce user experiences continue to evolve along the arcs of product, search and payment gateway. This includes efficiency gains like address books, lists and registration. It also includes substantive advances in the areas of product discovery like faceted navigation and tuned search algorithms.
Given this pattern, it's not surprising that retailers would reach for previous e-commerce successes as the basis for their initial forays into mobile commerce. After all, they have to start somewhere.
So the current mobile commerce user experience is dominated by an outdated metaphor. And a brief orientation exercise will establish the foundation for how that metaphor will be supplanted:
Desktop devices are modern typewriters with clickable interfaces and screen real estate rivaling a small high-resolution television. The screen is optimized as a workstation for reading text.
Conversely, mobile devices have constrained screen real estate, cameras/video recorders, phones, location-oriented features, touch-optimized interfaces and — most importantly — terrible keyboards.
Current online shopping and checkout experiences involve keyboard-centric interfaces for billing, shipping and payment information. Product discovery mirrors its mail-order roots with category browsing that requires a large screen to filter through a product hierarchy fronting thousands of SKUs. Search also requires data entry.
Images Will Supplant Text
So, if mashing the existing experience into the phone is not a long-term viable option, what will a mobile shopping experience resemble two years from now? The answer will be largely a result of innovation in two key areas: checkout and product discovery.
Completing a purchase on a mobile phone will be easier than checking out on the desktop computer of today due to the financial and technology sectors' focus on mobile payments and the eWallet.
The eWallet tends to be described as a near field powered, in-store checkout device that will ultimately supplant the credit card. A user will walk up to a point of sale terminal in the store, wave a phone over it, and the transaction will be completed. But eWallet aficionados often under-represent the effect this type of mobile payment functionality will have on the future of mobile commerce experiences.
With the slide of a finger, payments will be authorized. When coupled with integration to a phone's "Contacts" application, the mobile purchase will become streamlined as never before.
Will consumers adopt eWallets? The short answer is "yes" — eWallets are backed by the largest players in the industry verticals associated with their development and adoption. For example, VeriFone owns 60-65 percent of the U.S. point-of-sale terminal market.
Citing "merchant resistance" to near field communication technology, VeriFone CEO Douglas Bergeron hinted in February that NFC would be standard issue on every new POS terminal the company produces. This action alone would ensure that there were enough NFC-enabled terminals — somewhere in the 25-30 percent range — to bring eWallets into the mainstream.
Next, mobile experiences for product discovery will evolve to suit their unique interfaces — think collages over catalogs. A desktop equivalent that comes to mind can be found at Converse. While still a Web experience, the site utilizes a color wheel to playfully filter content without a keyboard. A mobile experience that favors this approach can be found in the iPad application HBO GO. HBO GO leverages the touch nature of the phone to slide video and image representations of available movies and series into view. Not surprisingly, both examples heavily leverage imagery over text.
Once these two eventualities play out, mobile devices will become first-tier digital channels in their own right — and the conversion rates and revenue associated with those channels will follow.
Until then, retailers' current limitation is the mobile metaphor of e-commerce. But like the brochure and mail order catalog metaphors that preceded this one, it too will fade with time.