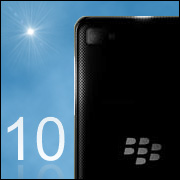 Frank Boulben is the new chief marketing officer at BlackBerry and he has his hands full. Did you ever stand in front of a mountain of work and wonder how to get started? Marketing was one of several key weaknesses before RIM became BlackBerry. Can Boulben refresh, reinvigorate and save the smartphone maker? No one yet knows; however, marketing is key — and Boulben is now center stage.
The question is simple: Will the new BlackBerry 10 succeed or fail? No one knows yet, but the initial devices are being rolled out. There will be many BlackBerry 10 devices rolled out this year, and they will continually be updated. Marketing is the next key step in this process.
Major markets like the U.S. have to wait till sometime in March. This timing was handled poorly. Forcing the customers to wait that long was a mistake. The excitement created during the launch event will have cooled by then.
OK, it's finally time to throw BlackBerry in the water and see if it can swim. These new BlackBerry devices have both strengths and weaknesses compared to competitors. They are not perfect, but then again neither are Apple and Google. All competitors have different strengths and weaknesses.
You may ask, so if the device is ready, what else matters? One word: marketing. Can BlackBerry become a top marketer? It never was before. It never understood the importance. Of course, you may say it wasn't important back then — but a few years ago, it became critical, and the tank was empty.
So that's the question. Is BlackBerry ready, and does it understand marketing? To tell you the truth, I don't yet know, but I have heard some pros and cons.
Missing in Action
I have been watching BlackBerry for signs of marketing life. Where is the magic potion it needs? What I have seen is good progress — but is it good enough? Will it wow the marketplace?
BlackBerry hired Frank Boulben last year from LightSquared to head up the marketing department. At the time, his hire did not get much attention, but today Boulben may be the single most important factor in whether BlackBerry succeeds.
Over the last year, I have seen examples of both good and bad, and while BlackBerry marketing is better than before, the nagging question is simple — is it enough?
Here is an example of a BlackBerry mistake. Many users need a feature that BlackBerry once offered. It lets them synchronize information between an older version of Microsoft Outlook on their computer with their BlackBerry. On Outlook, the feature is called "Notes." On the BlackBerry, it's called "Memo Pad." The problem is the new BlackBerry 10 does not let users do this as all earlier versions did.
In fact, Apple quickly added this feature to the iPhone after the first year or two. Without this feature, many BlackBerry users who stuck with the smartphone may have to switch to another device like Apple's iPhone, which still offers it.
This is one example of the concern I have for BlackBerry. Does it see the forest or just the trees?
BlackBerry must update, of course, but it must keep all the features and functionality its existing users are used to and still need. There are reasons BlackBerry users have stuck with the company. The new design is great, but it shouldn't lose some key features. Getting rid of features will carve away user loyalty, and that's the last thing that needs to happen.
BlackBerry used to be No. 1. Then the iPhone and a slew of Android smartphones entered the marketplace about six years ago. Now they dominate the market. BlackBerry has fallen very quickly.
However, the situation is not really as bad as it sounds. Six years ago, the smartphone market was tiny compared to today. RIM could still have all the customers it had back then and be No. 3 today. Still, it has lost plenty of business — lots of business.
Expect 2013 to be the battle for the No. 3 position. Competitors like Microsoft, Nokia, Sony and many others will be vying with BlackBerry for that spot.
Can BlackBerry Market?
So, can BlackBerry's Boulben convince the marketplace that its new offerings are right for them? Can it solidly capture the No. 3 position and start to grow again? The question is simple: Is there a future for BlackBerry, or is it a thing of the past? The answer depends on how well it does with the customer, as well as with marketing, public relations, media relations, analyst relations and investor relations.
BlackBerry has developed so many new and exciting features and so much new functionality. It's really a breath of fresh air. The company has a couple of great new devices — and its products will continue to get better over time. What could make BlackBerry hot is already here.
However, one concern is that the new BlackBerry may leave off many important features that existing users like. A bigger concern is whether BlackBerry will be able to really create a meaningful marketing push, which is something it has never done before. I'm not sure.
I hope so. I want BlackBerry to win. I want the company to be a solid competitor against Apple, Google, Microsoft, Nokia and others. I only hope it is ready to pull out all the stops and make its dream a reality. BlackBerry has to hit this one out of the park — a single won't be good enough.
OK, Frank. As they say in baseball, "Batter up!" Mobility; the 822 from Verizon Wireless; and the 810 from T-Mobile.
I can only talk about the AT&T Mobility version — the Nokia Lumia 920 — since that is the unit I've been testing. AT&T passed it out during its analyst meeting a few months ago.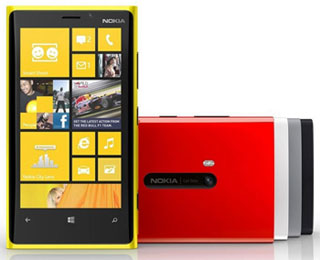 Nokia 920
I didn't think that I would like it, but to tell you the truth, this is a very impressive device and operating system. It's fast, does everything very smoothly, and has tons of apps. It just works very differently.
I have to admit, letting us play with it is the best way to let people really know about how different, how innovative, and how good this device is. It's very different from both the iPhone and any of the Android-powered phones on the market.
What makes this device different is the Microsoft Windows 8 interface. The Nokia Microsoft partnership fits well here. It's another choice of operating systems, and more choice is always better.
So, which smartphone is best for you — an iPhone, an Android or a Lumia? Aha. That's the million-dollar question. I can't answer that one. That's up to you — everybody is different.
To make matters more confusing, there are other new operating systems entering the marketplace — like the BlackBerry 10 later in March. So there will be plenty more to choose from. That's ultimately good news.
The Nokia Lumia 920 using Microsoft Windows 8 is definitely worth your consideration.