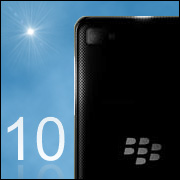 In recent months I have been asked many times whether the brand new BlackBerry 10 operating system and new handsets like the Z10 and Q10 are hits or misses. The answer is simple: It depends. It's a matter of what you want and expect. The new BlackBerry handsets do satisfy a segment of the user base, while they leave others disappointed — but there's a solution for that.
My Pick of the Week is the brand new Nokia Asha 501 smartphone, which is starting to roll out this week.
The Market Needs BlackBerry
AT&T Mobility sent me a new Q10 to try out. The device is tight, and it looks and feels great in the hand. It's a little wide, making it a bit difficult to operate with one hand, but generally I like it. Email is secure. It does not freeze like the Z10 did.
The new features and apps work great — much better than the Z10 at launch. The operating system update may have a lot to do with that. I also think the keyboard is a big plus. That makes it a BlackBerry.
Bottom line — this Q10 at launch is much better than the Z10 at launch. However, today both are running on an updated OS and could be the same device, except for a few things like size of the screen and keyboard.
There is a problem, however — one that is easily remedied if BlackBerry listens to its customers.
First of all, I want to set the record straight. I like BlackBerry and want the company to succeed. The industry needs more choices besides iOS vs. Android or the iPhone vs. the Galaxy. BlackBerry has an incredibly strong brand name, but it is older and needs refreshing.
That said, BlackBerry has to play ball. I have talked with numerous BlackBerry users and have found a mixed bag of responses. Some love the new BlackBerry and others wonder what the company is thinking.
Some users absolutely love the new operating system and devices. If these were the only customers, I would say BlackBerry is on a solid road to recovery. However, other longtime BlackBerry users say the new operating system and devices are missing the mark in a few areas. They like it, but they cannot use it yet.
They say it's like there is an entirely new group of engineers who put this new OS together. They have added lots of new and valuable features and apps, but they have deleted others that users of older BlackBerry models like and still use — and this is the mistake.
Out With the Bathwater
If BlackBerry would have kept all the features that customers loved, plus added more, then I think the new operating system and handsets would be a much bigger success. The problem is they didn't do that. They deleted and changed features many users love and need, and then added many new ones.
So if you are a BlackBerry user who doesn't want anything from the past, and simply wants lots of new bells and whistles, then you will love this new technology.
However, if you really liked and used some of the older BlackBerry features and want to keep them, plus get all the new ones, you will have to take a very close look to make sure BB10 still does what you want.
This new BB10 may be disappointing to many users for this reason, but this problem can be quickly corrected — that is, if BlackBerry is listening to the customer.
For example, one feature BlackBerry calls "MemoPad" is not in the new BB10 operating system. Many users need this feature — so why did BlackBerry leave it out? Users grumble about this in discussion groups on the BlackBerry and Crackberry sites.
True, not every user needs this, but adding it doesn't cost BlackBerry anything, and it will keep many users happy. Not having this feature — along with others — means the old BlackBerry Torch may stay in use for a while longer. Most users would rather update, but not if it means giving up valuable features they actually use.
Another item discussed is the middle control button that helps you navigate and puts the cursor right where you want it. It's very helpful when editing documents or emails. The new BlackBerry devices do not have this feature, so it's now as difficult to place the cursor with a new BlackBerry as it is with an iPhone or an Android device.
These are just a couple of examples of disappointment on the part of hard-core BlackBerry addicts. As I write these words, I realize that I will get countless emails from readers — some who absolutely love the new devices. Granted, they have their appeal. However, I will also get countless emails from readers who are dismayed, and that is my point.
The simple solution for BlackBerry would be to keep every feature from the old operating system to keep existing customers happy, plus add loads of new features. That would keep BlackBerry relevant for existing users, while bringing everyone up to speed. The company would not only hang onto market share, but also grow market share.
Will BlackBerry understand this simple solution? Who knows? As much as BlackBerry says it has changed, it is still the same company in many ways — for better and for worse.