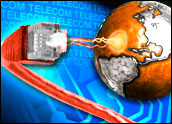 Several telephone companies have suggested to the FCC that it change its definition of broadband.
Verizon, AT&T and Comcast are asking the government to define broadband transmissions as anything over 768 Kbps (kilobits per second) downstream and 200 Kbps upstream.
They were responding to an FCC call seeking definitions to help it develop a national broadband plan under the terms of the American Recovery and Reinvestment Act (ARRA) of 2009.
Keeping the Bar Low
On August 20, the FCC sent out its public notice seeking to define broadband.
In its response, Comcast argued that the historical definitions of broadband, which focus on speed or throughput, are inadequate. Other factors, such as latency, jitter and reliability must be taken into consideration, it said.
The provisioned speed is still the most useful metric in evaluating whether any particular Internet service is broadband, Comcast said. This is the speed that a customer's modem is configured, and the last-mile network is engineered, to deliver on a regular basis.
Using the provisioned speed metric will make it possible to collect data without additional administrative burdens. Also, provisioned speed is technology neutral and, in essence, will help redefine broadband.
Differentiated Marketing
Comcast suggested a five-tiered approach to defining levels of broadband service.
Basic broadband Internet service would have provisioned speeds of at least 256 Kbps downstream and upstream and would be the minimum threshold. This would allow users to access E-mail and browse the Internet.
Next is current-generation broadband Internet service. This will deliver provisioned speeds of at least 600 Kbps downstream and 500 Kbps upstream.
Finally, there is next-generation broadband Internet service, for which Comcast proposes three tiers. The base level here is next-generation Internet service, with provisioned speeds of at least 12 Mbps (megabits per second) downstream and 2 Mbps upstream.
One step up is next-generation advanced Internet service. This will give users provisioned speeds of at least 50 Mbps downstream and 10 Mbps upstream. Finally, there will be next-generation commercial Internet service, which will offer provisioned speeds of at least 100 Mbps.
The FCC defines broadband as a service offering data transmission speeds of more than 200 Kbps either downstream or upstream.
The Realities of Marketing
However, the FCC's definitions only establish the baseline.
"Whatever the FCC definition is doesn't necessarily have any effect on what types of services companies are marketing," Comcast spokesperson Sena Fitzmaurice told the E-Commerce Times. "In over 50 percent of our footprint, we've doubled the speed of broadband without charging our customers more."
Comcast's basic tier used to be 6 Mbps, and it's now over 12 Mbps, Fitzmaurice said. "By the end of the year, our lowest tier will be 12 Mbps."
Fear and Loathing Among Consumers
The problem with a multi-tier definition of broadband is that users who now enjoy fast access could either see their access speeds cut down or have to shell out more money if the FCC does redefine broadband speeds.
For example, if a user only accesses the Internet to browse the Web and do e-mail, but has access speeds of 10 Mbps downstream and 2 Mbps upstream, that user might be placed in the basic broadband Internet service grouping and get slower access speeds.
Alternatively, the user could insist on retaining existing access speeds and have to pay for next-generation broadband Internet service.
However, changes to consumers' broadband subscriptions won't happen overnight. "It's impossible to simply scrap the investment in the existing and legacy broadband infrastructure overnight," Laura DiDio, principal at ITIC, said.
Businesses, too, could be impacted, as they might have to pay more for access. "It's unclear at this point whether they'll have to pay more, but that's one of the most pressing issues and questions," DiDio told the E-Commerce Times.
For Our Country Cousins
The FCC called for definitions of broadband because it wants to set up guidelines to develop the national broadband plan mandated by president Obama. This plan, part of ARRA, seeks to ensure access to broadband capability for all Americans in the United States.
What the national broadband plan seeks to do is to eliminate the communications divide in the country. Rural populations are badly under-served by the country's communications infrastructure, which is mainly concentrated in our cities.
"Only 27 percent of Americans have broadband, so you need to provide broadband in rural areas," Julien Blin, CEO and principal analyst at JBB Research, explained.
Redefining what broadband is, exactly, will let telcos offer it to rural subscribers at a reasonable price, Blin told the E-Commerce Times. "Putting in the infrastructure to support broadband today is not cheap," he pointed out. "And people in rural areas don't necessarily need services that require lots of bandwidth."
For the telcos, the plan means money — ARRA mandates that the U.S. Department of Agriculture's Rural Utilities Service and the U.S. Department of Commerce's National Telecommunications and Information Administration distribute grants and loans for broadband.