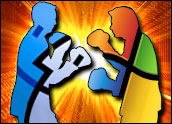 To listen to Microsoft's Steve Ballmer talk, you'd think he was the prime minister of a besieged nation, rather than the captain of one of the largest software companies in the world.
In an interview Tuesday with CRN, a website for VARs and technology integrators, the flamboyant head of Microsoft pledged to compete with arch rival Apple on every front. "We are trying to make absolutely clear we are not going to leave any space uncovered to Apple," he told CRN.
Ballmer's bellicose words for Apple followed his address to 16,000 attendees at Microsoft's Partner Conference, being held in Toronto this week, and appear to be designed to fire up the company's community largely in the dumps over the heralded successes of its rivals.
"A call to action is what needs to happen here," Rob Enderle, president and principal analyst with the Enderle Group, told the E-Commerce Times.
"Creating the belief that you can succeed can enable you to succeed," he added.
History Lesson
With Microsoft ready to launch a massive new product offensive before the year's end, Ballmer may be trying to stoke the fires in the hearts of his company's crew.
"Inside Microsoft there's clearly a great deal of discontent because Microsoft has been so uncompetitive against Apple and Google," Enderle continued.
Apple, he maintained, has rolled over Microsoft in the tablet and smartphone market as Germany rolled over France in World War II. "Ballmer wants to stop positioning the company as the next France," he said.
While Ballmer's war cry is a good indicator of how the company is approaching its future, he added, "a better one would be if he funds the company's efforts enough so they can be successful."
Innovation, Not Imitation
Microsoft's saber rattling against Apple is more amusing than substantive, according to Trip Chowdry, an analyst with Global Equities Research.
"There's nothing behind these war cries," he told the E-Commerce Times.
Declaring war on Apple isn't going to make Microsoft products successful in the market, he argued. "You don't win the in the marketplace by declaring war on your competition," he contended. "You win by having strategic insights into your customers' behavior."
You also win by innovation, he added. "Everything Apple does is original," he declared, "Ninety percent of what Microsoft does is imitation."
Brave New World
Microsoft's problem isn't Apple, Chowdry argued. It's complacency. "It's stuck in a desktop-centric world," he asserted. "It hasn't made the transition to the new world created by Apple and Google."
In today's tough technology world, to be successful your products have to create industries, not just participate in industries, he claimed. "Microsoft, as an imitator, will always be in a third position," he said, "and there's no money to be made in the third position."
True to Ballmer's words, Microsoft has already begun its head-to-head competition with Apple with the introduction of its Surface tablet.
The Microsoft-produced tablet will determine whether Redmond can really compete with its Cupertino rival, according to Michael Cherry, an analyst with Directions On Microsoft.
Best Face Forward
"Selling and supporting hardware is different from selling and supporting software," Cherry told the E-Commerce Times.
With software, Microsoft has been able to use its OEMs as a support buffer between itself and its customers, he explained. When it makes its own hardware, it's going to be the first face a customer sees — and it needs to be a good one.
Recently, Cherry tried to return a broken Microsoft branded keyboard to a Microsoft store. He was told to ship the keyboard back to Microsoft. "I'm going to be without a keyboard for at least 10 days," he explained. "If I walked into an Apple Store with a bad keyboard, I probably would have left there with a new keyboard."
Nevertheless, Ballmer's boastings reveal he's trying to revive his company's competitive spirit. "Microsoft does its best work when it has a competitor that it's focused on," Cherry observed.