Amazon Web Services maintained a commanding lead over the competition in the public Infrastructure as a Service and Platform as a Service businesses during the third quarter, despite rapid growth from rivals Google and Microsoft in the IaaS space, according to a recent report from Synergy Research Group.
AWS, which has become an increasingly important segment of Amazon's operations, continues to dominate the IaaS business with a 45 percent share of the global market, which is more than twice that of the next three competitors combined — Microsoft, Google and IBM.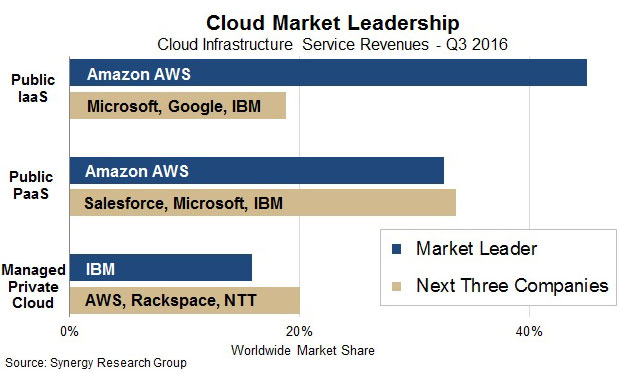 "It's very important to Amazon," said John Dinsdale, who wrote the report for Synergy. "It is a key growth driver for the company overall, and it is also a foundation technology and service that underpins Amazon's business lines."
In the public PaaS market, the level of competition is much stronger; however AWS still holds firm, with well over 30 percent of the market. The other three major competitors — Salesforce, Rackspace and IBM — have slightly more market share when combined.
Amazon Sets Tone
Amazon has dominated by getting well out in front of the competition and being aggressive with both pricing and new technology that keeps AWS well ahead of its nearest competitors, who got into the game relatively late.
After 10 years in the market, Amazon has assembled more than 1 million customers in 190 countries around the world. AWS doubled operating income to US$861 million the third quarter, compared with $428 million a year ago, on sales of $3.2 billion, compared with $2.09 billion in the year-ago quarter.
The firm has assembled a major roster of customers, including leading technology firms like Intuit, Netflix, IMS Health, Splunk and others.
A major advantage Amazon has developed over the competition is its global infrastructure reach, with 38 availability zones across 14 geographic regions worldwide. The company just announced plans to open another nine zones, including in Canada, the UK, France and China.
IBM Leads Private Cloud Market
IBM resides at the top of the managed private cloud segment, according to Synergy, with just under 20 percent of the market. The next three competitors — AWS, Rackspace and NTT — own about 20 percent combined.
However, IBM's ranking in the Synergy report is questionable, according to Paul Teich, principal analyst at Tirias Research.
"No one else I know includes IBM in the top four cloud providers for all segments," he told the E-Commerce Times.
IBM reported $8.9 billion in technology services and cloud revenue for the third quarter, compared with $8.7 billion in the year-ago quarter. The company reported a 45 percent jump in strategic imperatives revenue, driven mainly by increased hybrid cloud services performance.
IBM was named the top firm in terms of hybrid cloud environments in an August report from Technology Business Research.
Cloud revenues industry wide are well over $8 billion per year, Synergy estimated, with strong growth of more than 50 percent per year.