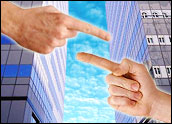 AT&T Wireless has filed suit against Verizon over the latter's latest ad campaign.
That campaign, which claims Verizon has five times more U.S. 3G wireless network coverage than AT&T, shows two maps of the United States side by side, one with each company's coverage.
The map purporting to show AT&T's 3G coverage has large areas of white space, implying a lack of overall coverage in those areas, AT&T said. The ad is misleading, the plaintiff claims, and it seeks a temporary restraining order against Verizon — for starters.
About Verizon's Ad
Verizon launched its advertising campaign on TV, in print and online last month. The ad on the Verizon Wireless site has a banner proclaiming it has "America's Largest 3G Network."
It goes on to say: "Want five times more 3G coverage than AT&T? There's a map for that." The last sentence is a swipe at AT&T's flagship phone, the Apple iPhone, which has been running ads with the tagline "There's an app for that."
Verizon qualifies the 3G coverage maps with a footnote stating that the comparison is based on square miles covered with 3G voice, and it says voice and data services may be available outside the 3G coverage area.
That qualification did not save it from AT&T's wrath. "The vast swathes of white space they show in the map of our coverage are deceiving in our view because they imply that there's no coverage, period," AT&T spokesperson Mark Siegel said. "We did some consumer research and found that people thought AT&T had no coverage there."
By convention, network coverage maps from all carriers show white space in areas where they have no coverage, Siegel told the E-Commerce Times. Just because an area has no 3G coverage does not necessarily mean it has no access to other cellular networks from the same provider.
Verizon did not respond to requests for comment by press time.
See You in Court
AT&T has filed suit over the ad in the United States District Court for the Northern District of Georgia, Atlanta division. The suit is against Cellco Partnership, the company operating under the name "Verizon Wireless" in a "doing business as", or "d/b/a," capacity.
"Cellco Partnership d/b/a Verizon Wireless is currently running misleading advertisements concerning AT&T Mobility LLC's wireless services," begins the preliminary statement filed by AT&T's lawyers.
Verizon launched a misleading advertising campaign in October, modified it slightly after AT&T protested, but nonetheless continued with the misleading campaign, according to the complaint.
AT&T provides 2G service in areas where it lacks 3G, and it continues to improve its 3G network, spokesperson Siegel pointed out. It will have invested more than US$17 billion this year to continue to improve and upgrade its wireless and wireline broadband networks, he said. "We continue to deploy 850 MHz spectrum throughout our 3G spectrum, and that improves coverage, especially in-building coverage," Siegel added.
Also, AT&T is rolling out an HSPA 7.2 network, which will theoretically double downlink speeds on its 3G network to 7.2 megabits per second (Mbps), Siegel said. It is also rolling out its 4G LTE network. HSPA stands for High Speed Packet Access; it consists of HSPDA (High Speed Downlink Packet Access) and HSUPA (High Speed Uplink Packet Access). AT&T is leveraging HSPDA.
AT&T is seeking narrow, tailored relief from the courts. "AT&T does not seek to stop Verizon from running its advertisements, nor does it seek to change the words Verizon uses in the advertisements," its suit says. Instead, it is first seeking a preliminary injunction and a temporary restraint barring Verizon from displaying a map of AT&T's 3G coverage where areas without 3G service are depicted by white or blank spaces.
AT&T is also seeking a permanent injunction and damages.
How Much More Coverage Again?
AT&T has no quarrel with Verizon's claim of having five times as much the 3G coverage area as it has. "We don't dispute Verizon's claim about its 3G coverage; the lawsuit's about the use of white space," Siegel said.
However, Verizon's calculations are based on geographical area covered, he pointed out. "They recently completed the purchase of Alltel, which covers huge areas in the Midwest and the far West," Siegel said.
Verizon announced plans to buy Alltel for about $5.9 billion in June of 2008. This increased both its coverage area and customer head count — Alltel had more than 13 million customers in markets in 34 states, primarily 57 rural markets Verizon did not serve at the time.
Verizon may have to rework its claims, as it isn't exactly comparing apples to apples, according to Douglas Chua, a research manager at IDC. "Verizon tends to quote coverage in terms of the population served or square mileage," he told the E-Commerce Times. "AT&T, on the other hand, quotes coverage in terms of cities."
However, the extent of coverage is not as important as its quality, Chua said. "Ultimately, it's not just where the coverage is, but how good the quality of the connection is where coverage is available," he explained.
There's also the question of just what Verizon is comparing in its ads. "Is Verizon comparing EV-DO Rev 0 plus EV-DO Rev A — though I think all the Rev 0 has been upgraded to Rev A — with AT&T's HSDPA?" he asked. "Is it using only a particular variant of AT&T's HSDPA as a basis for comparison?"
There are several versions of HSDPA. These support downlink speeds of 1.8 Mbps; 3.6 Mbps; 7.2 Mbps; and 14 Mbps.
The Doors of Perception
AT&T is agitated over the Verizon ads because it could lose big money this holiday season from customers convinced its network is weak.
As a result, AT&T is "losing incalculable market share, invaluable goodwill that it has spent billions of dollars to develop among consumers, and the significant investment it has made in its wireless network," its lawsuit claims.
"The fourth quarter of any year is the most vigorous and important marketing season for the wireless industry, and damage to competition during the fourth quarter is particularly harmful to the public's interest in fair competition," the suit adds.
"AT&T filed suit not because they were losing the war on facts, but because they were losing the war in terms of consumer perception," Carl Howe, director of anywhere consumer research at the Yankee Group, told the E-Commerce Times. "When I see a lawsuit like this, I think, 'There's a trap for that — and Verizon fell into it.'"