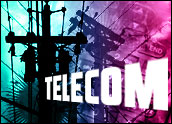 AT&T and Verizon, the leading telecom service providers in the U.S., are growing in several different sectors. They offer the widest variety of services, including wireless, landline telephone, Internet protocol television and high-speed Internet access. They are also the biggest targets. If 2014 will see lots of change, how will that impact AT&T, Verizon — and you?
In the 1990s it was a lot easier to discuss these companies, because they were simple local phone companies. This century, they have changed and grown into many different areas. They are competing with different companies in different ways than before.
In fact, the entire industry is preparing for new waves of growth. Will AT&T and Verizon continue to lead? Yes, but things may look different. Some sectors will continue growing, while others will crest, as local phone lines did. They were in growth mode until about 10 years ago. Since then, they have been declining.
Compare companies like AT&T and Verizon to companies like Sprint and T-Mobile. Two rapidly grew, and two struggled. However, both Sprint and T-Mobile now are preparing for growth. That is a threat to the current leaders.
Competition Shifting
It's important to pull back the camera and look at all the sectors AT&T and Verizon compete in and gauge how well they are doing in each. They currently have about 70 percent of the marketplace. Going forward, they will remain strong, growth companies.
However, they will see strong growth in some sectors and weakness in others — and they will face different competitors and challenges in each segment.
Only one segment is actually declining, though — local phone service. Its growth crested around the year 2000, and it has been falling ever since.
AT&T and Verizon have started new growth waves over the years, which accounts for their solid growth today. When you look at these companies you still may want to call them "local phone companies," but they are growing beyond phone into television, wireless, Internet and other sectors.
Where they sell IPTV services, they compete with Comcast, Time Warner Cable and Cox.
In the wireless industry, they compete with each other as well as Sprint, T-Mobile, US Cellular, C-Spire and others.
In providing local phone and IP services, they compete with companies like CenturyLink, Windstream and TW telecom.
Each sector has its own group of competitors and technologies — and each requires a different competitive strategy.
Both AT&T and Verizon are rapidly growing in their newer business sectors. In fact, in the markets where AT&T U-verse and Verizon FiOS compete against cable television competitors like Comcast, Time Warner Cable and Cox, the telephone companies have just reached the 50 percent market share mark.
That's an incredible accomplishment. However, that's only in the markets where they compete. Cable television still has a much larger footprint, so overall the cable television companies still are in the lead.
New Waves Building
More change is coming. AT&T and Verizon are shaking up the cable television industry with their IPTV services, but the entire TV space is about to be shaken up by new technology and competitors.
Just look at what Aereo has started to do. This is a tiny company with an innovative idea at a lower cost — and there are plenty more competitors that are potential change agents as well.
So AT&T and Verizon both compete with Comcast, Time Warner Cable and Cox on the television and Internet side.
They compete with Sprint and T-Mobile on the wireless side, and they compete with every new and innovative idea that comes down the pike, of which there are plenty on all sides.
Sprint and T-Mobile may be getting ready to move. T-Mobile is repairing its bad network under a new CEO and is starting to grow again.
Sprint has been acquired by Softbank and is in the process of building its wireless capabilities once again. In fact, Sprint is building out the ability to offer very high-speed wireless data services. Add to that the fact that Sprint has more wireless data spectrum than both AT&T and Verizon, and you can see the potential threat that is building in the wireless industry.
What else? There's another new wave called "super high-speed Internet." Google started this in Kansas City and is succeeding. Recently AT&T revealed its plans to do the same in Austin, Texas, and C-Spire is gearing up to do the same in Mississippi. These are the very early days in what may become a rapidly growing and competitive segment.
As the Internet gets faster, customers will change from being excited about this new innovation to expecting it from all providers. When that happens, I expect to see companies like Verizon and Comcast enter the competition in market after market, which will change this new segment as well.
It's too early to tell who will eventually emerge as the industry leaders.
AT&T and Verizon are working with other industries like automotive, healthcare and retail, helping them transform themselves for an increasingly wireless future. This is another huge new opportunity and growth wave for the industry.
There is more, but you get the point. Both AT&T and Verizon have done well until now in their different business sectors. Now they are preparing for 2014. What will 2014 look like? What new technology will we be talking about during the course of the coming year? What new ideas will begin to take hold? What companies, large or small, will start making a dent?
We'll just have to buckle up for one helluva ride. This industry keeps reinventing itself. It seems to be a different place every few years. I wonder what we'll be talking about in 2014 that isn't on the radar yet.