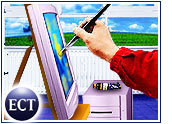 When Richard Humphrey, chief executive officer of Arts4All, began searching for his nitch on the Internet, he started Master Vision, delivering video conferencing services over the Internet. Now he is forging Arts4All as a vehicle for bridging the gap between content online and technology.
Based in New York City, Arts4All is a leading provider of digital arts, arts education, and entertainment content for students, teachers and consumers around the world. The company produces, aggregates and distributes high-integrity digital arts products with world-renowned brands.
ArtsPass Phenomenon
One of the company's main offerings is an innovative approach to bringing art to the masses via the Internet. A brainchild of Arts4All, ArtsPass is the online nexus of exclusive video content, downloads, interactive events, news and products.
"Everything we do is made for digital delivery. We don't repackage video presentations," Humphrey told the E-Commerce Times.
Humphrey's driving passion is improving arts education, which in the United States often feels the impact of budget cuts and lack of funding. He created ArtsPass as the first comprehensive and affordable online service devoted to delivering the arts to people of all ages.
Working with leading artists, educators and institutions, ArtsPass employs creativity and the distribution power of digital media technology to connect subscribers to a superior online experience.
Humphreys said classroom teachers and students are quickly discovering that ArtsPass provides them with a quality learning experience for their favorite arts and entertainment subjects. To date the Web site has attracted a U.S. customer base of 157 million arts enthusiasts. The programming content is developed with an eye to meeting mandated federal and state education standards.
ArtsPass is the only service so far that combines premier brands and celebrities with the K-12 education curriculum. The arts and entertainment experience it develops is designed specifically for Internet broadcast.
Art Educator's Dream
The paid subscriptions provide easy access to quality content and original productions. These include celebrity entertainment, core curriculum arts education, performances, interviews and information.
Humphrey's approach to delivering drama is clearly an advantage to educators.
"We are responding to what our subscribers request," the Arts4All CEO said. "We are working with existing drama originating in New York City catering to drama education."
To that end, the ArtsPass staff and contributors develop lesson plans so students do not view programs in isolation. As a result, teachers and students get more than a one-shot exposure to drama.
"We are very proud of our developing database of lesson plans," Humphrey said.
An advisory board helps the staff to develop art and drama offerings. Humphrey only accepts content from writers, educators and actors. All contributors must warrant that they have full copyright to the material they offer.
This process protects intellectual property rights and ensures that copyrighted material isn't abused as it is in P2P networks.
"We are not getting into sound bites and intellectual property issues," Humphrey said.
Constant New Content
Arts4All's goal is to provide subscribers with a steady development of original content by and with leaders in the arts and entertainment community. Through ArtsPass, the company is able to deliver new content on a daily basis through three integrated channels found at ArtsPass.com.
These channels are ArtsPassLive, ArtsPass Digital Library, and ArtsPass News.
Humphrey has very vigorous plans for meeting his promise of providing a steady stream of new content online.
"Within the next six months, we will have 150 hours of content available," he told the E-Commerce Times.
The only thing standing in the way of fully meeting this goal is money. Humphrey said Arts4All has access to unlimited resources of people, but as a relatively new company has to grow its funding sources.
ArtsPass Live!
This "channel" on the Web site offers exclusive celebrity performances and interviews through its Living Legends and Emerging Artists series. All of the programming offered here is produced and taped from the ArtsPass Studio located in Manhattan's Broadway District.
The delivery method for these performances and interviews is via streaming video. Each program runs about 45 minutes. Each presentation includes celebrity performances, interviews, audience Q&As, downloadable core curriculum teacher materials, and unique drop-down search menus.
The menus enable users to search and play the exact segments they want within individual media files.
One of the benefits of subscribing to ArtsPass is the access to the constantly growing collection of new and archived streaming media created for the classroom and the home.
The database contains a search feature to easily access and play streaming media that spans all music, theater, dance, literature, film, photography, visual arts, arts education and entertainment.
The Digital Library also provides teachers with content and tools for teaching the art concepts. These include core curriculum content, streaming video images.
ArtsPass News Channel
ArtsPass also offers daily breaking arts and entertainment news, alerts, feature stories, interviews, reviews and five years of searchable archives.
This stored content is organized in categories that include everything from dance and film to education and music.
For school districts on a tight budget, ArtsPass can mean the difference between classroom content and no program at all. And school districts that are far from art centers can pipe in art and drama experiences for students at affordable prices.
A teacher subscription to ArtsPass is US$99 per year. That price enables the teacher to access 150 streams per month. Given the typical 10 months in a school year, ArtsPass membership can bring an impressive array of artistic instruction all year for a lot less than a single field trip.
Even for schools that are not set up for Internet access in the classroom, a teacher with membership can still expose his or her students to the online experiences provided by ArtsPass. Students can access the Web site and log in with a guest pass provided by the teacher at no additional charge.
Subscriptions provide access to the programming at any time. Subscriptions are not limited to teachers and schools. Any art lover can purchase an annual membership with a free one-month trial.
Recent Content
A wide range of content has been available on ArtsPass. The Broadway and Jazz series continues with "Brooklyn: The Musical," jazz vocalist Jane Monheit, and Broadway's smash hit "Wicked. "
Another offering included "A Life in Music — Conductor Skitch Henderson." He is the founder and musical director of The New York Pops, the largest independent symphonic pops orchestra in the United States.
A program about modern dancer and choreographer Lula Washington honored the 25th anniversary of her critically acclaimed Lula Washington Dance Theatre.
A featured interview is available with writers Paul Foster, Robert Heide, James Rado and Doric Wilson. They created the off-off-Broadway movement and set in motion some of the theater's most memorable productions.
Much More in the Works
"We have a big job to do here. We are very committed to art education," Humphrey said about his continuing plans for ArtsPass.
He said the company wouldn't be surviving if it didn't listen to its subscribers.
"The average college educated person has a third grade knowledge of the arts," Humphreys said.
Arts4All would not be meeting its art education goal if it didn't provide subscribers with the best art venue possible.